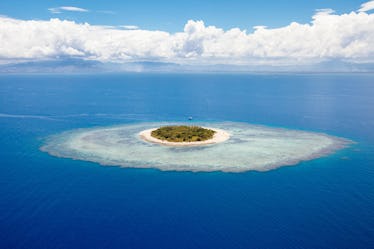 11 Weird Places You Can Rent On Airbnb, Including A Private Island
AdrianSeah
Sometimes, without any intention of traveling in the near future, I find myself perusing the listings on Airbnb.
I'll select a random city, one that I may or may not ever visit in my lifetime, and go through the listings one by one, "hearting" those that catch my attention. It satisfies my inner, rarely sated wanderlust.
This process has also led me to situations where I've actually decided to visit a location I'd otherwise never venture, strictly because I wanted to stay at a particular accommodation.
Thanks to Airbnb, I recently stayed in a vintage trailer near San Diego (note: this is not exactly the best arrangement if you're in a blossoming relationship, as you get no privacy whatsoever, especially where bathroom matters are concerned).
I've also stayed in a tower castle in the middle of nowhere Ireland, in a legit treehouse, and numerous cabins and rooms across the world. I've currently got my heart set on visiting a nearby shack (without running water, even!), and there are other "must visits" I've got in my travel wish list. Today I'm sharing some of my most unusual finds.
I've actually stayed here, and it was every bit as cool as you'd imagine. Getting to this western Ireland castle tower is a feat, but ask anyone where "Peter's Castle" is and they'll send you in the right direction.
Look out any window and you'll just see rolling green hills, and venture outside the perimeter and you'll meet cows, goats and other animals. It's a truly special place, and Peter bought and renovated it himself.
I can't even believe this thing is real, but it is and I have every intention of making my way to Cornwall in order to spend a night in it.
As you'd expect, it's quite tiny, featuring a small semi-lofted bed with storage underneath, a bench big enough for two derrieres, and an original "Queenie" charcoal stove that gypsies actually used for heating and cooking. The bathroom, if you're wondering, is located in the adjacent caravan.
I didn't know the words "romantic" and "windmill" went together, but that's what this AirBnb listing promises its guests. The windmill has been renovated to include three bedrooms, a kitchen and two bathrooms. Honestly, I had no idea a windmill provided that much space.
Anyway, it's located near Amsterdam in the city of Utrecht, Netherlands. You can plan a windmill party if you want, as it accommodates up to six people.
Channel your inner Mrs. Frizzle -- or '60s-era bohemian -- while shacking up inside this colorful bus/van. It's been equipped with a kitchenette, eating space and bed big enough to sleep three.
This one is located in the Netherlands near North Holland.
I didn't even know a yurt was a thing until I started browsing AirBnB on the regular. I'm still acquainting myself, but I can tell you that a yurt is essentially a giant-sized pop up tent, usually with a stove inside to help with heating.
This one is located in Rhone-Apes (according to the listing, this is the middle of nowhere), France, fits six people and is marketed by the host as a "good housing environment to get fresh ideas or meditate."
This "gingerbread house" -- located in Geyserville, California -- takes a page right out of your favorite fairytale. No, it's not really crafted out of real gingerbread, but it does look like the real deal with its frosting-esque details and candy-like stained glass. It sleeps two people and is located at the Isis Oasis Retreat Center.
Actually, I have no idea what this thing is. The fact that the listing is in French doesn't help me either. So if the words "cocon douillet dans les arbres" mean anything to you, please explain.
In any case, you can stay at this this cocoon-like hanging tent, located in Fondettes, France, for $135 a night. It fits four people, which must mean it's larger than it looks in the picture.
OK, so it's not an actual seashell, but the architecture of Casa Caracol looks just like one. It's located in Isla Mujeres, Mexico, which is near Cancun. According to the listing, the owners and designers felt the house was too special to not share with the world, hence it being available for anyone to rent out via good old AirBnb.
If you're willing to brave the humidity in Atlanta, Georgia, you may want to put this eclectic, storybook tree house on your travel wish list. Though it looks like it's located in the middle of the woods (and it technically is), it's actually centrally located.
This one's gotten quite a bit of press, probably because it's so pretty and peculiar, hence the pricy nightly rate.
I never thought I'd see the day when renting your own private island for a night would cost the same amount as renting out a treehouse. But that day is here, and the island is this one. This atoll, surrounded by gem-colored waters, is located in Belize.
Bonus: The price also includes transportation to and from the island.
Don't forget to say your prayers before hitting the sack in this two centuries old church. The building is actually a protected national monument, called Bokeen Hall, and used to be the "Church of Ireland Chapel."
It's crafted out of the picturesque gray stone Ireland buildings are known for, features giant gothic windows, and is located in the green, green lands of Galway.