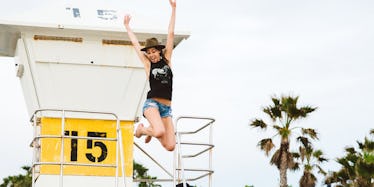 Why Celebrity Status Doesn't Make A Person A Role Model
Stocksy
True role models are those who possess the qualities that we would like to imitate in our lives. To give someone the label of being a role model is telling him or her that you or someone should use him or her as an example to live by and learn from. This is a huge role to take on, as you are heavily influencing the life of another person. Society promotes the idea that just because someone has established celebrity status, they should be looked up to.
Is anyone else completely bothered that The Sunday Times' cover featured Rihanna as the new Princess Diana? What the f*ck is wrong with our generation that we are equating Diana, the ultimate humanitarian, to a pop star whose recent tweets included "Last night one of my fantasies came to life! I got to see "K.O.D" strippers dance for me to the stripper song I made!"?
"Young people in the business have grown up and made the wrong decisions, or bad decisions, and haven't been good role models. To be someone that people look up to is important to me." – Justin Bieber
We are living in a time that is filled with very little people of substance. What happened to our parents, grandparents and teachers being our role models? We look up to stars, many of whom are involved in affairs and drugs. We value status and beauty above true success and values. There is no doubt that we need better role models for our generation.
If Instagram existed in Princess D's days, do you even think she would be using it? Let alone in the manner Rihanna decides to portray herself: half naked and smoking blunts. I really think not. Princess Diana is probably rolling in her grave. I understand the article's intention was to say that both icons started out as sweet and sensitive girls who eventually broke social boundaries to became icons in their own respect, but that is not the way that society is interpreting this.
"Children learn much more from how you act than from what you tell them. There are times this worries me - we parents are rarely the role models we want to be. True for life. True for driving." –Harlan Coben
Why does Rihanna have the most number one singles and why are people commending her absurd tweets? One of her recent top hits was "Birthday Cake." Considering her as an icon does not say much about her or the people that consider her a role model. Comparing her to Princess Diana is madness in every way, shape and form. When you look at Rihanna's pictures and music, it is incredibly sad that people look up to her, let alone place her in the same category with a woman who was actually admirable.
Maybe Rihanna is not to blame; it is true she has become an "icon" and "role model" to many people in today's world. All that this means is we need a reality check. Why are we looking up to people such as these? If we want to emulate a celebrity look at Angelina Jolie who went to extreme lengths to prevent an intolerable disease, look at Jennifer Lawrence's confidence not to conform to societal pressures to be anorexic, or look at George Clooney's continuous charity efforts whenever a major disaster occurs.
"We are certainly influenced by role models, and if we are surrounded by images of beautiful rich people, we will start to think that to be beautiful and rich is very important."
Influence is ever present in society, so it is beyond important that we promote wholesome role models. We need to stop relying on popular Hollywood icons to shape our views and opinions. With celebrities taking part in atrocious behaviors and committing crimes, how could people let themselves follow this garbage?
People need to focus on what is important to them and the characteristics that will benefit their future. Obviously it is important to look up to people, but they must reflect the beliefs and ideals we value. The most successful people have idols who provide positive influences on their lives and do not advocate false, idealistic beliefs that can harm others.
They help us become the person we have always aspired to be, which is why it is imperative we get a reality check on who we seek to emulate.