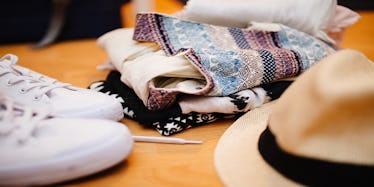 6 Useful Hacks That Will Make You Ditch Fourth Of July Packing Stress For Good
Pexels
It's time to embrace those beautiful summer vacation vibes, weekend getaways, and cruises.
But, with every sweet thought of leisurely time comes a sour realization that you have to pack.
You want to be prepared for anything, and don't want to stress the entire time about something you may have forgotten.
Let's not even think about those hideous baggage prices with most airlines... yuck.
Packing doesn't have to be a complete downer for your trip, though. Take a few tips on how to work around those cliché packing nightmares from some of the best on Twitter.
1. The Stop, Shop, And Roll Hack
So, you bought a bunch of new clothes for your vacay, but how on Earth is it all going to fit in your tiny bag? Again, no one wants to deal with those extra charges for having more than one bag.
This hack shows you how to roll your clothes so you can make the most out of the space of your bag. Happy rolling and peace of mind.
2. The Mix And Match Hack
How often do you have a mini anxiety attack thinking about what combination of outfits you want to wear on a trip?
With this hack, you're encouraged to mix and match like it's no one's business. This way, you have those lovely things called options to cushion your indecisiveness.
3. The Multi-Use Product Work Around
Odds are you'll want to pack all types of products depending on your skincare regime or personal preference. Suggestion? Combine the struggles.
The idea with this hack is that you use products that, let's say, combine both moisturizing and skin protecting properties. In this case, less is certainly more.
4. The Plastic Bag Hack
This hack is great for any small items that end up taking up a lot of excess space. Putting panties in resealable plastic bags not only keeps them all in one place, but it saves space, too.
Let's be real here: You do not want to be in the middle of your vacation and run out of fresh undies.
5. The Liquids Damage Control Hack
Because of the air pressure when you're flying, those shampoos, lotions, and face washes have a chance of getting messy. Even if you have them separated, they still always manage to explode.
This tutorial shows you how to squeeze out excess air before your flight and then cover containers with a piece of plastic before putting the cap back on.
6. The Jewelry Organizing Hack
While some of us may be Candy Crush enthusiasts who like finding the matching parts, that is no fun when it comes to earrings.
This blessing in a disguise shows you how to assemble your earrings in... wait for it... a weekly pill separator.
Seems simple, right? Most of these brilliant hacks are.
Don't let the fear of packing keep you from soaking up the awesomeness of taking a trip. Maybe there's no room in your baggage, but there's always space for travel hacks.