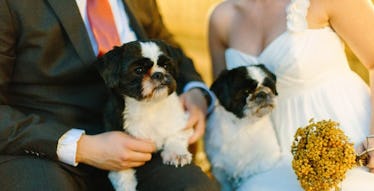 8 Unique Wedding Bouquet Ideas That Are Anything But Flowers
When it's your turn to say "I do," the power over your big day will be entirely in your hands. The countless decisions you'll have to make may add up and overwhelm you, but there are only a few important choices to make when it comes to your bouquet. Wedding bouquets that aren't flowers are becoming popular for both traditional and non-traditional brides, so don't limit yourself to a dozen white roses.
A non-floral bouquet can be a great way to incorporate your wedding theme, whatever it may be. You can always emit bouquets altogether and have your wedding party carry something else (or nothing at all, though that may look a little awkward). Whatever you decide, make sure to look through all of your options -- even the more unique ones -- before you make your choice.
Take some inspiration from previous brides, or come up with an idea of your own for your big day. Your wedding should be all about you, after all, so even the little details should be personal and special to you and your groom. In case you're lacking inspiration, here are some great examples from creative brides who have ditched the traditional flower bouquet.
1. Donuts
Delicious idea for a #bouquet but I still prefer #flowers! https://t.co/KjhC7nIfWe Not that I'm biased ... #florist #unusual #wedding pic.twitter.com/BDKMhSQ67l — Poppies FloralDesign (@PoppiesFD) September 12, 2017
If any of your guests need a snack during the ceremony, the bridesmaids will have it covered. You can create this bouquet look with just about any of your favorite foods. If you're a hardcore donut lover, let creativity and your sweet tooth lead the way.
2. A Metal Masterpiece
There's a new bouquet in town, and it's not made of flowers! https://t.co/zEJdomE8Kg #bride #wedding pic.twitter.com/40pknLpSIj — Samala Carrington (@SNOBBRIDE) March 11, 2016
Some brides carry art down the aisle because they're classy like that. This metal piece was clearly inspired by a floral bouquet, and still gives off that classic vibe with a unique twist. It won't distract from the beautiful bride, but it will catch the attention of the guests.
3. Paper Flowers
Not a fan of flowers? @Brides shares creative wedding bouquet alternatives. #wedding #bridal https://t.co/AlAdGBOMLT pic.twitter.com/zIRHDntgv8 — Megan Martin (@PageOnePR) March 1, 2016
If you really love the floral look but want to make your own unique statement, paper flowers are a great option. You can use newspaper, sheet music, or pages from your favorite book to add an even more personal touch. You'll have to spend some time making the flowers, but that'll be just another way to be involved in your big day.
4. Brooches
RT https://t.co/JJZoq3jI7T Stunning brooch bouquet, probably not one for throwing #wedding #ideas #bride #flowers… pic.twitter.com/e9fX0SVkDQ — Wernica Hummell (@WernicaHummell) February 4, 2016
Many brides have used the brooch bouquet for their rehearsal ceremonies, but some are now using them for their actual wedding. Family members can give or let you borrow brooches so that you can carry part of your family with you down the aisle. It's personal and easy to put together.
5. Seashells
#weddingwednesday Non-#Floral Bouquet Ideas: A shell bouquet; perfect for a fresh & flowing beach-themed wedding! #womaninbiz @SmallBizUtd pic.twitter.com/x8innT1J1P — SilkFloralArt (@SilkFloralArt) October 19, 2016
If you have a coastal theme or a destination wedding, a seashell bouquet may be the way to go. Especially if you are traveling for your big day, you may not be able to bring or find flowers for your ceremony. You can collect the seashells yourself or buy them, but the bouquet will be beautiful no matter who puts it together.
6. Pinecones
This non floral bouquet would be perfect for a #WinterWedding. #WeddingFlowers #BudgetBride pic.twitter.com/20TxizfW3C — Bliiss (@sharethebliiss) February 8, 2014
If you still want a fresh bouquet but aren't the floral type of bride, try out a collection from nature, like leaves and pinecones. It's natural and beautiful, so it won't distract from the bride. If it fits with your theme, even better.
7. Buttons
Non Floral Bouquet 3 pic.twitter.com/DuPNC2Nk — Nataline Gloriana H. (@Gado2Store) November 3, 2012
A bouquet of buttons will take some serious time to put together, so thank goodness there's people who make and sell them online. Buttons, especially colorful ones, will add a touch of whimsy to your big day without being too over the top. You can DIY a button bouquet as well, so give it a try if your wedding is purely homemade.
8. Rescue Puppies
Bride uses rescue puppies instead of bouquet to raise awarenesshttps://t.co/02g8KUnqyfpic.twitter.com/68E4eghusc — WSVN 7 News (@wsvn) September 20, 2017
The bride who came up with this idea wins the award for cutest bouquet in the history of bouquets. Instead of flowers, buttons, or sweet treats, everyone walked down the aisle with an adoptable puppy. The pictures from this special day were certainly ones for the books.