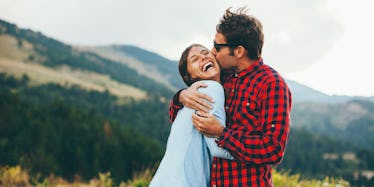 Wanderlust And Wanderlove: Traveling Actually Makes You Fall In Love
My favorite aspect of traveling is the uncertainty.
I know how strange that sounds. It's not an uncomfortable type of uncertainty, though.
It's an excitement, one that emanates from not knowing, the way young children feel on Christmas morning when they look under the tree.
Just like a bunch of newly wrapped presents, with traveling, you never can be too sure of what will come next.
Foreign places give way to foreign experiences, and regardless of how well you might have thrived in your comfort zone back home -- it will probably hold little importance with regard to your travel destination.
But that's the beauty of it. Traveling to new places forces you to learn, and you'll find you're doing so with new vigor, too.
Once you let go of your inhibitions, you can start fully embracing all of that which surrounds you, and it's quite liberating.
Suddenly, you feel yourself changing. You feel yourself becoming more real.
You start to dispose of all the stupid things you may have once worried about back home. Things like social media or notifications.
I mean, while traveling, the majority of the time, you're not going to have a WiFi connection anyway -- so you can pretty much forget about monitoring your like-to-minute ratio, although, I doubt you'll really care.
You start to try new things. Sure, you might not have really enjoyed beer back in college, but that didn't stop you from working up a nice buzz at the Guinness factory in Dublin.
You may hate the nightlife scene in New York but had the time of your life in Barcelona, where the clubs are physically set on the beach.
My point is you allow yourself to try new things while traveling. Comfort zones, like all zones, are restrictive by definition.
When you start to stray from these, you'll notice differences in the way you behave -- and ultimately think.
New experiences lead to new feelings, so how does travel affect the most powerful feeling of all?
According to Maggie Parker of Paste Magazine, it's easier to fall in love while traveling -- and there doesn't have to be any complex scientific rationale behind it either.
In essence, traveling forces you to be open-minded, and with open-mindedness, comes the willingness to try new things.
And love, for many, certainly falls under the category of "new." Parker quotes one sex therapist, author Jane Greer PhD., who says,
[when traveling] you give yourself the permission to experience different and possibly risky pleasures before even leaving, and romance is the biggest -- and most dangerous -- pleasure you can get.
For some, this might mean scaling the tallest mountain within sight. For others, it might be trying some delectable cuisine -- like escargot or rabbit.
And then, of course, some people may choose to indulge romantically and/or sexually.
When playing the field in a foreign land, there's far less to worry about.
You won't have to beat yourself up about texting her back in the morning, given you probably won't ever get her phone number.
You won't have to worry about wondering "what you are" two weeks down the road, either -- considering you might not ever see her again.
This is what Dr. Greer refers to as a veil of anonymity, one that "makes you feel safer than when you are at home and wearing your heart on your sleeve."
As Parker likes to put it, "you don't care what that exotic special someone thinks of you because you might never see him or her again.
You can be uninhibited," she goes on to say. "In the sack. Over coffee. Rolling cigarettes on a cobbled street. Meeting for drinks. Whatever.
Essentially, what she means is – while traveling – we'll tend to give fewer f*cks.
In a survey conducted by Intrepid Travel, determined to find exactly where Australians are finding love, results showed the answer may lie abroad.
According to data, made available by News.com.au,
[Eleven] percent of Aussies found love on holidays, and 12 percent had formed their closest friendships by going on holiday or living overseas.
These data, however, reveal a different aspect about travel that may encourage getting stuck with another person.
Unlike the type of connection that Greer was referring to, the one that arises first from a sense of anonymity, Darrell Wade, Cofounder of Intrepid Travel, provided another possible reason that sparks fly in unfamiliar places. He says:
Travel is a very powerful way to connect and reconnect with new and existing friends. It's so much more than just seeing the sites... It's the people you meet who help you to create those everlasting memories.
As a consequence, the propensity for love is also higher for people who travel together.
All things considered, this does sound like the whole "fairytale" impression of love.
You know, the one that seems too good to be true -- until it actually is. I mean, it's got that whole "we found love in a hopeless place" type of ring to it, the kind that doesn't sound very sustainable.
Greer confesses people are likelier to fall in love while on vacation due in part to that fact that vacation time typically equates to downtime.
And with that will come the freedom to make up for lost time.
But just because this love may seem to progress quickly doesn't mean it won't last.
As Dr. Greer explains,
It is real love; it just might be a different kind.