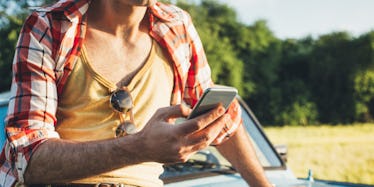 5 Travel Apps That Will Help Keep You Sane During Your Next Trip
Julien L. Balmer
This is a list that could go on and on (and on). I am in awe of the travelers who went all over the globe before the time of Steve Jobs and Android operating systems.
Travel is hard. Apps make it easier. Of course you need Snapchat to connect with your friends back home, as well as Instagram and Facebook to give them a little tinge of jealousy.
You probably want Words With Friends and Audible to keep you entertained during night buses. (Someone in the hostel yesterday actually said, "What's Candy Crush?" I'm super impressed by the extended period of time he's been able to live under a rock.)
But when it comes to the actual traveling, there are so many apps out there that will make your life easier. Here are five free apps all travelers need (that aren't Uber):
But is there an app to charge my phone? Because I'll buy it.
1. Currency Converter
Alternate: Get a calculator.
Starting the list off is the sexy topic of currency rates with Currency Converter. I first got it because it automatically came on my phone, but it is immensely useful.
When you connect to the Internet, it refreshes the latest conversion rates, so you can go from one currency to another. Sorry, Canadians: Don't look at this one for a while.
Alternate: Use your calculator and make sure you've downloaded the latest rates.
But also, don't do this. It's just a pain. Get Currency Converter.
2. Grab Taxi (Asia)
Alternate: Uber, Lyft, etc.
One thing that is the same in every country in the world is the fact that taxis are a pain. They have such a significant chance of ripping you off.
It's not your fault. What do you know about rates, distances and routes?
That's where Grab Taxi comes in. In most countries in Asia, if you select where you are and where you're going, you can choose how you want to get there, whether it's using a metered taxi, a scooter or a car.
Then, the app will tell you how much it'll cost. The driver will have it on the whole time, so you know he or she isn't driving you in circles.
Alternate: Since Grab Taxi is only available in certain countries, it's worth asking around to find the best transportation app in the country in which you're traveling. Most of the world has Uber. Lyft is the bomb dot com in the US. Europe has BlaBlaCar.
Ask around. It's worth it.
3. Google Translate
Alternate: Duo Lingo.
Languages are hard. Depending on whether you're in it for the short game or long game, you may want to use Google Translate.
Google Translate uses all of Google's magic to make your life easier. It will even let you take a picture of a sign and translate it.
Alternate: Duo Lingo, on the other hand, is a fun and applied way to learn a language. I'm using it to keep my Spanish sharp, and to start to learn French.
Plus, its logo is an owl, so I love it. The only bummer about it is you can only play when you have an Internet connection.
4. Skyscanner
Alternate: Momondo.
Skyscanner flourishes thanks to my friend Glo's accurate description that "traveling is only expensive when it's as convenient as possible." While Skyscanner will of course help you look for the itinerary you have in mind, it is at its most powerful when you're flexible.
You can be totally flexible and look when (in the year) and where (in the world) it is cheapest to fly from anywhere in your country. You can find out the cheapest route between two counties (which is how I decided to end my Australia tour in Melbourne and go to New Zealand by paying $60 for an international flight). The website is as awesome as the app.
Alternate: While I don't have a ton of experience with it, I know a lot of travelers use and love Momondo.
5. Hostelworld
Alternate: Couchsurfing.
What would a list of travel apps be without Hostelworld? I have been continuously traveling just shy of 10 months, and I've used Hostelworld almost exclusively for lining up accommodation (with the exception being on a boat in the middle of the ocean).
Hostels are, in my opinion, the best way to travel. Hostelworld is the best way to find them. These guys even give you a nice little gift on your birthday.
Pro tip: I only book the first night or two when I arrive so I can decide if I like the place. (Please fill out reviews because I depend on you.)
Alternate: Couchsurfing will not find you hostels, but you can definitely get a cheap (free) place to stay.
Now, get off your phone and get exploring. What apps do you use when you travel?