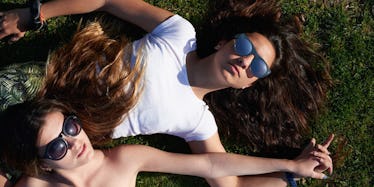 The Top 10 Queer-Friendly Colleges Are Showing Pride Nationwide
Alright, my lesbian, gay, bisexual, transgender, queer, questioning, curious, gender-non conforming and really anyone living outside the heteronormative bubble, I have good news for you.
It's back-to-school time, which for us queer kittens means one thing: We're going to college, and we're going to be able to finally have a solid ~dating~ pool.
As long as we chose a gay-friendly school, that is.
Well, lucky for my precious seniors who still have time to decide their post-high school fate, the Princeton Review released its annual lists of the best colleges and universities in the US yesterday. One of the rankings published was the most LGBTQ+-friendly schools in the great country of America.
Sarah Lawrence College was named number one, which doesn't surprise me in the least.
Sarah Lawrence also happens to be the most expensive school in the country, and we all know us gays have exorbitantly expensive taste (we can't help it, we just like nice things, babe).
College, for us queer kittens, is our chance to really shine like the top of the Chrysler Building. I couldn't wait to go to college because I knew, for the first time in my life, there would be a teeming sea of other lady lesbians right at my disposal.
And girl, was I right. I went to a liberal art school in Southern California, for Christ's sake. My first party was full of stylish, west-coast queer hotties drinking boxed wine and practically sexing on the dance floor.
My first party was full of stylish, queer hotties drinking boxed wine and sexing on the dance floor.
Actually, my school was so wildly liberal, labels weren't even a thing. Saying, "I hooked up with a girl last night," if you were a girl had zero shock value. Everyone was here and everyone was queer, and I was pretty sure I had died and gone to lesbian heaven.
Plus, I was 30 minutes from West Hollywood, baby. If I got sick of the gays at my school, I just grabbed my fake ID and headed to Santa Monica Boulevard, which was chock-full of the sexiest lesbians I'd ever seen.
I had gone from having one girl to secretly make out with in hidden dark corners of drunken high school parties to swimming in a glittering sea of girls who liked girls — all with fiercely different styles, personalities, sexual identities, races and body types.
In hopes that you'll have a similarly awesome experience, here is the 2016 list of the most queer-friendly schools in America:
1. Sarah Lawrence College in Bronxville, New York
2. College of the Atlantic in Bar Harbor, Maine
3. Warren Wilson College in Asheville, North Carolina
4. University of Wisconsin in Madison, Wisconsin
5. Stanford University in Stanford, California
6. Grinnell College in Grinnell, Iowa
7. Emerson College in Boston, Massachusetts
8. College of William and Mary in Williamsburg, Virginia
9. Mount Holyoke College in South Hadley, Massachusetts
10. Brown University in Providence, Rhode Island
OK, my darlings, if you're going to any of these (extremely hard to get into) schools, fabulous.
I'm sure you'll have the time of your queer life, and I'm sure there will be an amazing community of gays to help you navigate the dark and stormy waters on the Isle of Lesbos (or The Isle of Homos, or The Isle of Queeros).
However, if you're going to a state school or a school NOT on this list, DO NOT WORRY your queer little heart.
The bottom line is this: I'm sure University of Wisconsin is super gay-friendly, but remember those kids will be stuck in freaking Wisconsin for four years, which is not necessarily the most fun state in the world to be LGBTQ+.
Say you're going to a state school in California, Colorado or NEW YORK CITY, for that matter. You'll have a whole gay culture, which will come in handy once you burn through all the gays at your small, liberal arts school.
My school didn't make this list, but let me tell you, I was grateful to have the entire city of Los Angeles as my queer playground than just the student population in Bar Harbor, Maine.
However, if you are going to a school on this list (or want to), rock on! It's awesome to go to a school that you know will support you and accept you for who you are.
Plus, being in the safety of a well-constructed college environment is a great place to find your queer wings. Some people aren't ready to fly into the big city gay culture just yet.
The truth is, there are plenty of great college options for queer kids everywhere. Because, just like straight kids, us queer kids are all unique and thrive in different environments.
And don't worry, I will be writing much more queer college articles in the next few weeks. We'll be talking about the best queer cities for college students, unexpectedly cool queer schools and how to survive as a queer if you're choosing NOT to go to college (which is totally great too!).
I'm your lesbian older sister, and you're under my older sister protective wing. Feel free to message me on Facebook with any questions you have, babes.