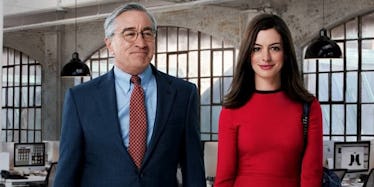 6 Tips For Landing An Interview For Your Dream Internship
Warner Bros. Entertainment
It's that time of the year again -- your procrastination is running high and you're running low on time to apply for your dream internship.
The thought of revising your outdated resume, and rewriting cover letter after cover letter, makes you want to curl up in bed with Netflix instead. But your dream internship is only a couple of resume revisions away.
Grab your laptop, shut off Netflix and follow these six tips to land that interview:
1. Rise And Grind
Most internships are posted online very early in the morning, so make yourself some coffee to drink out of your cutest mug and hit the Internet no later than 9 am.
If you're looking for an internship in journalism, ED2010 is an extremely valuable resource. Bookmark the page, follow their Twitter account and check back daily for new opportunities.
2. Craft Your Cover Letter
Cover letters can be super frustrating and time-consuming.
Not only do they have to be just quirky and creative enough to catch the attention of a potential employer, but they also have to adequately reflect your interest in the position based on the mission of the company.
Take the time to write a personalized cover letter for each position you apply for. Be honest – if this truly is your dream job, your passion should shine through the formalities of the position.
3. Network, Network, Network
You never know who your next job opportunity will come from.
Even if you think you have no connections in the journalism field, your coworker's sister's cousin could be the beauty editor at Cosmo and pass your resume along, or your old middle school English teacher could have worked for the New York Times 20 years ago.
Have a welcoming and professional attitude toward anyone that could be a potential resource, and stay connected on LinkedIn.
4. Update Your LinkedIn
A lot of companies that are based primarily on the Internet use LinkedIn as a major resource to finding freelance writers, interns and brand ambassadors.
The more professional experience you have on LinkedIn, the better. Make sure each listed work experience has at least three bullet points describing the responsibilities you held at the time, and make sure all of the verbs you use are in present tense.
Add links to published work, social media profiles and any specific statistics you contributed toward jobs you've had. Pro tip: It's 2016 – no one cares anymore if you're proficient in Microsoft Word and PowerPoint.
Have a professional headshot taken for your profile picture. If you have a phone interview, the person interviewing you will most likely look at your LinkedIn headshot to get a better picture of whom they're speaking with.
5. Make Your Social Media Profiles Public
And remove those award-winning keg stand pictures you have posted all over them.
Many students keep their profiles private so that future employers can't see pictures that might show alcohol or partying. While that may help your image, it won't help your personal brand.
Many jobs in journalism use social media to promote brand expansion for their companies, and it's an integral part of each company's survival. If a potential employee can't see anything on your Instagram, Twitter or Facebook, how will they know whether or not you have a large enough social media presence to contribute to theirs?
A lot of companies also use social media to find students that do have a large following to promote their products.
Keeping your social media profiles public (and free of alcohol or party pics) gives you a better shot at internship (or job) opportunities.
6. The Email
Be polite, but persistent.
First things first: Find out the name of the person (or people) that will be reviewing your resume and cover letter. If a name is listed, address the cover letter to "Mr. or Ms. X" instead of the generic "To Whom It May Concern." This approach directly addresses the person you'll most likely be working with, and it personalizes the greeting.
In the body of the email, specifically address that person again. Introduce yourself very briefly and describe, in a sentence or two, what position you're applying for and why. Your cover letter should describe in detail why you're the #boss for this position.
The subject of the email should include your first name and last name, the time of the internship and the position you're applying for.
If you have a connection at the company, put their name in the subject header too. For example: John Smith, Summer 2016 editorial intern application.
If you don't hear back in two weeks or more, send a second email politely reminding the company about your interest and reattach your cover letter and resume.
Above all else, be the total boss you know you are. Confidence is key, so put on your favorite professional outfit, grab your color-coded planner and organize a list of dream internships to apply for.