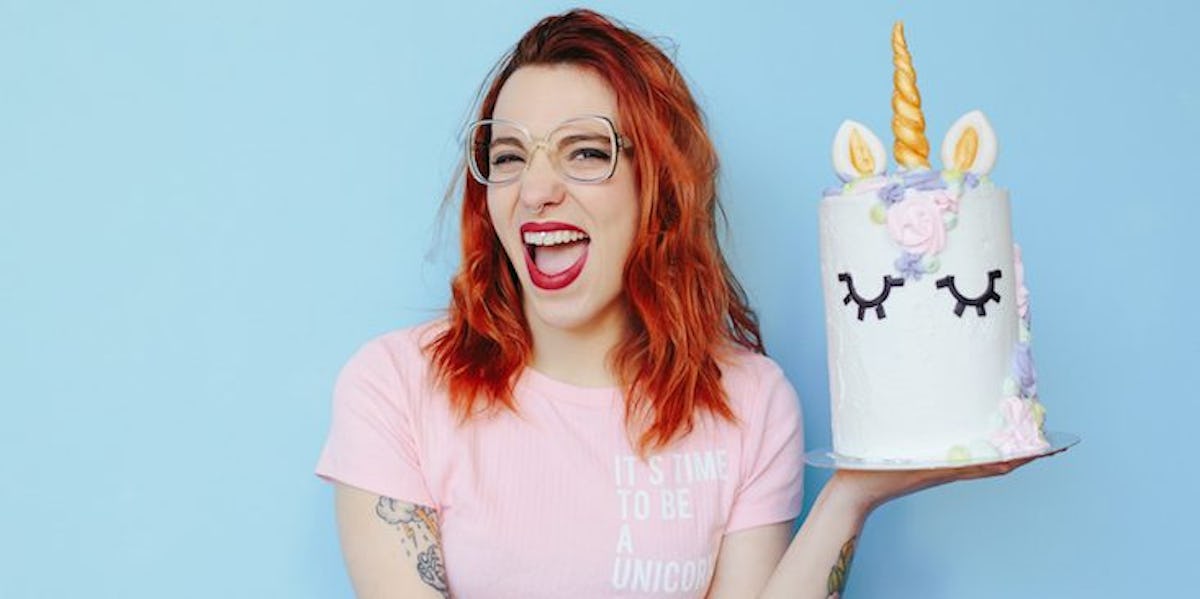 10 Tiny Unicorn Tats To Get With "Your Person," Because Your Bond's That Magical
The best friend you can ever have in a lifetime is known to be "your person." This beautiful term was given to us by Grey's Anatomy's best friend duo Cristina Yang and Meredith Grey. "Your person" has been there for you through thick and thin; they know all of your habits, and they are, essentially, your true soulmate. The relationship you have with "your person" is a magical friendship, and your bond deserves something incredibly symbolic. If you're into the tattoo game, there's a variety of unicorn tattoo ideas that were seriously made for you to get with your bestie.
Your friendship is about love, and the promise of someone caring for you when you find yourself down in the dumps during your most stressful days. As cheesy as it may sound, that's all real magic is about -- love. So, what better way to bring the love you have for your BFF full circle than with a magical unicorn tattoo?
A unicorn, aka, the most majestic creature ever, may not be real, but what it represents sure is. Unicorns are bursting with happiness, love, a lot of magic, and their horn makes them a little bad*ss when they need to be. Knowing all of that, what else could make for a better friendship tattoo? Whether you and "your person" are in the market for a new matching piece, or you just really love unicorns, these 10 stunning tattoo ideas will leave you swooning.
1. This Adorable Little Guy
Real talk: I am totally digging those sparkles. This awesome design is subtle, but symbolizes so much about your vibrant friendship. You can even both get the same tattoo, but customize the mane in your color of choice.
2. This Sweet AF Unicorn Pegasus Design
This unicorn pegasus design is one for the books. Go ahead and do it up with "your person" with an incredible tattoo like this one. Obviously, a picture on a unicorn pegasus pool floaty with your matching tattoos is a must.
3. A Geometric Watercolor Look
Let's just take a minute to admire the absolute beauty of this geometric design. The watercolor is the cherry topping to this tattoo. There's no doubt you and your BFF will get compliments all day long.
4. A Sassy, Stunning Piece Of Art
Just look at that side-swept hair slaying the game. I aspire to be this unicorn. This tat is absolutely perfect if you and "your person" want something a little on the sassier side.
5. A Hella Intricate Drawing
It's clear that this unicorn is killing it. A design like this one is definitely a solid match for the BFF pairing who doesn't want a very colorful tattoo. One thing's for sure: You'll always have your gorgeous tattoos to use as conversation starters.
6. This Colorful Piece Of Magic
This is definitely not the tiniest on the list, but it's no doubt that those colors are simply gorgeous. If you and "your person" can't decide on colors, why not go with all of them? Also, let's just sit back and admire the little spark on the horn. You can always show a design like this one to your artist and ask them to go smaller.
7. This Fabulous Blue Unicorn
OK, so spoiler alert: This pictures tattoo is actually a temporary one. But, so what? It's still fabulous, and you know you'd rock it.
8. A Mesmerizing Rainbow Unicorn
We already know that unicorns are unique. The best part about this tattoo is that it's so different, creative, and downright mesmerizing. In addition to your chest, a tattoo like this one would look great placed on your wrist or behind your shoulder.
9. Pretty In Pink (Unicorns)
You can't go wrong with a pink unicorn. These little masterpieces are the perfect pieces of artwork for the friends who love everything about the color pink. The added detail of the flowers adds so much to the completed look.
10. A Touch Of Glam On The Hands
These little tats add a bunch of glam to your hands. Forget rings, because you don't even need them anymore. You and your bestie will be rocking your love for each other for all the world to see.