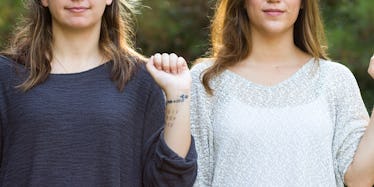 14 Tiny, Beautiful Mom And Daughter Tattoos To Get Together If She's Your BFF
If you're lucky enough to have a mom you're best friends with, you know the bond you share is an irreplaceable one. You wouldn't trade it for anything in the world.
A connection that special calls for a permanent mark, am I right?
It's time to take Mom out to brunch (your treat, of course), and broach the subject of getting a tattoo together.
If she's game for it, the options for mother daughter tattoos are truly endless. But, there's something about subtle designs that seem just perfect, and they'll still showcase how much you mean to each other.
If you and your mom are anything like me and mine, you're on the hunt for the perfect tattoo for you relationship.
Here are 14 tiny tattoo ideas to commemorate the beautiful relationship you have with your mom.
1. Each Other's Handwriting
What could be more personal than a sweet message written by each other?
2. Matching Shapes
Pick a shape that means something to your relationship, and embrace it.
3. Something Beautiful For All Of The Women In Your Family
Why not grab your grandma and persuade her to join, too? JK.
4. A Piece Of Your Childhood
Look for a quote from the book she always read to you as a child, or the song you always sang together.
5. Delicate Infinity Hearts
Put them in the same spot for added mother daughter power.
6. A Special Doodle
You can tell the tattoo artist exactly what kind of doodle you want, and they will draw up a design you'll fall in love with.
7. An Intricate Infinity Design
Add in your favorite flower for a special touch.
8. These Breathtaking Butterflies
They're truly beautiful, just like your relationship.
9. Mini Crowns
... Because you ladies will always be total queens.
10. Your Favorite Flower
Nothing beats having something that reminds you of your favorite time of year.
11. Matching Doughnuts
This one's for all of the moms and daughters who have a hardcore sweet tooth.
12. Puzzle Pieces
There's nothing better than when the two of your pieces are together.
13. A Symbol Of Your Travels
You'll always reminisce about the good memories and say, "Remember that time when we traveled to..."
14. Matching hearts
What's sweeter than two small hearts on your fingers?