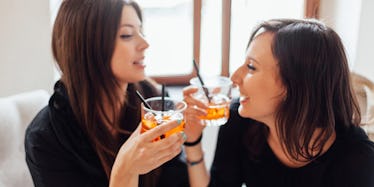 5 Ways To Think About Alcohol Like An Adult In The New Year
Though I don't necessarily care for the New Year's resolutions, I can't deny that there's an energy in the air and a desire to start fresh and make 2016 count.
For me, I thought it would mean the same thing it's always meant: chisel a bikini bod, cut all toxins cold turkey and swear off men once and for all.
So I'm back in the gym, I bought fresh veggies and I made a Pinterest board or two.
I'm single, and I'm loving the way my world is filled with possibility.
I'm feeling good. I'm ready.
Except, if I've given up partying, does it mean I need to commit to "Dry January?"
Will it help me?
Research from Health Psychology suggests this practice has physiological benefits, including an increase in moderation upheld throughout the six months the study followed its subjects.
Dry January is a great thing no matter how you slice it, but I don't drink enough to need to quit and still crave the social aspects of drinking.
So instead, I'm reinventing how I drink.
Attitude is everything, and I'm tired of seeing the same group of people in tight bodycon dresses, sipping a concoction of alcohol out of a fish bowl and screaming a throwback song at the top of their lungs.
I'm over it.
So instead of swearing off yet another thing in order to make 2016 great, I've resolved to try new things and reinvent the wheel.
Here are five great drinking resolutions for 2016:
1. Try that classier place you've heard about, but never ventured into.
Try a winery or an upscale bar with a dress code.
Gone are the days when you avoid the cover charge and go for the $1 drafts or the bar tequila that always does you dirty.
Be selective and go for quality over quantity.
2. Buy some classier digs.
Now that you're free of your local dive, you'll need some classy attire for your outings.
Take a chance and go with a sleek jumpsuit or a full, tulle skirt.
Go for high necklines or deep-V plunges.
Treat yourself.
I, for one, am in love with Cara Delevingne's mature punk look.
But, I may just be in love with Cara Delevingne.
3. Try an IPA or two.
Even if you don't end up liking it, or you're not a fan of beer to begin with, beer tasting is a great excuse to get out and try something new.
Brewing is a craft that needs serious appreciation.
4. Instead of drinks, try dinner and drinks with a few good friends.
Instead of waiting until after 11 pm to arrive at the local bar after pregaming at a scuzzy apartment of a friend of a friend, meet up with a few good ones or some coworkers at a cozy sit-in.
Order a round of beer, and watch the stories unfold.
5. Host a cocktail party to try interesting new cocktails
.
Ever heard of the Tipsy Bartender?
Pick out a few faves, create a Facebook group and set up a Saturday night in with friends.
Make it a plus one, and have your guests each bring an ingredient for the recipes.
Play games like Cards Against Humanity, Exploding Kittens or good old-fashioned charades.
You're welcome, and happy (responsible) drinking!
Cheers to 2016.