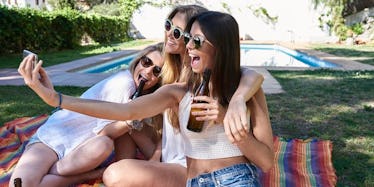 9 Things To Do With Friends On Your Last College Weekend To Stay Bonded Forever
Spring semester of your senior year in college is the beginning of an end to something truly spectacular.
Throughout your college career, you accomplished so much.
You grew up, and you conquered all-nighters with caffeine in hand.
You made connections, and maybe even got a little taste of your dream job during internships.
You probably woke up with Domino's cheesy bread boxes in your bed far more times than you can recollect, because you were "studying" hard.
Your squad partied it up like no other, and you made irreplaceable memories in the process.
The final days leading up to your last exam are certainly bittersweet. You want to hand in that last sucker with no regrets, but at the same time, you can't help feeling like an emotional wreck.
Here are nine ways for you and your friends to make the most of your final weekend in college together, so you can all stay bonded forever, no matter where the future will take you.
1. Make reservations at your favorite restaurant one last time.
Or, check out the lavish spot that's been on your bucket list for the past couple of years, because the time has come to finally cross it off.
2. Toast mimosas and order your favorite dish at a bottomless boozy brunch.
Because, of course, these are the priorities of #BrunchQueens.
Pour that syrup and keep it COMING. Need I say more?
3. Walk around campus and take pictures.
Visit your favorite spots, and soak them all in one last time.
4. Stay up all weekend long and reminisce about your favorite college moments.
There's no time to waste! This weekend only comes around once in a lifetime, so live it up.
5. Throw a themed party at your house.
If you have a backyard, even better. Get that grill going.
Ring in the summer, and bid farewell to one of the most amazing chapters of your life, with flower crowns, glitter tattoos and boozy tropical slushies.
6. Plan a picnic or ultimate frisbee game in the quad.
Round up the crew, pack up picnic blankets and chairs, chill out and bring on the games.
7. Organize a scavenger hunt around campus.
Let the best team win!
8. If you've been thinking of getting another tattoo, go for it.
This may not be your thing, but if it is, a tattoo is an awesome way to literally keep the bond alive forever with your BFFs.
9. Take a trip to the beach, and let the good times roll.
If you have to make it a long weekend getaway, go for it.
As you pack up the life you were so used to living for the past several years, it's time to hit the road and embrace the next chapter. You don't want the bonds you shared with your college besties to just fade away.
When the time comes to throw your graduation caps in the air, believe me, reality will sink in. Make the last weekend with your college squad a memorable one.