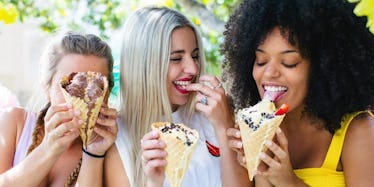 9 Things To Check Off Your Bucket List During Your Last Summer In College
Bonninstudio
In just one year from now, reality sinks in, and you'll be off into the real world.
With your diploma by your side, you'll accomplish all the young adult things you said you would. You'll hopefully begin to pay off your student debt, land your dream job, and maybe even move into that cozy apartment in the city.
As much as it's bittersweet to say goodbye to your college years, the life of a graduate is full of adventure and endless opportunity.
For now, though, you're still a student, and the adulting can wait just a little longer. Summer is the perfect time to embrace the spontaneity and fun, after all.
Here are nine ways to take advantage of your last summer as a college student before you begin your final semesters.
After high school, when everyone begins to follow their own paths in life, it gets a lot more difficult to keep in touch with your crew from back home.
Luckily, summer truly is the ultimate time to reconnect when everyone is home sweet home.
Hit up any of the girlfriends you may have lost touch with over the past couple of years. Plan brunch, take a cruise through town, or walk through the halls of your old schools as you look back on the memories and share a few laughs.
2. Land A Summer Job Or Internship
While summer is most likely the closest to "me time" you'll ever get while in college, you'll need to keep on top of those dreaded student loans somehow.
Landing a paid internship in your field will help you keep some money in the bank while getting ahead of your competitors from the get-go. Look for one you'll enjoy, and impress the heck out of your superiors.
3. Try Out A Fun New Look
Now is the time to try out that new beauty trend you keep bookmarking on Instagram.
Give in to your curiosity while you're still down to experiment with your look. The confidence boost that comes along with changing up your hair color or style is just a bonus.
Traveling is an amazing way to expose yourself to the diversity of the world, but it can also be expensive and stressful AF.
Thankfully, companies such as STA Travel and American Airlines offer discounted travel packages for students. The hassle in planning your travel itinerary may be inevitable, but taking a trip by yourself this summer will ensure that your vacation revolves exclusively around you.
5. Do Something Special With Your Family
For many, family is an anchor that helps keep you grounded throughout any unstable years of early adulthood.
Don't forget to remind your fam they're still an important part of your life, even if you may be much more independent than you were a few years ago.
Round up the family, pack your bags, and hit the road for a camping or lake getaway you'll bond over together.
6. Catch Up On Some Much-Needed Sleep.
Between lectures, labs, jobs, extracurriculars, and having a social life, there's not nearly enough time for sleep during the school year.
Now that you have a bit of a break, take advantage of your free time with some extra naps. Snooze on the hammock in your backyard, or fall asleep to the serene sound of the waves at the beach.
7. Indulge In What Truly Makes You Happy
One of the perks of not yet being a full-fledged adult is that you are your main priority. Do what makes you happy, whether that be watching a chick flick movie marathon on Netflix or soaking up the sun at the beach with your squad.
8. Open Yourself Up To Meeting New People
There's plenty of socializing going on around campus, but don't let your social skills fade just because it's summer. Embrace new opportunities; you may meet some pretty cool gems along the way.
Go out and make new memories with people you met through your summer job or new friends you met through your home squad. Even if you don't keep up with them all once you're back at school, it's great to have connected in the first place.
9. Be As Spontaneous As Possible
Live out those carefree summer vibes, and have fun in the moment. You never who you could meet or where your spontaneity will take you. Cliff jumping, anyone?
At the very least, you'll have some fun stories to tell when you go back to school in the fall.