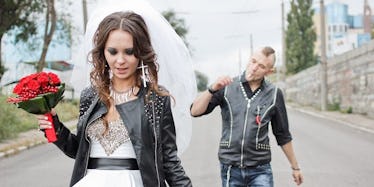 7 Themed Weddings That Were So Extra, But In The Best Way
GlebSStock/Shutterstock
Weddings shouldn't all be the same. The concept should embody whatever the two of you value and cherish together. With that being said, there are many couples who took the idea of their wedding as an opportunity to go all out with innovative themes that some of us could only dream of. Coming up with a list of themed wedding ideas can be so much fun and really leave an everlasting memory for the people getting married and those attending.
These weddings delve way further than the witty invites. They are full-blown and cater to the themes all the way through. That takes an incredible amount of dedication and drive to accomplish. But hey, if you're gonna put a major amount of energy into a wedding, it might as well be totally your own. There were literally no bounds for these spectacular weddings.
The great thing about having a themed wedding is that once you have your mind set on one concept, everything else starts to fall into place. As crazy as it sounds, the more outlandish, the easier it is for you to coordinate the other pieces. Some of these themed weddings were extra, but that's just short for extraordinary, so get ready to swoon beyond belief.
1. The Good Kind Of Wicked
Meet the #gay#Houston couple whose 'Wicked'-themed wedding reception just won a national award https://t.co/27950DagRTpic.twitter.com/A15bFn2Huq — outsmartmagazine (@outsmarthouston) September 8, 2017
You're lucky if you actually get to see Wicked live. This couple brought the stage to their guests with this cute theme. Literally, it was an award-worthy event. No pressure, though.
2. Harry Potter For The Win
Harry Potter Themed Wedding aka my dream wedding pic.twitter.com/ORv2dA4cPJ — Aisyah (@aisyahazman_) September 3, 2017
Look, we can't help that Harry Potter is just so dope it can be applied in almost every aspect of our life. Marriage is a magical affair, so why not flick your own wand and create an even more magical wedding? Even if J.K. Rowling doesn't show up, Hogwarts will always be home to us all.
3. A Princess Carriage For Two, Please
Plan Your Own Disney-Themed Weddinghttps://t.co/s21jkBI0OK#isaidyes#wedding#twpspic.twitter.com/1jwRQYfZfV — TheWeddingPlanStore (@WeddingPlnStore) September 7, 2017
Oh, Disney. Since Disney is responsible for our childhood beliefs in miracles and magic, it's only right that it's a possible wedding theme. Anything is achievable in the world of Disney. Yes, even an incredibly detailed wedding theme.
4. We're All About This Carnival Theme
We're totally obsessed with this couple's carnival-themed wedding! See every quirky photo here: https://t.co/HZaXJbdca5pic.twitter.com/YQa2gLpMDU — The Knot (@theknot) January 5, 2017
It's hard not to fall in love with this carnival wedding theme. There are so many whimsical opportunities, and it looks like this couple nailed each one. Try not to sob on your cotton candy.
5. Alice in Wonderland Never Gets Old
Sausage dog bridesmaid at the weekend for a steam-punk Alice in Wonderland themed wedding at Rochdale Town Hall @RochdaleNews@MENnewsdeskpic.twitter.com/SJaf42TCDZ — Sean Hansford (@sean_hansford) August 11, 2017
There's nothing like this epic steam-punk themed wedding. Alice in Wonderland is more than an acceptable theme to play out your very own fairytale. Going all out is almost mandatory.
6. Who Doesn't Love This Sweet Affair?
Need a little wedding inspiration? Why not have a Charlie and the Chocolate Factory themed wedding...https://t.co/GMrsdeVrp2pic.twitter.com/a3VinPQ6kR — Closer Mag & Online (@CloserOnline) March 10, 2017
Seriously though, who doesn't love chocolate? Marriage is sweet and the wedding is the time for you to cash in that golden ticket. Oh, did I mention that there's more chocolate to even handle? Sounds heavenly.
7. This Love Ain't A Game... Oh Wait
I met @Psychovandal while playing Halo 2 on Xbox Live in 2009. We got married by Master Chief and had a Halo themed wedding. pic.twitter.com/DDhO0fOBzV — Desi survived Irma (@LibriLabra) September 3, 2017
This is such an adorable way to express the love between two gamers. Don't they bring out new games each year so they can be better than the last? Therefore, you can't go wrong planning a wedding with a game theme. Take some inspiration from these spectacular weddings that executed a theme so amazingly. So, if you're planning a wedding, don't be afraid to make it your own and go all out.