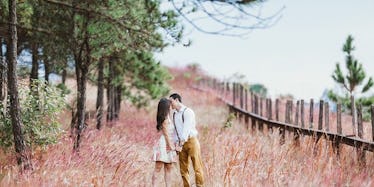 8 Stunning Vineyards To Tie The Knot In So Your Wedding Is A Real-Life Fairytale
Pexels
Whether you're a major wino or not, having a wedding in an enchanting vineyard is the perfect location for such a magical event. Wine is simply amazing. Even down to the location where it's made, it literally provides us with the best results every single time. If you're up for an outdoor wedding that's not too much of a hassle, follow the winery brick road. There are many gorgeous vineyards to have a wedding, and you'll be so serenaded in scenic beauty that you'll feel like you're in a real-life fairytale.
Vineyards come in all different designs and layouts — it really depends on what region you're in or are willing to travel to. Also, let's not forget that you're literally steps away from where they make wine, so you're immediately off to a great start. Many of these vineyards can be very historic and you'd be making your own sort of history as you tie the knot to the person you love and want to spend the rest of your life with. A big cheers to that. So, if you're looking to have a fairytale wedding without the pumpkin carriage, glass slippers, or midnight expiration, consider assembling your own happily ever after at one of these vineyards.
1. Brooklyn Winery In Brooklyn, New York
We loved being featured in @harpersbazaarus's 22 Best Garden Wedding Venues in the World! Read more: https://t.co/AocqOtOUcu pic.twitter.com/xGOocttzgF — Brooklyn Winery (@BrooklynWinery) August 4, 2017
This rustic look is the perfect location for the laid-back couple trying to have an intimate wedding with close friends and family. That stained wood is so incredibly beautiful, and it really sets the overall romantic mood with candles on the table. Keep it simple, classy, and graceful.
2. Keswick Vineyards In Keswick, Virginia
Congratulations Leigh & Aaron! Read all about their beautiful Charlottesville wedding here: https://t.co/6WGYRBWkni#weddingWednesday pic.twitter.com/dxmm7UNOms — Keswick Vineyards (@keswickvineyard) May 3, 2017
OK, can we please appreciate this gorgeous white house setting the backdrop? It's incredibly beautiful, and the outside setup is screaming with opportunities for you to decorate your aisle to your liking. Your outside wedding idea just found its ultimate match.
3. Chalk Hill Estate In Healdsburg, California
Experience the breathtaking architecture of our Pavilion during an exquisite Culinary Tour: http://t.co/69C4nqLvzX pic.twitter.com/g66agiVNlR — Chalk Hill Estate (@ChalkHillEstate) March 19, 2014
This setup looks like something straight out of a dream. Who doesn't like a long table, lined with lavish, plush chairs? You and your prince (or princess) are the finishing touch.
4. Youngberg Hill In McMinnville, Oregon
TY! MT @McMinnvilleAVA: Great wines & view @YoungbergHill 10 mn from McMinnville https://t.co/PDCJIF9gSm #oregonwine pic.twitter.com/qspKNCv4Y6 — Youngberg Hill (@YoungbergHill) April 8, 2016
This aerial view should be all the convincing you need to want to plan your wedding at this vineyard. The more space, the more opportunities you have to pose for those unforgettable wedding photos. Great wines, views, and amazing company... could things be any more perfect?
5. Wolf Mountain Vineyards In Dahlonega, Georgia
https://t.co/NGHL6yZtnE #earth #nature Sky view of Wolf Mountain Vineyards today! #wolfmountainvineyards … pic.twitter.com/HQ6SSX8XEz — Earth and Nature (@Earth_nature_) May 14, 2016
These sky views are absolutely breathtaking. Send your wildest weddings dreams into real life at a location like this. Oh, the lovely way nature rewards us.
6. Bedell Cellars In Cutchogue, New York
A beautiful venue! Wedding Catering at @BedellCellars by Lombardi's Love Lane Market. #northfork #eastend #longisland pic.twitter.com/2fhp3JpkFo — Lombardi's Market (@LombardiMarket) August 2, 2017
No bride would even be jealous of all the white in this cute scenery. Those wooden chairs and floral decorations make it seem like you're actually dining in a fairytale. Excited yet, princess?
7. Stone Tower Winery In Leesburg, Virginia
#AprilShowers...Check out our beautiful tank room #transformation #weddingwednesdayhttps://t.co/jexK3rQ9jl pic.twitter.com/xe36O0r8DZ — Stone Tower Winery (@StoneTowerWine) June 22, 2016
OK, this maybe isn't your average setting, but isn't the point of your special day to be unique and memorable? This quaint, charming setting is perfect for something intimate. How many people can say they got married in a tank room?
8. Biltmore Company In Asheville, North Carolina
Biltmore Company wins trademark infringement case (Photo: Blake Lewis / CC BY-SA 2.0) https://t.co/KCg8xKApG6 pic.twitter.com/Gb4Q3sJWqX — WPDE ABC15 (@wpdeabc15) May 22, 2017
Castle much? You have no choice but to feel like royalty while walking in or out of this place. If you don't get married here, I will. Give your wedding a taste of enchantment by exploring vineyard options. Your perfect wedding is only a sip or two away.