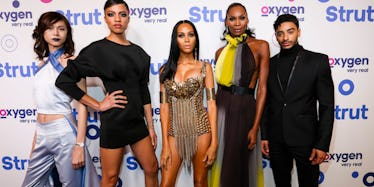 'Strut' Star Isis King Is Exposing Mainstream America To Transgender Models
Oxygen
I've been a super-fan of model Isis King since I watched her on the 11th cycle of "America's Next Top Model."
If you were so sad to have missed cycle 11 of "ATNM," let me refresh your memory.
King is the first ever transgender model to compete in the show, and she slayed. Famous for her powerful walk and epic bone structure, King not only broke ground in the modeling industry, but she also gave the other models a run for their money with her innate class and inherit sophistication.
Now that she's being featured on "Strut," a new reality show about Slay Model Management, the first ever modeling agency to exclusively cater to transgender models, King will be using one of the most powerful platforms in media to educate an audience outside the behind-the-scenes fashion bubble on the future of gender.
"Strut" (which airs on Oxygen, Tuesdays at 9/8 central) follows the lives of up-and-coming transgender models struggling to climb the modeling ladder, and dares to show the humanity around a widely ignored and largely discriminated against subset of people.
On the show, we will see the models struggle with their careers, deal with the trials and tribulations of dating and manage to preserve their sanity in an incredibly high pressure industry.
Executive producer (and my idol) Whoopi Goldberg perfectly explained to E! why "Strut" is both a unique and universal perspective on the modeling industry:
Our models come from all walks of life, all different backgrounds and ethnicities. They are struggling with things we can all relate to — trying to make ends meet, fighting to make a name for themselves and navigating the minefields of personal relationships. All of these struggles are amplified by the fact that they are also fighting to break down barriers and taking on the responsibility of representing the transgender community in today's society. It's time to separate caricature from real people, and that's what we are doing with 'Strut.'"
It makes sense that fashion would be the perfect cultural obsession to bridge the gap between the caricature of transgender people and the bare-bones humanity of the transgender community. As the late Oscar de la Renta famously said, "The great thing about fashion is that it always looks forward."
In other words, fashion has always been on the forefront of social change.
And King, who has modeled for pop-culture fashion company American Apparel, is currently standing at the center of it all.
Not only was I excited to interview King (as I'm a shameless fangirl), but I was thrilled to pick her brain about "Strut" and her personal story of how she ended up in the coveted position she's in.
While fashion might be more socially progressive than your typical industry, fashion is also notoriously rough on models, so I was curious about what made King think she should pursue modeling professionally when the career is widely considered to be nothing but a pipe dream.
King tells me it was her creative vision that steered her into the modeling world. She always dreamed of being a fashion designer, but she learned she had the gift of the perfect runway walk when she coached the models wearing her own designs.
She says,
I grew up knowing that I wanted to be a fashion designer first! In my high school and college fashion show, I taught my models how to strut in my garments. That was when I knew I had a walking gift. I loved to train people to walk fiercely in my tiny 5'8" frame.
Speaking of a tiny frame, King thought she could never "take it all the way" with modeling because of her height. That all changed when she caught the attention of "ANTM" judge Jay Manuel while working as a background extra for the show (prior to being cast).
King explains that even in the background she "outshined most of the contestants," and Manuel himself clearly noticed. He encouraged her to audition for the show — and that's when King realized that modeling professionally could actually be a possibility.
I mean, holy shit. If the famed runway coach Jay Manuel thinks you have what it takes, then you have what it fucking takes, kittens.
King decided to "make the most of it," she says, and never looked back.
She also understands the pivotal role fashion plays in the future of gender and in our general culture. She tells me,
Fashion is heading toward being genderless, especially when you have cool kids like Jaden Smith pushing the envelope. Let's face it: Women have always worn men's clothes. Now, men are circling back around. It impacts the culture because rules and regulations of what is "appropriate" to wear is slowly fading, and that eliminates shock value. Wear what you want!
Wear. What. You. Want. That's always been my mantra, and the real fashion icons of the world — Edie Sedgwick, Kate Moss and Iris Apfel — have all freely expressed their individuality through clothing.
Maybe that's why creative people, who are currently pushing gender boundaries, are so drawn to fashion. Fashion is oh-so-silent but also a loud, outward expression of who we are and how we feel.
So if style is an unabashed expression of our inner selves, then who is King's favorite designer? Really, who is King on the inside?
Well, King admires the not-so-subtle queen of strength Dontella Versace. She feels like Versace's "style, color usage and detail represents everything I am."
King also cites her own personal brand to be much like rule-breaking Versace herself, saying she's "strong, edgy, sexy and not afraid of color."
Despite starring in a show about the first transgender modeling agency in America, King shares a lot of the same struggles models experience as well. Modeling comes with the bitter sting of rejection, regardless of your gender or sexual orientation. So, like most models, her least favorite part about her career is just "the gamble."
She says,
You just never know how consistent your workload will be. I've kept a full-time job when I could throughout most of my professional career, just to have consistent money coming in, but that is always hard to figure out once your moment is happening and you're booking so much work.
Yet despite King's added pressure of being part of the transgender model movement, she seems to have found remarkably healthy ways to wind down:
I'm lucky to have many different passions that are connected but different. When the pressure of the industry is too much, I step back to focus on acting, designing or motivational speaking. It gives me a minute to charge my battery and keep going. That is what has kept me active this long in this business.
She's also luckier than most models I know in that she has endless support from her family and friends in this tough AF industry:
My mom modeled in her heyday and has always been one of the most colorful people I know, so she loves that I am following my dreams. My friends and family are great, too. My best friend Cory Malcolm kept me focused during down time and always reiterated, 'Your time is coming. You are THE Isis King.' Having friends to keep you focused and super motivated is important in this business. It's easy to get down on yourself or overanalyze.
Thankfully, King has managed to stay strong, in spite of living in a world that's told her she's different. And my hope is that her appearance on "Strut" will show certain narrow-minded members of our society that we're really not all that different anyway.
The key thing making our day-to-day lives so vastly different from the transgender community is that transgender people have to stay strong in the face of incessant bigotry. And nothing has the power to eradicate discrimination like showing the faces, the people and ~the humanity~ behind those who are targeted and bullied.
I asked King what advice she would give her younger self — the younger self that didn't even know modeling for a mainstream brand like American Apparel would be possible. She says,
I would tell my younger self that all the answers are within me. To keep going even when I don't have the answers because they will always be revealed. To continue being your authentic self because one day, you will change the lives and minds of many, many people for the better, just by living. I will tell myself that I am enough and loved.
And hopefully, by showing millions of viewers that she is not only living, but thriving, she will inspire young people all around the country to continue to live.
King is direct evidence that the best is yet to come.