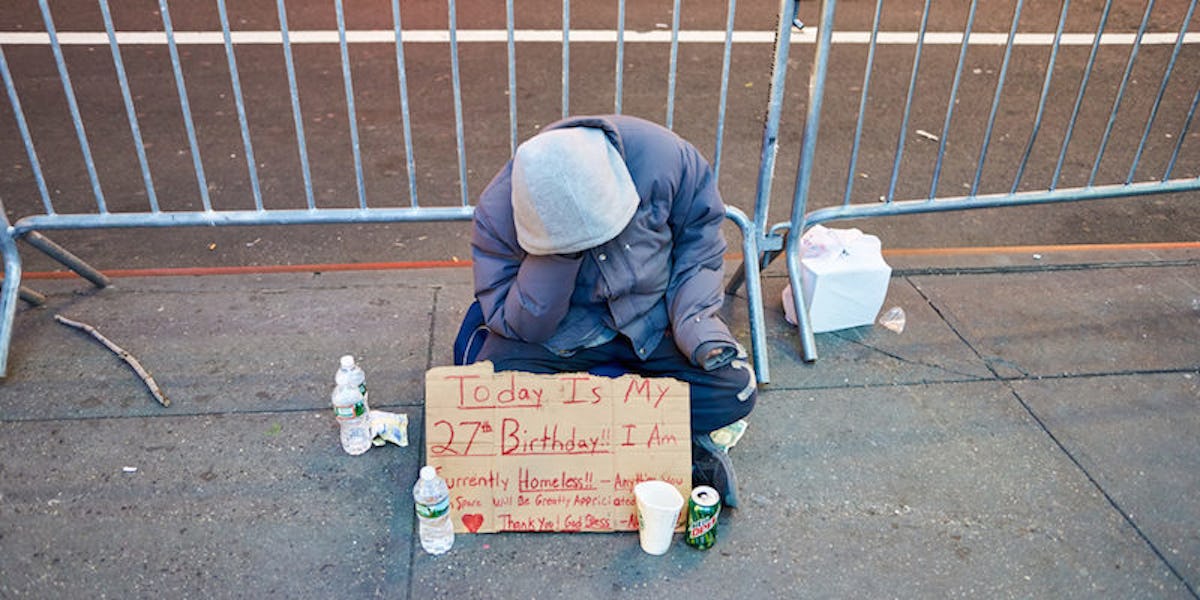 What Happened When I Finally Stopped Ignoring Homeless People
Shutterstock
Late morning in Downtown Boston holds warmth even on a cold December day. It's just when the sunlight begins to sparkle on all the reflective towering buildings. I set up my camera to take decent photos, fumbling with the aperture and ISO settings. My lens was zooming in on the Paramount marquee when a desperate voice interrupted my test shot.
"Excuse me. I'm really sorry. Excuse me, ma'am. Could you please do me a favor?" I moved my camera away from my face and examined him with caution. He was a homeless man with dirty clothes and crooked teeth.
"I'm really sorry. Could you please do me a favor?" he pleaded again.
"Um ... it depends. What is it?" I replied.
"Do you have some cash so I can go to McDonald's? I'm really sorry. I haven't eaten all day, and I could just really use a warm place to sit."
Then, I realized I was keeping my lens narrow. One thing I discovered when I spent two weeks in France was that the world is best observed from all angles. There, I noticed the tile roofing just as much as the intricate cobblestone sidewalks. My memory of Provence wouldn't be the same without those two architectural elements.
So, I could keep walking and pity this man, or I could help him enjoy some greasy calories and an hour of warmth.
"There's always a chance he could use the money on drugs or alcohol," I thought. No, I would lead my day with a wide-angle lens. Besides, he was clearly sober now, so why should I assume he has an addiction problem?
I only had $2 in my wallet, so he asked if I could buy him a juice in CVS and get cash back. My narrow lens shrieked, but my wide-angle lens led me inside the store. He followed me to pick out the juice and rushed over to help when I struggled with the chip on my debit card.
"Why is he watching me? What is he up to?" said my narrow lens.
"I wouldn't have used that $10 for much anyway. Just don't eat out this week," said my wide-angle lens.
Back out on the street, I gave him the money.
"So, tell me. What's your story?" I asked him. Barry said he was from Maine and worked at Walmart before he was laid off two years ago. He's been on the street since. He thanked me for my help, and I wished him a blessed day, praying everything would work out for him soon.
That small interaction made me feel big. I didn't care that I had to take street-style photos all day to catch up on blog posts for class. I decided I would have fun, and I'd try to bring as much joy to others as possible. I knew that if I could bring a little sunshine into Barry's day, I could do the same for other people, even if only for a few minutes.
I made my way to Downtown Crossing and observed all the working people on lunch break. I met John, a short man in cargo pants, blue sneakers, a knit hat and beetle-like polarized sunglasses. He had parked his bicycle for a smoke break and told me he was a courier of documents so important they needed to be hand-delivered.
Then I met Arjun, who said he manages the Taj Hotel. He wore slim black jeans, a crinkled leather jacket and a plaid scarf that signified "European transplant" the way it hung nonchalantly from his neck. Arjun seemed to be a citizen of the world. He grew up in Africa, traveled often and lived in Australia before he moved to Boston. He was looking for a pub nearby, so I showed him to Stoddard's a block away.
We tried to have a conversation in French, but I couldn't remember the word for "walk." I kept pointing to my feet saying, "Pieds! Les pieds!" He had no idea what I was trying to say.
By the end of the day, I'd taken 12 people's photos, and not one gave me a negative response. They all agreed to pose for me, and they all smiled. I caught up to one couple who was practically skipping across the street, arm in arm and giggling like kids. They couldn't stop laughing and kissing when I took their photo, and their outfits almost looked coordinated by the neutrals they chose. The woman wore knee-high, lace-up, high-heel boots.
"They're steampunk, baby!" she said.
Halfway through my day, I took a break on a bench. Jim, a white-haired man in his 60s, was sitting close by and introduced himself with random facts about Boston.
"You know, the Millennium Tower is almost as high as the Hancock. But, it's a couple stories shorter," he said.
He'd just finished his last chemo treatment for prostate cancer. In 20 minutes, he told me stories about his career when he was a financial advisor in California while struggling with alcoholism.
By late afternoon, I packed up my camera. But, my interactions with strangers didn't end then. I even met a fascinating woman in the bathroom. I told her I liked her outfit while I was washing my hands and she was touching up her lipstick. She had dressed up for a fashion event, she told me, which led us to into a long talk about Boston's fashion industry as we stood in front of the sinks. We promised to meet up for coffee sometime. Four months later, we talk for hours about film, fashion and culture whenever we hang out.
Every day carries new opportunities to focus our lenses on the good or the bad in people. We can choose to give dirty looks on the train, or smile when a stranger makes eye contact. We can choose to rant when a barista gets our coffee order wrong, or we can compliment his or her hairstyle. I never knew how Barry's day turned out, but I hope he felt just an ounce of the sunshine he helped me feel that day.