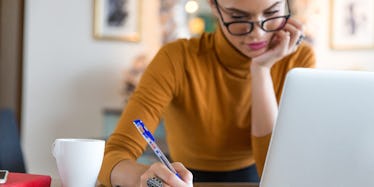 5 Easy Ways To Stand Out From The Competition While Applying For Internships
Stocksy
If you're a college or graduate student looking to gain some internship experience, you're not alone. In fact, millions of students countrywide are seeking the same thing, which means you're probably asking yourself, "How do I stand out?"
Although there are many ways to stand out among competing interview applicants, these simple strategies will give you the head start you need to impress any interviewer.
Thoroughly review your resume.
While it's common knowledge you should have a well-polished resume, you'd be surprised how many internship applicants leave it all up to chance, forgetting to double check their resumes for typos and errors.
Check your resume for any grammar, spelling or punctuation mistakes. Don't just trust the default spell-checker that comes with your word processing software either -- sometimes they fail to catch glaring errors.
Have another person read your work, too. Ask them to look for anything that looks out of place, whether the problem is a wrong date, an unclear job experience description or a random typo.
Another thing you should pay attention to is whether your statements can be verified. You should remove anything you're unable to prove.
There's no quicker way to ruin an interview than have an interviewer call you out for providing potentially misleading information.
Another important consideration is making sure the most pertinent information is listed before less important facts or details.
For example, if you were able to increase year by year sales by 15 percent in your last position, this information should come before the fact that one of your main responsibilities was compiling your individual sales reports.
Experience comes in many forms.
One of the biggest challenges college applicants face is a lack of relevant work experience. However, be careful that you don't equate "lack of traditional work experience" with "no experience." They're definitely not the same.
For example, if your aim as a communications student is to land an internship at a local media outlet, but you've never held a paid media position, cite your experience as a blogger or as the editor of your school's newspaper.
Sure, it might not be exactly the same, but those experiences give you tangible skills and resources that will apply to your internship.
Really, each experience is what you make of it.
Don't wait until summertime to apply for an internship.
Although it's true there are more internship opportunities in the summer than one might find during the winter, don't fall into the trap of only applying to summer intern posts.
More and more schools and local organizations are beginning to post placements throughout the year. This should come as welcome news to students, as it helps level out the competition for the spots.
Plus, given the intense competition for summer openings, you may want to focus your efforts on targeting autumn and spring semester openings.
Don't forget about your career placement office.
Yes, it is true collegiate career placement offices primarily focus on helping graduates, but they also often publish internship openings. It may be worth it to set aside a block of time to visit your career development counselor.
Furthermore, even if there are no employer requests for interns, the career placement counselor may still be able to call around and locate an opening.
Consider what kind of job you really want.
As important as it is to heed the tips above, if you haven't given serious consideration to the type of position you'd like, these recommendations won't really help.
So, before going too far down the rabbit hole of internship-hunting, don't forget to assess your overall career goals and use those findings to identify the industries or internships you'd like to pursue.
The bottom line:
Acquiring an internship doesn't have to be an overly complicated process or a frustrating experience.
Follow these strategies and pursue a goal you're passionate about, and you'll be well on your way to starting your first day at your perfect internship. And from there, you're one step closer to your dream job.