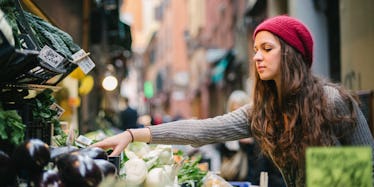 The 5 Disastrous Stages Of Cooking Your First Meal In Your Own Place
Living on your own is exciting. I remember moving into my apartment located on my school's Main Street, filled with tons of great restaurants and shops. All I could think about was the freedom of not having an RA and being able to cook whatever I pleased.
Compared to my freshman year dining hall, this was the most exciting thing that could have ever happened to me. I realized quite early on that there are stages of cooking, especially in college.
It's thrilling to think you have full control of what to make for dinner or buy at the grocery store. These feelings soon start to fade, however, once you realize you are not as good a cook as dear old Mom and Dad. Here are the five stages every college student goes through when trying his or her hand at a homemade meal:
Stage 1: Pinterest
This is a time where all your food fantasies come together in the form of pictures and recipes. It's easy to get carried away on such a wonderful website because the food possibilities are endless. Anything you're craving, Pinterest is sure to have it.
Cilantro garlic lime chicken with zucchini noodles, spinach and artichoke flatbread pizza and baked pesto chicken are just a few of my favorite Pinterest dream meals I had hoped to conquer during the weeks ahead. They may require a 20-minute prep time with a 30-minute cook time, but count me in. This will be easy. Bring it on.
The picture in the recipe is enticing enough to give you the confidence to make such a glorious meal and forget about the time commitment. Rachael Ray, who?
Stage 2: Grocery Shopping
It's an endless wonderland full of everything a young, optimistic soul could ask for. It's a place where the magic begins, and where aisles are filled with a potential future home-cooked meal that may even put your Mom's lasagna to bed.
You're a dreamer, and this is the promised land. Bring on the goodies.
Grocery list in hand, you are ready to conquer this store with no distractions. Your eyes are on the prize, getting home and proving to yourself, your roommates and mostly your parents how independent you can be.
But browsing up and down the long aisles and hunting for ingredients gets you kind of hungry. Picking up a few snacks wouldn't hurt, right?
You felt eager and proud about this meal, but the shopping extravaganza turned out to be an hour and half trip that cost $30 (not including your spontaneous snacks, yikes). But, you brush it off because this will be the best $30 meal you have ever had.
Stage 3: Time To Cook
Finally, it is time to create magic. You'll make something your roommates are going to be jealous of, and if this turns out as impressive as you expect, maybe even all of your Instagram and Snapchat followers will be envious.
Reading through the recipe and instructions, you start to wash the food in anticipation to start sautéing (or whatever it's called). Then, you start to panic.
"WTF does julienne carrots mean? I'll just chop them. That's basically the same thing, right? Is this chicken almost done? I've had it on for like 15 minutes now. What happens if I eat undercooked chicken?"
Wow, this cooking thing is a lot harder then expected. Don't call Mom, though. Stand your ground. You're going to cook this bomb meal if it's the last thing you do.
You're a full-time college student, for God's sake. If you can pull an all-nighter and ace an exam on zero sleep, you can cook this freaking chicken.
Stage 4: The Mess Of A Meal
So, the meal doesn't look exactly like the picture. Whatever. It's homemade and clearly more believable that a college student made such a work of art.
There is no feeling more satisfying than digging into the first bite of a meal full of blood, sweat and tears (not literally, of course).
"OK, so chopped carrots were not the move. It's fine. I can just push that aside. The chicken is just a tad overcooked on this side. Oh, and this side, too. Yikes."
Quickly, you throw away any evidence of your meal into the trash, saving any sort of dignity you have left.
Stage 5: Time for Takeout
"Thank God I live above the best Mexican restaurant on Main Street."
At this point, just call your mom tomorrow, and she will tell you what to do next time.
At least you tried, right?