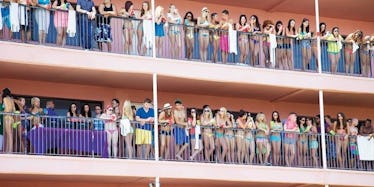 5 Spring Break Destinations You Don't Even Have To Leave The Country For
A24
As undergraduate students, there is nothing we hold more dear than our spring break vacation, and I mean absolutely nothing. It is the one time of year where we can shamelessly down all the beer and booze we want, almost worry-free.
The downside is, the typical spring break spots are vastly overdone. I'm talking about Panama City and Daytona. This spring break, we should all definitely upgrade and do something a little classier.
Here are five unusual spring break spots that will completely blow Panama out of the water:
1. Washington, DC
If you haven't given this city a second thought since your eighth-grade class trip, you should put it back on your map for spring break. The major problem with many spring break destinations is there is nothing to do during the day.
But you won't encounter that problem here. During the day, you can check out all the free museums, try out all the food at an international festival or spend a little cash and eat at the restaurants you've seen on TV.
At night, you can check out the bars with seemingly unlimited board games (such as the Board Room), try out all the international beer and get the greasiest pizza on the walk home. Even your grouchiest friend will find something fun to do.
2. Gatlinburg, Tennessee
Gatlinburg is arguably your cheapest route for spring break. Splitting a chateau with some friends and spending a long weekend up in the mountains can cost less than $150 per person, which makes both me and my wallet happy campers.
Nothing beats looking at the sunset mountain view while drinking Pinot Grigio in the hot tub and blasting Beyoncé with your friends. In the morning, there is nothing but lovely forest silence and total zen to ease you out of your hangover.
If you're looking for things to do during the day, head into town for a southern-style brunch, moonshine tastings and Ripley's Believe It Or Not! Odditorium.
3. Cleveland, Ohio
Want to make all of your friends jealous? Get your picture taken in front of "The Christmas Story" house, where you can go on a tour throughout the museum and completely relive your favorite childhood holiday movie. You can also pretend you're a rockstar at the Rock And Roll Hall Of Fame. Here, you can see tributes to Michael Jackson, The Beatles, Sex Pistols and hundreds of other artists.
Afterward, you can have dinner at the Playhouse Square, which is the largest entertainment district outside of New York City. Even later, enjoy a concert and drinks at the House Of Blues. If you're looking for a destination where you can pretend to be a rockstar and be the envy of all your Instagram followers, Cleveland is it.
4. Hilton Head Island, South Carolina
In my opinion, Hilton Head is the beach version of heaven. As it is a predominantly family-oriented destination, this spring break location is bound to be the most relaxed beach you could go to.
In this city, you can park your car and rent a bike for all of your stay, which means no gas expenses for the entirety of your trip. My suggestion is to rent a condo on Coligny Beach, so that you can be close to adorable dinner locations, like the Big Bamboo Cafe.
Be prepared to drink the day away in front of your oceanfront pool. Or, you can take your party directly to the beach, and wake up to the sound of ocean waves right outside your condo.
5. Chicago, Illinois
If you're interested in film and the arts, Chicago is almost mandatory for you this spring break. In love with the movie "Ferris Bueller's Day Off?" Anyone?
This spring, Chicago is organizing a three-day Ferris Fest to mark the anniversary of the film. This includes a remake of Ferris' room, meet and greets and a visit to Cameron's house. There will also be a "twist and shout" parade to follow.
Afterward, go and visit a once-in-a-lifetime collection of Van Gogh works, which are organized from all over the world. If you're really dedicated, you can check out some of the many art museums and local theaters located around the city.
At night, you can choose from over 500 bar and club locations. Check out the Kingston Mines -- the highest-rated bar and music venue in the city -- for masterpiece drinks and local music acts. During the day, check out the beer tastings and brewery tours.
While there are tons of unusual destinations out there, these five are tried and true. Taking a break from the typical destinations will only enhance your spring break and help you avoid the overdone, cliched events from the past.
Regardless of where you decide to go this spring break, picking any location on this list will guarantee you a week of great sleep, fun and endless beer.