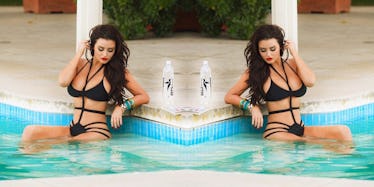 The Internet Celeb: 3 Ways To Use Social Media To Boost Your Career
Lately, the old adage of "it's not what you know, it's who you know," has become more, "it's not who know, but who you can connect with on social media."
Gone are the times when you have to personally mail in head shots, or walk in to a recording studio with your demo CD (do people still make CDs?) in order to gain recognition.
For whatever your skill is — modeling, acting, journalism, photography, art, music, etc. — there's a place for you to create yourself on social media.
However, since the Internet is readily accessible and available, that also means that it's incredibly saturated, with thousands of other talented individuals also hoping to make it big.
Most Millennials recognize the importance of utilizing social media, but not all know what to do to set themselves a part from an equally talented crowd.
I recently dropped in on a photoshoot for model Abigail Ratchford's 2016 calendar.
She has used social media to be discovered, and it has helped her launch a promising modeling and acting career.
Just her Instagram alone now has 2.2 million followers, and is sure to continue growing.
Abigail shared with me these three tips on how Millennials can make the most of social media to get discovered and launch their career.
1. Find your niche.
"Girls need to find their certain category. If you're going to be a glamour girl, go all the way. Or, if you love fitness and nutrition, then go further with it," Abigail suggested.
While this is directed mostly for models, it can be generalized, too.
Find what you're good at, and focus on a subcategory of it.
Photographer? Use social media to showcase your awesome portraits of people, or to showcase your skills of taking photos of the cityscape.
While you may be great at multiple facets of your trade, it's better to have a centralized theme across your social media outlets.
2. Network.
"When I first started, I would look for girls that had big followings, and ask them if they wanted to do a share for share," said Abigail on the importance of networking with similar individuals.
Just as you go to a networking event in person to meet people, you can do the same online.
If you know of someone with similar goals, (i.e. someone else who is trying to be an actor) message him or her!
Why not succeed together? You two can grab a cup of coffee and pitch ideas to one another about skits or script ideas.
Then, when your skit is finished, you can each post videos on your social media channels and tag each other. Now everyone following them has been exposed to you and vice versa.
This also works when reaching out to people with talents that are different than yours, but are equally beneficial.
For example, in Abigail's case, she first got noticed when her photographer friend posted photos of her on social media.
Every model needs a photographer, and every photographer needs a subject to shoot.
Similarly, if you're a musician, you'll need a producer, and if you're a producer you want to produce for as many musical artists as possible.
3. Showcase your personality.
"If I don't have any pictures to post, I'll go to Funny or Die or Vine accounts that have hilarious videos and I'll post them," Abigail shared.
Of course you should focus on your specific talent, but everyone loves a funny or newsworthy post now and then.
Sharing something you personally laughed at, or offering an opinion on relevant material, helps people see you are relatable and more than just a person with talent.
It also helps gain follower engagement, rather than just "likes."
When you showcase yourself as an approachable, relatable person, you're less of a distant figure on the Internet and you boost your marketability factor.
"You're in control of (social media). Before social media you had to be discovered or you had to book a big role to get the exposure. Now you have the opportunity to create yourself," Abigail concluded.
When it comes to social media, you are your own manager, agent or PR rep.
You have free reign to be whoever you want to be.
While becoming a household name (in whatever industry you're in) isn't always easy, smart social media practices can most certainly help boost your career.