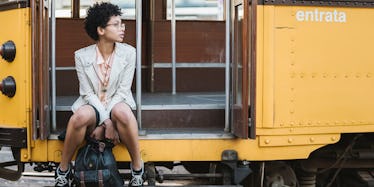 7 Safety Tips For Single Women Who Want To Travel Solo Across The Globe
I took my first solo trip when I was 19 years old. Since then, I've traveled solo to Europe, North, South and Central America, Australia, Asia and the Middle East. I spent the past year traveling solo and meeting people through Instagram, and I've learned a few techniques about safe travel.
As a first-generation Latin American, I'm no stranger to the conservative values that suggest that women are vulnerable targets for an attack. As a self-proclaimed independent woman, I can confirm that yes, sometimes, I am fearful for my safety.
It's not because I'm a woman. It's not because I'm traveling. It's because I'm a human being, and crime sees no borders. It's the individuals, not the places that make an experience unsafe. So, as an advocate for solo travel, here are my tips on safe travel:
Before Your Trip
If you're American, register for STEP (Smart Traveler Enrollment Program), which updates you with alerts and warnings by connecting you to the US Embassy of the place you're visiting.
Talk to your insurance provider to see how you are (or are not) covered overseas. If you're not covered overseas, get travel insurance and research other resources.
Upon your arrival into a country, buy a local SIM card for $10 to $40 (or upgrade your plan for reasonable roaming charges). Internet data allows you to follow routes on cabs, update friends and family about your location or call local authorities for help. Cyberspace does so much more than update our Instagram accounts.
Avoiding Theft
Keep your money and credit cards in multiple locations so that if you do get robbed, the muggers don't take everything.
Opt for a purse with a study strap, and wear it criss-cross. A clutch or purse can be easily yanked. Fanny packs might seem great for festivals, but they are easy to unbuckle.
Instead of carrying your wallet in your front or back pocket, keep smaller, flatter wads of cash inside your clothing.
Keep a lock for your valuables.
Unless you have a personal driver or local escort, avoid bringing valuables out. They attract the wrong kind of attention, and they are likely to be lifted by professionals.
Crowds: Parties, Sporting Events And Festivals
Book up on boozing. The alcohol content in some foreign beers is almost twice that of American beers. A single vodka soda in Sydney is actually legally calculated, so a vodka soda in Europe could be three to four times stronger.
Don't leave your drink unattended anywhere.
If you're traveling alone or in a small group, try to meet people during the day to hang out with at night. It's not that new friends couldn't be creepers too. But odds are, your judgment is better in the daylight, when you're sober.
Research the culture. I'm a California girl, so I think "festival" and equate it with bikini tops and maxi skirts. I don't anymore. Different cultures have different standards of modesty. While you are entitled to wear whatever you want in America, that may not hold true for the destination you're visiting. This holds particularly true when you're visiting places of worship.
Don't drink too much. I hate to sound like a parent, but seriously, when you're overseas, don't drink too much. Do you want to deal with foreign cops? Do you want to deal with a hospital in a developing nation? Do you want to get robbed by a bunch of teenagers because you can't walk straight and are an easy target? Alcohol impairs our senses. If you get too drunk, you will get robbed. If you're lucky, that'll be it.
Have a meeting spot and signal. If you're dealing with mass crowds, chances are, you may not have reception, or you might split up. A meeting time and spot is a great way to check in with one another and assure each other that everyone is OK.
Getting Lost
Avoid "private cars" at all costs. Unless you're using Uber or Lyft, don't take cabs that aren't registered with the city.
Ask questions regarding public transport. Maybe the train or bus will take you to point B, but once you reach point B, there won't be any cabs for the rest of your night's journey. Maybe something is available throughout the entire night, but only every couple of hours. Make sure you always have a safe way home before you go out to adventure. I know you want to be spontaneous, but transit in the middle of the night (and even in the day) changes.
Keep the address of your accommodation in both English and the native language of the region. Write the address of your accommodation in both your phone's notes and in a small paper notebook (in case you lose your phone, or if it dies). Make sure that everyone in your group does this in case you split up. Alternatively, keep the business card of your hotel or hostel with you at all times.
If you're walking alone at night, walk slightly behind a couple or group. It sounds a little creepy, but you don't want to stand out. Obviously don't follow them home, but stay on the same side of the street as they are.
Avoid dark and non-touristy areas at night. If you feel uncomfortable, switch train cars or walk into very busy areas or businesses.
If you do think you're being followed, stop to ask for security, or go to a public place for help. You can walk into any hotel to ask for help. Whatever you do, don't walk to the place you're staying at.
Meeting People
Consider meeting people through mutual friends or social media.
Join a tour group. You have the perks of being on your own when you feel like it, but you also have a crew to take on social shenanigans or remote places with.
Apps For Safe Travel
Find Your Embassy is an app that helps you find the nearest US Embassy anywhere in the world. The mobile website also provides maps, contact information, alerts and warnings.
Practice emergency phrases with TripLingo. I find it's useful to learn to say "vegetarian," "no meat," "restroom," "please" and "thank you" as well.
Above All
Trust your gut.
Never check in publicly on social media. If you have a private account, great. But, if complete strangers can see your photos, wait to post that mupload until you've left the premises.
Never blame yourself. To be clear, horrible things happen to everyone everywhere. It is not your responsibility to stay safe. Please don't misinterpret these tips for safety rules. We need more education with regard to consensual sex, better economies so that people don't steal and awareness to prevent hate crimes. If you face any kind of attack, know it's not your fault.