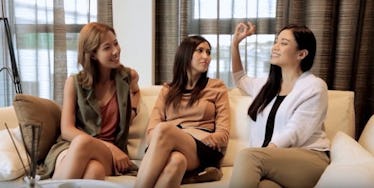 A Full-Time Job: 8 Types Of Moms You'll Find In Singapore
Ever since I became a mom, I've realized that every mother has a different style when it comes to parenting.
Whether or not we agree with each other's ways of raising our children, one thing's for sure: We all share a great love for our children and only want what's best for them.
Being a mom is no walk in the park, and I've learned a great deal from every mom I've met.
While some of them have really quirky and unique approaches to motherhood, many of them share more than a few similarities.
So, let's have a little laugh at ourselves and celebrate the different types of moms we know and love.
Here are eight types of Singaporean moms:
The Over-Protective Mother
Every mom loves her child, but these moms go a teeny bit overboard with showing it.
She's the mom who immediately jumps to her child's defense when a situation arises, and nothing is ever her child's fault.
The bane of teachers everywhere, she takes great pleasure in calling or writing in to the school to complain if you've upset her son or daughter.
Don't mess with her children because she may not know you, but she will find you.
The "Organic" Mom
A staunch believer in all things organic, these moms only give their kids "the best," and in her dictionary, that means anything organic.
Organic baby powder, organic food, organic soaps, organic clothes, you name it. As long as it has the word "organic" on it, she's snagging it.
The Social Media Mom
Essentially, this is what most of today's young parents are.
They flood your social media feeds with videos and pictures of their kids, and share about every little moment they have with their children -- from their first words to their toilet habits.
You'll find them on your Twitter, Facebook and especially Instagram, and you can't help but adore their kids. That is, until it becomes overkill.
The Kiasu Mom
Quite literally, these are the moms who are afraid of losing out.
Always comparing her children to all the other kids, she brags about how her tot started walking at 2 months, doing push-ups at 6 months and algebra at 1 year.
Chances are, her kid is enrolled in every kind of tuition/enrichment class there is: piano, math, Mandarin, Japanese, violin, you name it.
She's also the one who secretly hates all the other kids' moms, especially those whose kids always seem to be one step ahead.
The Know-It-All Mom
These moms have read a lot about motherhood and are a walking encyclopedia on all things parenting.
She has an opinion on everything, like whether formula feeding you child is good, and has no qualms pointing out if she thinks you are disciplining your children incorrectly.
While her tips are super helpful most of the time, sometimes, it's just not appreciated.
Especially when it feels like she's forcing her ideas down your throat.
But at the end of the day, you know that when things at home get out of control, you can always count on her to swoop in and save the day.
The Lepak Mom
She's the one who doesn't give two hoots about what others think about her parenting.
She's super easy-going and she never sweats it.
Food drops on the floor? Not a problem! There's the three-second rule.
While many mothers are alarmed by her mothering strategy, or seeming lack of it, you just know her child will grow up to be a total toughie.
The Hot Mama
The one who has three kids and still has the body of a 20-year-old. The envy of all the other moms.
She has a nice tan and an unbelievable toned body, sculpted abs and a perky butt.
You'll see her at the park taking a jog with two toddlers, one infant in a pram and the dog on the leash.
Her nails are always well-manicured, and her hair, perfectly curled. She leaves the rest of us moms wondering: How in the world does she do it?
The Hot Mess Mama
The complete opposite of the hot mama, she's a first-time mother with a 3-month-old and everything screams that she's still learning the ropes.
She's thankful for any help and advice she can get, as she struggles to get a grip on the whole motherhood situation.
You feel bad for her but you know that with just a little time and practice, she'll become an awesome mother.
Being a mother is a 24/7 job.
Whatever the parenting style, let's recognize the sacrifices they make every single day, and appreciate the fact that they are trying their best to play out this challenging role.
To all the mommies out there, we believe you are doing a great job, no matter what kind of mommy you are.
To see what local moms go through, you can check out MediaCorp's new show, "Lion Moms," which airs every Monday at 10 pm.
It follows the lives of three different mothers: Jennifer Tan (Bernice Liu), a mother who has given up work to be the perfect stay-at-home mother; Durrani Mazlan (Nurul Aini) a tough career woman bent on beating gender stereotypes in the office; and Min Yi (Vanessa Vanderstraaten), a single mother who had a teenage pregnancy and is struggling to pay the bills.
Unlike many shows on Channel 5, this show (rated PG) touches both real-life and steamy issues, like cheating husbands, love triangles, naughty teenagers and hot male yoga teachers.
If that interests you, you can catch up with the previous episodes on Toggle.
This post was originally published on UnzippedTV.
Citations: 8 Types of Moms You'll Find In Singapore (unzippedtv)