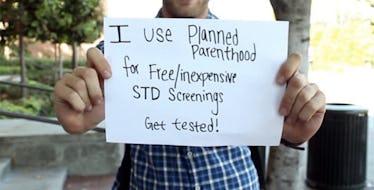 6 Millennials Prove How Absurd It Is To Hate Planned Parenthood
A gunman walked into a Planned Parenthood clinic in Colorado the day after Thanksgiving and began shooting, leaving two civilians and one police officer dead.
The shooter, Robert Lewis Dear, is in custody. It's still unclear whether he had a motive, but officials have already started calling this exactly what it is: an act of domestic terrorism.
We now know that one of the civilians who died in the shooting was 29-year-old Ke'Arre Marcell Stewart, a veteran of the Iraq war. He was also a father of two girls, according to The Washington Post
After stepping outside to get phone service, Stewart was shot. Still, he ran back inside the clinic to warn others about the shooter, according to NBC News
By yesterday afternoon, a Go Fund Me page was set up to help pay for his funeral. Amburh Butler, who created the page, wrote in the description, "Stewart was taken from us way too soon by a complete act of disgusting violence in Colorado Springs, Colorado."
Jennifer Markovsky, a 36-year-old mother of two, was also killed in the shooting. She was not receiving any care at the clinic on Friday. She just went to support a friend.
Officer Garrett Swasey, also a father of two, was killed after the five-hour standoff. Nine others were wounded.
Planned Parenthood helped reduce teen pregnancy to a 20-year low last year.
The organization's health centers also saw a 91 percent increase in the use of IUDs and implants, which are both forms of long-term contraception. And, they provided almost half a million breast exams.
But the people visiting the clinic in Colorado on Friday to receive these services were instead put in a life-threatening situation.
Rather than hearing the sound of an unborn child's heartbeat during a check-up, the nurses heard gunshots.
A place where patients were getting tested for STDs, learning about options for safe sex or getting breast exams, quickly turned into a terrifying war zone.
That's exactly why Colorado Gov. John Hickenlooper called the shooting, "A form of terrorism."
President Obama said in a statement on Saturday that enough is enough:
If we truly care about this -- if we're going to offer up our thoughts and prayers again, for God knows how many times, with a truly clean conscience -- then we have to do something about the easy accessibility of weapons of war on our streets to people who have no business wielding them.
Some are speculating that the clinic shooting is related to undercover videos released this summer, which show executives from Planned Parenthood talking about the process of providing fetal tissue to companies like the Center for Medical Research for research.
You may remember the news frenzy that resulted from the release of these sting videos from an anti-abortion group.
The videos raised questions about the ethics of Planned Parenthood providing fetal organs to researchers.
Conservatives have accused the organization of illegally selling fetal organs for profit, which Planned Parenthood denies.
Although this has only been confirmed by unnamed law officials, several media outlets have reported that the shooter told investigators, "No more baby parts," after he surrendered.
Dear is expected to appear in court via video on Monday.
The 57-year-old will face multiple counts of murder and attempted murder, and he is currently being held without bond. Authorities have not yet released a clear motive for the shooting, as investigations are ongoing.
Below are six Millennials who turned to Planned Parenthood for healthcare when they had no alternatives, and when they didn't think to consider whether they'd be safe visiting a clinic.
Three dead, nine wounded and countless others are left in fear after Friday's events.
These are just six of the 1.5 million young people who used Planned Parenthood's services last year.
And now, they're left with the knowledge that others like them had to hide from a shooter while seeking out the same care.
So, as President Obama said, when will enough be enough?