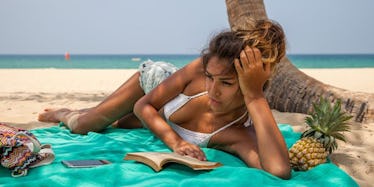 5 Seductive Beach Reads To Live Vicariously Through This Summer
Have you ever started to read a book at the beach, only to discover time slipped away from you, and now your entire body is on fire from your newly acquired sunburn?
Most of us have been there, done that (multiple times), and the reading was well worth the awkward tan lines.
There are some exceptionally juicy romance novels out there that you just can't put down, no matter how hard you try, and no matter how refreshing the ocean looks from your blanket.
They become addicting, irrevocably all-consuming… and we totally immerse ourselves into the plot, like it's our very own story.
For all of my fellow bookworms out there, here are five seductive beach reads you'll live vicariously through this summer.
"Royal Affair" by Parker Swift, $13, Amazon
What's more scandalous than having a royal affair with a handsome future duke?
This novel gets sexier with each flip of the page, as the man of the hour, Dylan Hale, follows a strict set of rules in the bedroom: only sex, he's the one in control and everything needs to be kept a secret.
This is the first book (out of three) in the "Royal Scandal Series," and it'll definitely make the temperature outside a whole lot steamier than it already is.
"The Gamble (Colorado Mountain)" by Kristen Ashley, $7, Amazon 
All was going well for Nina Sheridan in the love department… or so it seemed. She believed she had found her Prince Charming, with whom she would tie the knot and live happily ever after.
But, all didn't go according to plan when she discovered he didn't know her one bit. After that realization, Nina packs up her bags and swaps her current life for one situated in an isolated, charming town in the Colorado mountains.
The town of Gnaw Bone holds a different path for her, including some budding feelings for the owner of her rental house, Max Holden.
"Sweet Addiction" by J.Daniels, $14, Amazon 
As part of the "Sweet Addiction Series," this sultry novel focuses on a wedding hookup — which typically comes with no strings attached — that ends up amounting to so much more than just a casual, one-night fling.
Reese Carroll can't seem to get Dylan Sparks off of his mind. He desires so much more of her, and as much as she thinks she wants everything to stay casual between them, the two are in for a wild ride.
4. "My Skylar" by Penelope Ward
"My Skylar" by Penelope Ward, $15, Amazon 
This juicy read tells the story of a man who has forever been secretly in love with his best friend, Skylar.
After Skylar ends up leaving town because of him, she returns with someone else. To add even more fuel to the fire, they're living together.
The narrator of the story knows he cannot go on without Skylar, so he does everything in his power to win her heart back, before it's too late.
"The Summer House" by Jenny Hale (Kindle only), $3, Amazon  
Best friends Callie Weaver and Olivia Dixon buy the dream house they've been in love with since their childhood, with a plan to transform the home into a charming bed and breakfast.
Callie's love life seems to be on the back burner, until she crosses paths with a sexy local, Luke Sullivan, who turns out to be different from the playboy he first appears to be.
But when Callie and Olivia discover a diary chock-full of secrets involving people throughout the island, many dark clouds begin to roll in.
With these five books, your bag will be well-equipped to park your booty in the sand and read the sizzling days away.