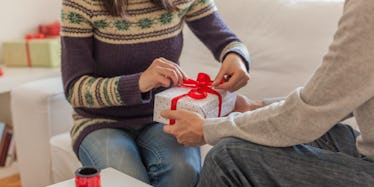 Here's How To Start Saving Money For Holiday Gifts If You've Been Avoiding It
Is your wallet crying yet? It's that time of year again.
Moms, dads, siblings, co-workers, friends, boyfriends... you name them, you're buying a gift for them. And you don't want to be THAT girl who's re-gifting and passing off an orange as a present again.
So, brace yourself for that high price tag on generosity. But before you reach into your pockets and spend a small fortune this holiday season, consider these tips:
1. Reduce personal spending (duh).
Cut one expensive habit out of your routine from now until the holidays. If you look forward to your extra hot Pumpkin Spice Latte every morning, I'm talking to you.
Stay calm, though: I'm not suggesting you go without coffee for the next six weeks. But that $5 you're spending every morning really does add up, and that's generously assuming you're only buying one cup a day.
If you brew your coffee at home from now until 25 December, you could save yourself over $200. Try these ideas while you're on your PSL hiatus, and you might just quit overpriced coffee for good.
For about the price of one Starbucks latte, you can buy a bottle of coffee creamer that'll last you all month. Because it's holiday season, most brands usually have pumpkin spice, gingerbread and even peppermint mocha. Adding any of these deliciously sweet creamers to your home brew will make it taste (almost) as good as the real deal.
If you're into cold coffee, you can pick up a bottle of pre-made cold brew from your local supermarket. Most brands make cold brew concentrate, so depending on how strong you like your coffee, one bottle can last you up to 10 days.
Pour some into a reusable cup or water bottle in the morning and be on your way. Not only will this save you money, but by avoiding a trip to your coffee shop in the morning, you'll also get an extra 10 minutes to sleep in.
Go green with a French press: It's both super trendy and super delicious. Just embrace the change and start something completely new.
You can snag a single-serve French press for as low as about $10. Your wallet will thank you.
2. Do some research.
When it comes to holiday shopping, here's my number one rule: Never pay full price.
Everyone knows Black Friday is the best day to get a good deal. But you may not realize that some stores start sales as early as two weeks out.
As usual, Google is your best friend. If you know the items you're looking for, start comparing prices at multiple stores before you make any moves.
But if you're going in blind, it might be your best bet to see what's on sale first, and then decide what gifts you're buying.
The worst thing you can do is wait. Get in there while fall clearance events and Black Friday sales are in full effect. If you don't have your holiday shopping done before the beginning of December, you can pretty much guarantee you're going to overpay.
3. Get thrifty.
You can start by cleaning out your closet. Thanks to technology today, it's so easy to sell your old stuff.
Those old Birkenstocks at the back of your closet that have been collecting dust ever since you wore them that one time are probably worth more than you think. Not only is this a great way to make extra cash, but you're also making room for all the new stuff Santa is going to bring you.
Check Facebook to see if your neighborhood has an online garage sale, or download one of the multiple resale apps that exist, like Poshmark, Merci or eBay. Then, voila: You're an entrepreneur.
But it gets better.
"Used" clothes aren't what they used to be. We're not talking about rummaging through unwanted, stained, ugly sweaters at Goodwill. This is good-quality, recycled stuff... "lightly loved," if you will.
Through a lot of resale apps, you can buy brand new things with tags still on them. So, sell your old shoes and snag your BFF something great in the process. It's a win-win.
However you scrape up that extra cash this holiday season, just remember to spend within your means. No gift is worth racking up debt for, so keep that in mind.
It's the thought that counts.