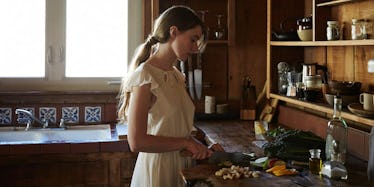 Post-Grad Kitchen Struggles: 16 Ways To Save Money And Eat Well
Post-grads around the country are experiencing serious FOMO as they put their college days behind them and start thinking about all of the new responsibilities they have as "real people."
They have to find affordable housing, pay for transportation and start paying back college loans, all while somehow having enough money to eat well and stay fit.
Why stress about all of these changes?
Enter the real world like a boss and make the most of your 20s.
Use these tips to save money and calories as a post-grad:
1. Dedicate one day each week to planning.
This process should include having a set budget for groceries for the week. Based on this budget, plan meals and snacks and make a corresponding grocery list.
Utilize staple items as the basis for your meals. Staple items include beans, pasta, chicken, rice and potatoes.
2. Keep your eyes peeled for sales and coupons in your grocery store circular.
Tip: Do not add items you do not need to your grocery list simply because they are on sale!
You may end up spending more money and consuming more calories than expected.
However, if staple items, like dried beans or pasta are on sale, go for it!
These staple items can be incorporated into a variety of dishes.
3. Do not go to the grocery store while hungry.
You will end up buying items you do not need and, more than likely, eating those items while you are shopping.
4. Fresh produce can be expensive during the winter months.
Try frozen fruits and vegetables, low-sodium canned vegetables and no-sugar-added canned fruits. These will be more affordable and last longer than fresh produce.
When fresh produce is in season, take advantage of farmer's markets or join a co-op!
5. Look up and down.
The most expensive products are located at eye-level.
6. Compare prices using the unit price.
You may pay more initially for a larger package, but you will get more bang for your buck and save money in the long run.
7. Never skip breakfast.
Eating breakfast will wake up your brain, jump start your metabolism and prevent mid-morning hunger pains.
If you need to eat on the run, make an egg white breakfast wrap or a peanut butter and banana smoothie made with skim milk or Greek yogurt.
8. Avoid convenience and prepared foods.
These products are more expensive and typically loaded with salt and fat.
9. Cook smart.
"Stretch" expensive food items by making stews, casseroles and stir-fry dishes. Double or triple the recipes, and freeze individual portions.
10. Invest in to-go containers.
Save money by taking dinner leftovers for lunch the next day.
11. Find alternatives.
If you have a sweet tooth, find a healthier option, like a fruit, low-fat granola and yogurt parfait.
12. Set a weekly limit for eating out and ordering take-out.
Find out when local restaurants are offering specials and use apps like Groupon and Fever to search for special deals.
13. Always have non-perishable healthy snacks in your office for those times when hunger strikes.
You will be less likely to run to the corner store to buy unhealthy, expensive snacks.
14. Explore new recipes you have never tried before.
For something delicious and easy to make, search for crock pot recipes.
15. Beware of alcohol.
Think about the amount of alcohol you are drinking throughout the week.
Limit fruit drinks made with high-calorie mixers, and drink in moderation to save money and calories.
16. Commit to exercising regularly.
All you need is a pair of dumbbells and shoes. You do not have to purchase a gym membership, but if you choose to do so, search the gyms in your area for the best deal.
Use options like ClassPass to find the perfect fitness classes for you.