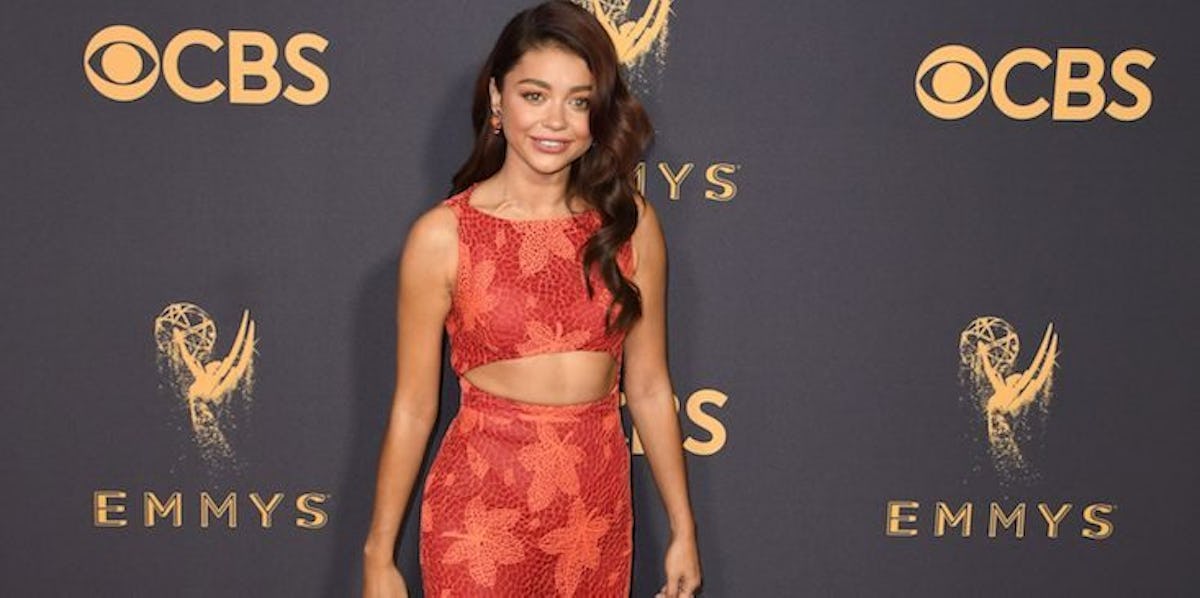 Sarah Hyland's Reaction To Her Pumpkin Spice Latte Dress Malfunction Is Priceless
Getty/MARK RALSTON
Celebrities, they're just like us. Except they come equipped with professional stylists, makeup artists, managers, and personal assistants out the wazoo. But every once in a while, we in the non-famous bucket receive a fleeting reminder of the mere mortality of our icons. It's a moment to squeal over, empathize with, and even cherish. Exhibit A: Sarah Hyland's Emmys Dress Spanx popping out of her dress at the 2017 awards show. It's so darn cute and so real at the same time, and the Modern Family star handled it like a seasoned pro.
Hyland attended the fancy ceremony to celebrate Modern Family's nomination for Outstanding Comedy Series again this year, as she has since the Emmy-winning comedic powerhouse premiered. Decked out in a curve-hugging, fiery red and orange Zac Posen gown that looks like a shimmering Pumpkin Spice Latte, Hyland proved that cut-outs are as fierce as ever. The gutsy cut-out appears right over Hyland's stomach, a peekaboo area that's becoming a hotter and hotter trend. Her confidence and killer poses on the red carpet made sporting a sexy dress look downright easy, like a cake walk. But pulling off the cut-out proved to be a bit dicier than anticipated.
Here she is working it for the cameras, looking all fabulous and slaying with major attitude:
Looks like perfection, right? The falling leaves on the dress are so autumn on-point. But just wait for it.
WAIT FOR IT...
A sliver of black appears at the top of the lower half of her dress while thousands of photogs click away.
The tiny "horror" reveals itself to our girl Sarah, whose facial expression reads like she has been exposing something far worse than Spanx.
Luckily, her true feelings on the fiasco were revealed in an Instagram post. "Kickstarting fall off with a PSL dress and a splash of spanx," she wrote, next to crying-laughing emoji. Turns out, it takes more than a little underwear-as-outerwear to get this funny lady down.
And why should it? Earlier this month, none other than Beyoncé, aka Queen Bey, put the kibosh on the Spanx-wearing stigma. At Rihanna's 2017 Dream Ball, Beyoncé sported a silky dress that draped over one leg, leaving the other stem entirely exposed. As she walked, her black, shorts-style Spanx poked out from under the covered leg. That means that her stylist chopped off half a pair of Spanx and was like, here Beyoncé, try this doctored garment! And B is so cool and low-key, she did.
That makes it official: Peek-a-boo Spanx are having a moment, and Hyland is #goals when it comes to handling a potentially embarrassing situation with panache. "Fashion for me is one of the ways that I show off my confidence," the 26-year-old told People. "I feel like I like to play with fashion and it puts me in the mindset. As soon as I get dressed for the day I feel like I can do anything." In the past, Hyland has demonstrated her love of fashion by designing capsule collections for Candie's, and she now serves as the brand's Creative Director.
For the red carpet, she relies on the stylings and advice of a familiar face, Rachel Zoe-protege Brad Goreski.
As for the rest of Sarah's fall-goddess Emmy's look, makeup artist Allan Avendaño played up her dress's PSL vibes with warm-toned, bronzey makeup courtesy of Avon. His secret weapons were copper shadow from the Avon True Color 8-in-1 Eyeshadow Palette in Smoky Nights ($9), and the orange shade from the Avon True Color Matte Eyeshadow Quad in Desert Sunset ($6;). To score a lip color that was pumpkin-esque without being orange, he cocktailed the peach Avon True Color Glimmersticks Lip Liner in Peach Envy ($5) lip liner with the brown Avon True Color Perfectly Matte Lipstick in Marvelous Mocha ($6). Did I mention the majority of this makeup is currently on sale?
Run, don't walk over to Avon's website for the discount, and hopefully some of Hyland's golden sense of humor and charisma will rub off on you.