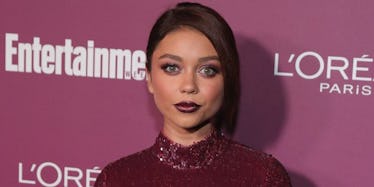 Sarah Hyland's 2017 Emmys Dress Proves Cut Outs Are Back In The Best Way
Neilson Barnard/Getty Images
Modern Family star Sarah Hyland just arrived to the Emmys Red Carpet absolutely slaying a floor-length, red cut-out dress, and fans are loving it. Modern Family is up for Outstanding Comedy Series yet again, and Sarah Hyland at the Emmys is definitely serving looks to represent her show. The second she arrived on the red carpet, fans lost it.
The 26-year-old actress started working on Modern Family when she was a teenager and has grown up on the show with co-stars Ariel Winter, Nolan Gould, and Rico Rodriguez, who play Alex, Luke, and Manny. The show has won a total of 22 Emmys and has won Outstanding Comedy Series five times over the years.
It's up for Outstanding Comedy Series again this year, and Hyland's TV dad, Ty Burrell, is up for Outstanding Supporting Actor In a Comedy Series again this year. He's already won it twice before! Julie Bowen, who plays Claire Dunphy (aka Haley, Alex, and Luke's mom) has won Outstanding Supporting Actress In a Comedy Series twice, and Eric Stonestreet, who plays Cam, has also won Outstanding Supporting Actor In a Comedy Series twice for his performance on the show. Safe to say Modern Family has been a very loved show over the years.
Sarah Hyland looks stunning on the Emmys Red Carpet.
Hyland has been pretty vocal about her health struggles this past year. Earlier this year, she rapidly lost a lot of weight, and people were criticizing her for it. She was accused of having an eating disorder, but she revealed in an emotional series of tweets that she lost so much weight due to the treatment she had to undergo for an illness she was diagnosed with. Although she did not reveal her diagnosis or the treatment she went through (nor does she have to), she said in the tweets from May 25, 2017,
I haven't had the greatest year. Maybe one day I'll talk about it but for now, I'd like my privacy. I will say that this year has brought a lot of changes and with that, physical changes. I have been told that I can't work out. Which, for me, is very upsetting. I love to be STRONG. (I'll be using that word a lot) Strength is everything. Being strong has gotten me where I am. Both mentally and physically. I am not a fan of 'being skinny.'
She added,
'Eat a burger,' 'your head is bigger than your body and that's disgusting.' And you're right! … No one's head should be bigger than their body but considering I've basically been on bed rest for the past few months, I've lost a lot of muscle mass. My circumstances have put me in a place where I'm not in control of what my body looks like. So I strive to be as healthy as possible, as everyone should. Oh and no that's not photoshop. Those are my legs. Those are my arms. I write this because I've been accused of promoting anorexia in, ironically enough, an anti bullying post. And I want young girls to know that that's NOT my intention.
Hyland's Modern Family co-star, Sofia Vergara, tweeted her support for Hyland after she posted about her health struggles.
Let's just look at Sarah Hyland's Emmys dress one more time for good measure.
She seriously looks incredible. And I'm loving the brown hair, Sarah! Of course, she would look amazing with literally any hair color ever, but she was rocking the blonde look for a while, so it's fun to see stars change up their looks. Whatever color her hair is though, no one will doubt that Hyland is one of the best dressed at this year's Emmy Awards.