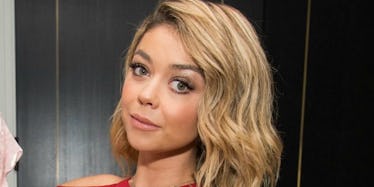 Sarah Hyland Dyed Her Hair Dark Brown And Looks Totally Unrecognizable In New Pics
Getty
In the celebrity universe, Sarah Hyland does a pretty good job of laying low. She hangs out with her friends, dates the gorgeous Dominic Sherwood, eats pizza, and seemingly lives a normal life. I follow her on all social media (because she can't hide from me) and genuinely enjoy her lack of antics. However, one change has been getting her a lot of attention. Sarah Hyland's brown hair has people obsessing. The 26-year-old actress has traded in her caramel-blonde highlights for a rich chocolate brown.
It's great the see the Modern Family actress looking happy and healthy after a medically tough year. Being criticized about her weight caused her to open up about the heartbreaking truth. In 2012, Hyland had to have a kidney transplant due to a battle with kidney dysplasia. Recently, in the past 12 months, her health has suffered which lead her to lose weight. She said in a tweet,
I haven't had the greatest year. Maybe one day I'll talk about it but for now, I'd like my privacy. I will say that this year has a brought a lot of changes and with that, physical changes. I have been told that I can't work out. Which, for me, is very upsetting. I love to be STRONG. (I'll be using that word a lot) Strength is everything. Being strong has gotten me where I am. Both mentally and physically. I am not a fan of 'being skinny.'
In the tweet, Hyland also went on to say that, "I'm not in control of what my body looks like."
Although Hyland has had a taxing year, that didn't stop her from stepping out of the salon looking healthy and fabulous. I'm totally stealing this color for fall.
I loved the blonde, but I am seriously feeling this darker, longer look.
While we're on the subject, where did she get that crop top? Too much? I wouldn't want the two of us to start getting confused for each other on the street EL OH EL. I'm loving Hyland's fresh look and wishing her the best.