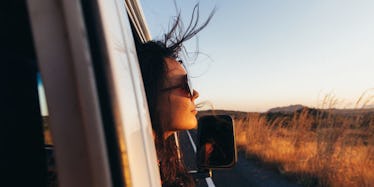 How To Ditch The Vacation Planning And Go On A Spontaneous Road Trip
Julien L. Balmer
Many people dream of taking a fun, carefree, eventful road trip every summer. Most of us have had at least one unsavory experience we wish we could eliminate from our memory.
However, there are few simple ways to make sure that your road trip is jam-packed with fun instead of stress and anger:
1. Plan loosely.
You need to know where you're going to eat and sleep, but don't restrict yourself so much that you can't live with a little whimsy. Go somewhere spontaneously. Briefly take a look at events going on near where you'll be staying, but don't make the fun of your trip dependent upon anything besides good company.
Travel wherever you want. Even if you take a day trip, have fun with it and enjoy the little things along the way.
2. Be safe and prepared.
Don't stress over every little detail, but do make a short list of important things to bring in order to make sure you know what to do if disaster strikes (an emergency car kit is always a good idea). Bring a little extra cash for the places that might not accept credit cards, and make sure to keep track of all your valuables at all times.
If you're going to be camping or sleeping in your car, make sure to bring at least one extra sleeping bag and extra socks (trust me on this one). If you're going to be in a car for days at a time, make sure you have water, trash bags and deodorant ... it's the little things that matter.
Get your car checked. No one likes doing it,  but it needs to be done. Think about the things that might need some fixing or adjusting on your car before you set out. Change the oil, make sure your wipers are working and fill the tires properly. You know, adult stuff.
Don't ignore large problems, even for a short trip. If your car has a tendency to overheat during the summer or is leaking oil, don't risk it. Get it fixed ASAP.
3. Save room for souvenirs.
Know how to pack your clothing in order to save space. You can reuse multiple pieces of clothing to cut down on space. Don't feel bad if you want to bring an extra pair of cute shoes or a snazzy shirt, but don't go overboard.
Just about every time I go on a trip, I leave with more items than when I started. So, keep a spare bag or a designated area for new items. This way, you won't be cramped on the drive back. Again, don't go overboard and buy things you'll have to strap to the roof (unless that was your plan).
Another simple rule is to keep your car as clean as possible. When road tripping, it's easy to accumulate a lot of trash. Every time you make a pit stop, throw out the trash you have. It will make your life so much easier.
4. Make new friends.
Be nice to the locals and ask them where you can go for a good time in town. If you're going to a festival or other event, chances are there will be like-minded people there. The most important thing is to stay safe, but making friends in new places can always be an unexpected adventure.
On the other side of the spectrum, remember to respect people wherever you go. New places have new things that you've probably never seen before. Experiencing new people and their culture is what road tripping is all about.
5. Be responsible.
My absolute favorite thing to do before any road trip is to clean my house. That may seem strange, but there is nothing better than coming home to a fresh house, and nothing worse than coming home to a dirty one. When you step out of the car after hours of driving, you may just want to plop in bed. Doing chores before you unpacking is quite unpleasant, to say the least.
Make sure someone knows where you are as often as possible. In addition, don't be ashamed to give someone a call or text if you're feeling uncomfortable. There are apps you can use that will send someone a ping with your location, and they can make sure you make it to where you're going safely.
Make sure you actually have enough money to survive if you happen to get stuck somewhere for an extra day. If your car breaks down, you'll need to know you can get home. I've definitely gone on a last-minute road trip to a different state with only $50 to my name, but now I know that was a bad idea.
Try to save money where you can. If you have friends you can stay with or who can feed you for a night, definitely take advantage of it (and repay the favor if they visit you). Splurge on a fun new t-shirt, but not a new a whole new wardrobe.
6. Unplug and de-stress.
It's more than OK to post your dinner on Instagram or upload a few silly photos to Facebook, but don't rely on social media or your phone for your best memories. It's insanely refreshing to just tuck your phone away and only checking it when you have to. Furthermore, it's the entire experience and deep connection that makes us fondly remember our favorite road trips, not the pictures or their quirky tagline.
The key to any successful trip is to travel with people you love and don't take anything too seriously. Sometimes the best memories are the ones that weren't planned.