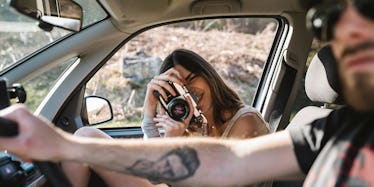 6 Ways To Survive A Long Road Trip Without Annoying Everyone Else In The Car
Simone Becchetti
Summer vacations to faraway destinations always seem like a great idea on paper, and they typically are once you get there. But, we also know those long road trips can be physically and psychologically draining.
In theory, a summer road trip may sound like a lot of fun. There's sunshine, windows down, feet up on the dashboard and music cranked. However, a more critical view may be necessary to survive the monotony of being on the road. Rain, traffic, boredom and obnoxious passengers can turn a long car ride into a nightmare.
To prepare for anything that could come your way, let's highlight half a dozen excellent tips for a smoother summer road trip:
1. Prep the car.
One of the most frustrating potential disasters on a long road trip is to wind up on the side of the highway with car trouble. So, the first thing you need to do is prep your vehicle for the trip.
Make a point to do the following:
Check fluid levels. Pop the hood of your car and check fluid levels for engine oil, windshield wiper fluid and coolant. If you have any work done on your vehicle before your road trip, ask the service center to top off your transmission, power steering and brake fluids. It may even do it for free.
Check tires. How's the tread on your tires looking? Use the classic penny test to ensure you're good. Take the head's side of a penny and position it upside down, so the top of Lincoln's head goes in between two tire treads. You shouldn't be able to see any space between his head and the edge of the penny. Furthermore, use a pressure gauge to ensure you're within the optimal range for your tires.
Clean the car. Nobody enjoys being in a nasty car. It's time to throw away old fast food bags and scoop up those Cheetos you spilled under the seat last week. A good cleaning inside and out will make you feel better about spending some hours on the road.
Everyone has his or her own routine, but if you have only a limited amount of time to prep the vehicle, these are the three steps you should take. At the very least, they should avoid the need for a tow truck.
2. Be a smart packer.
There's something to be said for strategic packing. Just as you would pack for a plane ride, it's imperative you pack both a "checked bag" and a "carry-on." The checked bag will go all the way back in the trunk, while the carry-on will stay close to you onboard.
Why have two different bags? Well, it's not safe or practical to climb into the back seat and shuffle the luggage while someone's driving. It's also a nuisance to pull over just to find a map or brush in your bag. By packing a carry-on, you can easily get to the items you'll need en route.
Among the items you may need in your carry-on, you might consider the following:
Snacks, water and candy
Car chargers
First-aid kit with Tylenol
Spare set of keys
Travel pillow and/or blanket
Paper towels or napkins
Magazines, books and other reading materials
Paper road map (in case you lose your GPS signal)
Having items like these ensures issues such as hungry passengers, dead phone batteries, headaches, spills and poor directions don't ruin the trip.
3. Have a basic game plan.
When it comes to planning for a road trip, you want to avoid the two extremes. For the purpose of illustration, take a look at how Stringent Sally and Lackadaisical Larry confront the same trip.
Stringent Sally. To Stringent Sally, the only way for a road trip to be successful is to have a highly meticulous and strict plan in place. She predetermines every single stop. From gas stations to meals, to bathroom breaks, she knows exactly where each stop will occur, how long it will last and when the crew will arrive at their final destination.
Lackadaisical Larry. To Larry, planning is something only uptight losers do. Since Larry is anything but that, he doesn't plan anything. All he knows is we're going to leave at some point on Saturday morning and end up at our destination sometime on Saturday night or Sunday morning. What will happen in between is a total blank.
Guess what? You don't want to be Sally or Larry. You should strive to land somewhere in the middle.
Try to have a plan, but a loose one. Set a time for leaving, plan the basic route and have a general estimate of when you'll arrive. With these parameters in place, you'll have a solid idea of how the trip should go, but don't have to worry about keeping a strict pace.
4. Make sure passengers have something to do.
There's nothing worse than being stuck in a car for hours on end without having some way to occupy your time. It's essential you bring along some things to do.
Mobile devices like smartphones and tablets make it really easy to pass the time.
Here are some apps worth downloading:
Pala Casino Apps: Need a little risk to get your adrenaline pumping? You'll never fall asleep playing mobile casino games. With slots, video poker and plenty of table games like roulette and blackjack, you can enjoy winning real money from the comfort of your seat.
Waze: This isn't really a game, but Waze is probably the best road trip app you can download. Think of it as a community-based GPS system. In addition to providing directions, it also gives you real-time information about speed traps, accidents, traffic and even gas prices. You can participate by updating roads with helpful information you pick up. You'll even receive points for doing so.
Audible: While everyone loves some road trip music, sometimes you want to mix things up. That's where the Audible app comes into play. It offers more than 150,000 audiobooks that can be listened to anywhere and any time. If you don't finish the audiobook by the time you arrive, you can listen to the rest of it on the way back.
By downloading the right apps, you can be prepared to be better entertained on your long road trip. At the very least, you won't have to annoy the person sitting next to you.
5. Play some road trip games.
Remember what road trips were like prior to smartphones and tablets? Instead of immersing yourself in a digital device, you had to play other games that involved looking out the window or using a pencil and paper.
Take a trip down memory lane with these games:
20 Questions: In the classic 20 questions game, each person takes a turn coming up with a person, place or thing. The other passengers in the car then get a chance to ask "yes or no" questions until the secret item is identified. If it isn't guessed within 20 questions, then the individual who chose the word wins. If it is guessed, then the rest of the car wins.
License Plate Game: Keep noisy backseat drivers engaged by playing the license plate game. Set a time limit, and the person who's able to find the most license plates from different states wins. Another game is to see who can come up with the shortest word that uses all the letters on a license plate in order.
Scavenger Hunt: Here's another classic road trip game. Make a list of certain things you're likely to see on the side of the road. It may include school buses, water towers, police cars, flags, bridges, lakes, etc. The first one to spot all of these items wins.
Though surprisingly simple, these games can eat up a few hours on a road trip. Another advantage is, the driver can generally play these games, as well.
6. Make the right pit stops.
If you're stopping at tiny gas stations and fast food restaurants every time you need to make a pit stop, you're not doing it right. What you should be searching for is a good truck stop.
"There was once a time when truck stops were exclusively for truck drivers and truck drivers only, but those days have long since passed," says Ailish Marsden, an experienced road tripper. "In fact, many good truck stops are rebranding themselves as travel stations, to indicate to passersby that it's not just the truckers club anymore. They serve regular travelers as well."
Truck stops are very convenient. You can get anything and everything in one place. Large truck stops have gas stations, gift shops, bathrooms with showers, multiple restaurants, areas to walk pets and more.
Forget something? You can also find car chargers, socks, underwear and maps.