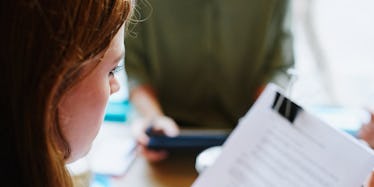 6 Ways To Revamp Your Resume If You've Been Out Of The Job-Hunting Game
Let's get one thing clear: Even if you're not an active job seeker, it's worth it to revamp your resume once in a while. Seasonal updates are much more effective than getting down to the task when you're actually ready to start looking around for new opportunities.
Refresh your resume for the new season, and you'll be prepared to face any hot job offers making your way this year. Most importantly, you'll show everyone in the industry that you're a professional in full control of your career and personal brand.
Here are some tips to help you revitalize your resume and get closer to landing one of the top positions on your radar:
1. Start by updating your info.
Take a proper look at your resume, and add all recent professional accomplishments. Even if it doesn't sound particularly exciting, this step is here for a reason. You can't expect to remember every single win from the past three or four years.
So get down to work and add anything from new certifications to higher sales figures. This is easily the best spot to brag a little. If you got a promotion, don't hesitate to add a new position and format your resume to create a single flow of information, so that everyone easily understand your progress.
2. Clean it up.
Spring is the perfect season to reformat your resume. If the font feels too generic and the design is too outdated, check what's trending in your industry and play around.
Clean it up, and rethink every single skill and qualification listed on your resume. You don't want it to become an overkill. Capture only the key highlights of every position, and leave something extra for the interview.
Your final step is to ensure recruiters receive your resume in good shape. Just so you know, it might get reassembled by applicant-tracking systems. Have your resume ready in different file formats, and no recruiter will ever have a hard time deciphering it.
3. Add a catchy headline.
That's right, just as you would on LinkedIn. This is how you ensure that your resume instantly communicates your career objectives.
Make your headline descriptive and attractive, express the breadth of your professional experience and emphasize your top selling points.
4. Update your keywords.
You don't want recruiters to receive a resume that just feels outdated. Remove all keywords that have lost their meaning or appeal.
Then, it's time to do a little research. Have a look at job postings matching your career target and make a list of most popular keywords. Incorporate some of them into your resume, and you can be sure that it will resonate with the hiring managers looking for talent in your field.
5. Remove the old and focus on the new.
There's no better way to refresh your resume than by removing old experiences to focus on your future career goals. You don't want recruiters receiving mixed messages when you present them with a resume full of information about past careers you're no longer interested in pursuing.
If you're an experienced professional, consider setting up an "Early Career" section, where you briefly summarize employers and positions you've held at the onset of your career.
6. Reconsider the format.
Infographic resumes are all the rage right now. If you're eying a particularly creative position, this is the way to instantly grab the recruiter's attention.
To make the most of this opportunity and save lots of time, have a look at platforms like Gumtree. Here, you can hire a professional graphic designer to help you create some real eye candy that will get you closer to your career goals.
There's not a single thing that builds your personal brand like a unique and attention-grabbing resume. Refresh its look and content, and you'll be on your way to scoring some exciting opportunities in the upcoming year.