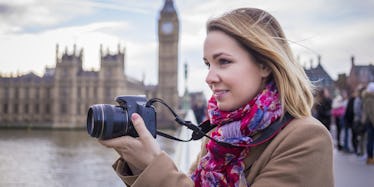 5 Recent Grads Reveal The Best Cities To Check Out After Graduation
Shutterstock
A cross-country road trip is the quintessential American journey. But those looking for a change of pace in their post-grad lives should jet set on over to Europe.
Whatever you may be looking for — a party, an adventure or solitude — these countries have it all. Here are five travel destinations that are perfect for recent grads, as recommended by recent grads:
1. London, England
Those accents. (Sigh.) Also, London is a gorgeous city that has so much to do. It's perfect for a recent grad who is nervous about going to a country where English isn't the first language. There's so much culture, a history buff will be in heaven. There are tons of tours, museums and landmarks. The nightlife is also pretty great. Yes, the pubs close a few hours earlier than they do in other cities, but that just makes the British even better day drinkers. England has a reputation for bad food. However, if you love Indian food, London delivers. It's pretty much the Indian food capital of the world (other than India itself). London also offers tons of tours outside the city. You can take a tour bus to the Cotswolds, Bath, Stonehenge and (drum roll) the "Harry Potter" studios, where the movies were filmed. They are amazing. Any "Harry Potter" fan would freak out.
— Leslie
2. Barcelona, Spain
It's beautiful and fun. It's temperate city filled with mesmerizing Gaudi architecture, the likes of which you have never seen before. The city has everything from mountains to beaches. You can learn the simple things, like truly enjoying food, living, walking and relaxing. Relaxing is key for post-grads. If you don't want to relax, you can party your ass off on the beach. Drink sangria and eat tapas all night. You can also practice the Spanish you haven't used since high school. Plus, Spanish guys are artsy and sexy. Think of Javier Bardem in "Vicky Christina Barcelona," but in real life.
— Caitlin
3. Amsterdam, The Netherlands
There are open air festivals all summer, and tons of music gigs throughout the year. The city is very tolerant, so there is something for everyone, especially the 20-something crowd. You can walk or cycle the entire city center, which cuts transportation costs. Although Dutch food isn't everyone's favorite, the street food includes items like poffertjes, bitterballen and stroopwafels, which are out of this world. Since Amsterdam is close to Belgium, the waffles and fries are delicious as well. The city itself is like a museum. Between the sculptures all around the city and the architecture, there is always something to look at. There is always a fantastic story behind each monument. Some say Amsterdam is sinking, which is why the buildings are tilted.
— Brandi
4. Paris, France
With so much history and modern-day entertainment blending together perfectly, the city has an exciting and romantic vibe that sucks you in. It might even teach you a thing or two. You could easily spend the whole day just getting lost on the tiny streets, and you could also find yourself stumbling upon old boulangeries. You could visit some of the most famous museums in the world. You could even do France the Parisian way, by sitting on a terrace for hours with your best friend and a cigarette, talking about everyone who passes by. The food is amazing, and the wine is even better. When the sun goes down, the city really comes alive. There is nothing in the world like enjoying a drink with friends on the bank of the Seine river on a warm summer night. The boats pass by in front of you, and the city comes on with lights all around you.
— Rachel
5. Reykjavik, Iceland
It doesn't matter which type of journey you're looking for; Iceland will have it for you. It doesn't matter whether you just finished school, are looking to get away and be one with nature or just wanting to travel alone for the first time. Not only is Iceland incredibly safe, it also has an endless supply of unimaginably beautiful sights. If you're looking to celebrate and check out the nightlife, Reykjavik is the complete package. It doesn't matter whether you're looking for a club, bar or hipster hangout spot. The nightlife comes alive every night of the week. But the best part about Iceland is the nature. Your options are endless. You can fly into Reykjavik, stay in the city and take a different day trip every day. No matter the season, there is plenty to do and see. Northern lights tours in the winter, hiking in the summer, relaxing in natural hot springs, scuba diving, whale watching, going on glacier walks and rock climbing: These are just some of the things you can do right outside Iceland's capital.
— Sam
Is your passport up to date? It's time to book your post-grad European adventure.