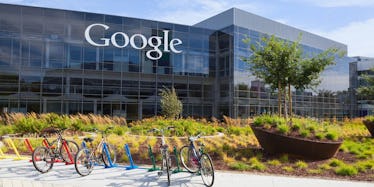 Why Quitting My Job At Google Was The Best Decision I've Ever Made
Shutterstock
I got the chance to work at the most admired company in the world.
In 2015, it was chosen as the best place to work across North America.
I'm talking about Google.
Since giving birth to the famous search engine in a garage 15 years ago, Google has achieved a tremendous amount of innovation and success.
By expanding to several areas such as phones, maps and even cars, it's always involved in our daily lives.
Not only does it look after the world's population, but Google also takes care of its employees like a big happy family.
It feeds them, treats them and heals them.
Everything is taken care of.
It babysits the little ones and dry cleans your shirt, all while you enjoy a latte with a heart on top made by one of the office baristas.
Basically, Google does everything your mother doesn't do for you anymore.
Why shouldn't it?
Google's employees are the brightest minds of a generation.
They're all graduates of top-tier universities, and they all have unique stories and skill sets.
Every new employee is smarter than the previous one.
At least, that's the plan.
Why ever resign and leave corporate heaven?
The answer is simple: It's about reality and dreams.
First of all, neglecting reality and the outside world leads to misery.
I want a new phone as a company Christmas gift, but get a tablet instead.
The pineapple isn't cut in squares, but in rectangles.
There's no chocolate sprinkle left to my vanilla ice cream
I have to walk to another one of the five office restaurants to get that chocolate cupcake with pink glazing I truthfully love.
When those become your biggest headaches at the office, you've lost track of reality.
When you think it's weird your friends in "normal" companies pay for lunch and don't even have a swimming pool at the office, you're out of reality.
When choosing between steak and lobster for lunch mentally exhausts you, and you're afraid you can't taste the difference anyway, you have a problem.
When you don't smile as your friend happily tells you he or she had a "free ice cream day" at work last month, you have a problem.
We are built to think that more is better.
I lost the taste of life, and few things made me happy.
I got greedy and demanding.
Instead of appreciating how extremely well-off I am, I focused on writing complaints to the chef that the salmon was slightly overcooked and that there was no Coke Zero on my office floor last Wednesday.
I became dependent and afraid of how I would survive in the real world if I left.
Who would feed me?
Massage me?
Make me coffee?
The excess transformed me into a prisoner without a sentence and a prisoner of my own will.
I was free, yet stuck in a golden cage.
In 1963, Martin Luther King Jr. said,
I have a dream.
So do I, and hopefully, so do you.
In my belief, dreams are the essence of our existence.
They push humanity forward.
The future rests in our dreams.
Without them, I wouldn't be where I am today, and the world would not be what it is today.
If you work at Google or any other prosperous company, it's difficult to find time and energy to do other things to fulfill your dreams.
To do that (if they aren't related to your workplace), you need to step outside the walls of the golden cage you live in.
You need to see things from new angles, interact with people with different experiences and realize there is more to explore beyond your desk.
Google and its ecosystem occupied my mind.
It reflected my thinking and work style, so naturally, after working there for two years, I did everything the Google way.
I thought it was everything.
I even believed nobody watched TV anymore since there is YouTube.
I didn't love my job, and I didn't care.
I had my dream, and I didn't want to be a part of the modern factory.
My time as a worker of the digital industrialization had to end.
As Apple founder Steve Jobs said during his commencement speech at Stanford,
[T]he only way to do great work is to love what you do. If you haven't found it yet, keep looking. Don't settle.
So I left, and I started to taste life again.
We should visit grocery stores, make breakfast, eat lunch with others and watch TV.
Leaving my corporate mother pushed me to follow my writing dream.
Now, years later, my publisher has published my debut novel.
Leaving was the best thing that could happen.
I'm thankful for my experience at Google, for everything I learned and for all the people I've met.
But most importantly, I'm thankful it helped me discover what's essential in life.
It made me recognize there is so much more in life than free food and a business card with a cool logo on it.