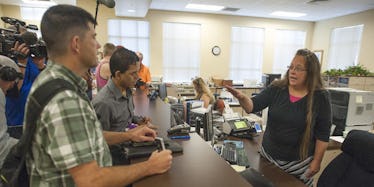 Bye Kim Davis: 14 Things Queer People Can Be Thankful For In 2015
Getty Images
Thanksgiving is a time to catch up on all of the juicy family gossip, meet your sibling's significant others (let's hope we like them!), stuff your face and reflect.
The beginning of the month-long holiday season, Thanksgiving is the holiday where families give thanks for the blessings they have felt during the previous year.
While we all have a great deal to be thankful for this year, as a gay man, 2015 was one the most amazing years yet.
The year 2015 has been one of a lot of firsts: the legalization of same-sex marriage, major celebrity coming out stories and a renewed push toward transgender awareness and rights.
As a collective LGBTQ+ community we have a lot to be thankful for this Thanksgiving 2015.
Here are 15 things every queer person can be thankful for this Thanksgiving:
1. Marriage
Perhaps the biggest and most exciting development in the fight toward equality came in late June 2015 when the US Supreme Court, by a 5-4 majority decision, made same-sex marriage the law of the land throughout the United States.
The fight that had taken decades, countless hours of court hearings and the sweat and tears of countless LGBTQ+ Americans was finally over.
This year, a ton of LGBTQ+ couples are either married or engaged in states from Wyoming to Texas to South Carolina.
Couples now have tax benefits, hospital visitation rights, many new federal benefits and overall societal recognition to be thankful for.
Yay for marriage, yay for love!
2. Transgender awareness and anti-discrimination statutes.
The year 2015 has been major for the transgender rights movement.
Pop culture and sports icon Caitlyn Jenner had the courage to come out as transgender this year with her cover on Vanity Fair magazine, ESPYS awards speech and recent Glamour Woman of the Year Award.
Focused on young people with transgender rights, Jenner has been a terrific public figure shining light on an often overlooked topic (her GOP political leanings aside, Jenner is a 2015 hero).
3. A more accepting society.
In 2015, the LGBTQ+ community has come a long way and the world is a more accepting, inviting and loving place.
For young people growing up in 2015, the United States is a far more accepting place than it was for kids growing up in 1995, 2005 or even 2010.
So, raise a glass of eggnog to love.
4. Visibility of the LGBTQ+ community in pop culture.
With major stars including Ellen Page, Wentworth Miller and Matt Bomer coming out in 2015 and previous years, the LGBTQ+ community continues to gain greater visibility in Hollywood.
From gay story lines on network television shows like "How to Get Away with Murder" to HBO shows like "Looking," strong LGBTQ+ role models are popping up all over our television and movie theatre screens.
5. Strong Democratic candidates.
There are two strong Democratic presidential candidates to be thankful for.
It's the first time major Democratic candidates have made LGBTQ+ rights a cornerstone of their campaigns.
Both Bernie Sanders and Hillary Clinton are champions of the LGBTQ+ community, and have put marriage rights, anti-discrimination statutes and ordinances top priorities of their campaigns.
To have such vocal, outspoken support for Queer people and families is a huge triumph we should be extremely grateful to have achieved!
6. Our loving family and friends.
When the world may not be as accepting as we like, our family and friends often are.
Give your family credit; they have come a long way in the past few years and can't wait to see you and your boyfriend or girlfriend. They're another one of the kids.
And, if your family isn't accepting, at least you have your friends. They are always there for you through the ups and downs of life.
Never forget, those who accept you are your real family after all.
7. President Obama.
President Obama, who recently became the first president to appear on the cover of an LGBTQ+ publication when he appeared on Out magazine, has been a champion of LGBTQ+ rights since he took office in 2009.
We can be thankful knowing that the man with all of the power has the best interests of the LGBTQ+ community not far from his heart.
8. An incredible ally community at work.
Corporate America continues to make strives toward greater equality and acceptance, often serving as a model for government and other organizations.
While we still need robust anti-discrimination statues to protect LGBTQ+ employees from firing, many companies have been exemplary with their implementation of strong workplace policies and ally programs.
9. "Will & Grace" reruns
This one will always be true.
Sit back and enjoy.
10. Strong LGBTQ+ athletes icons.
From members of the US Olympic women's soccer team to diver Tom Daley and skier Gus Wentworthy, 2015 was a year of big soccer icons coming out and boosting the public profile of the LGBTQ+ community in the sporting world.
Thanks to athletes everywhere for having the courage to be themselves in a not always accepting world.
We can all rest easy knowing our children have role models who will inspire them to own themselves and be confident as queer and proud.
11. People who prioritize love and kindness over hate
This Thanksgiving, we have to thank all those people who choose love over hate.
Pope Francis has used 2015 to spread love throughout the world, and while his Catholic Church has miles to go when it comes to LGBTQ+ rights and acceptance, he has helped make the world a more loving place.
Continue to fight fire with love.
12. Adele's comeback
While this was a blessing to us all, the LGBTQ+ community can rejoice: our queen is back! From "Hello" to "When We Were Young," Adele's 25 is a triumph.
13. Mama's home cooked Thanksgiving.
We all love that home cooked stuffing, turkey, brussels sprouts (we hated them as kids, but love them now), cranberry sauce and pumpkin pie.
Say an extra big thank you to your fierce mama this year.
She works hard and she's so happy to have her angel (you, of course) home.
14. Progress (but there is so much to left to be done).
We have a lot of progress for which to be thankful, but there is much that still needs to be achieved.
Until all of our brothers and sisters are protected, we will have work that still needs to be done.
This Thanksgiving, we have much to be thankful for: from the demise of Kim Davis and her anti-LGBTQ+ rhetoric, to marriage and nationwide pride parades, 2015 was one for the history books.
Now, let's make our New Year's resolutions to make 2016 even better.