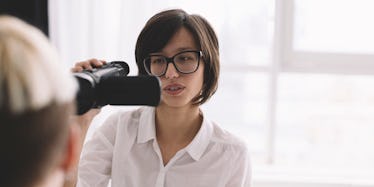 Porn Will Get Better For Women Once More Female Directors Enter The Scene
Alexey Kuzma
While struggling through "The History Of Sexuality" and "Discipline And Punish" as a lowly little undergrad, Foucault's work blew my mind, mostly because it was abysmally hard to understand.
But then it kept popping up everywhere.
I'd notice Foucauldian theory showing itself everywhere, from listening to my then-boyfriend's friends recount their conquests from the night before, to the panopticons I saw the NYPD using at Occupy Wall Street gatherings years later.
I still see his theories cropping up every now and then, and they did today when I was trying to shuffle through the mass of information out there that debates whether or not porn is good or bad for women. But what if it's not the porn itself that holds the answer? What if it's the production of said porn that answers it?
First, a bit about Foucault: He was all about how power processes work. You'll see power at work when something is being created rather than silenced. What this means in terms of porn and empowerment is where we see sexuality being produced is where we'll see the source of power.
Next, let's consider this interesting little statistic: Women comprise roughly 7 percent of Hollywood directors. Is it safe to assume that something a similar percentage applies to the porn industry? I think so. While there are other thoughts on the power of porn in the confessional discourse it produces (by acting in it) or it's consumption, what if the power is actually in that middle step? What if the power actually lies in the hands of those who quite literally produce it?
Then the power is in the hands of men, regardless of what's happening on screen or who is watching it afterward. The interesting thing about this, for me, is that it puts all the other arguments to rest. That includes the discussions on whether or not porn influences or even creates rape culture, and how women get paid more than men in this rare instance, for example.
If we think about porn in this Fouculdian way, then whether or not porn (in terms of what's happening on screen) is getting more empowering or less empowering for women doesn't matter; the question that matters is how many women have active roles in the production of porn in that important middle ground between creation and consumption.
If we think about it this way, it's impossible to say it's getting better for women because they're still powerless in the section of the industry that holds the power. As women, we're still left living in yet another facet of a world that is not our own, but with a perhaps dangerously faux-sense of empowerment. Statements like "women watch porn too" or "they're only in it because they're paying for college" creates an illusion of power that is more dangerous than simply not having power.
While the faux power notion is pretty dark and scary, as convoluted and Foucauldian this analysis is, I think this a good approach to thinking about the conundrum in porn. When it comes to the treatment of women, rape culture and patriarchy, it shouldn't be a question of whether or not porn is or isn't an empowering and financially lucrative option or women.
Nor should it be about whether or not women watch porn. It's about the roles (or lack thereof) that they hold within the section of the industry that has the power: its production. In this way, there's also a clear (not to be confused with easy) path to making change. If nothing else, it's a different way to think about the porn debate.