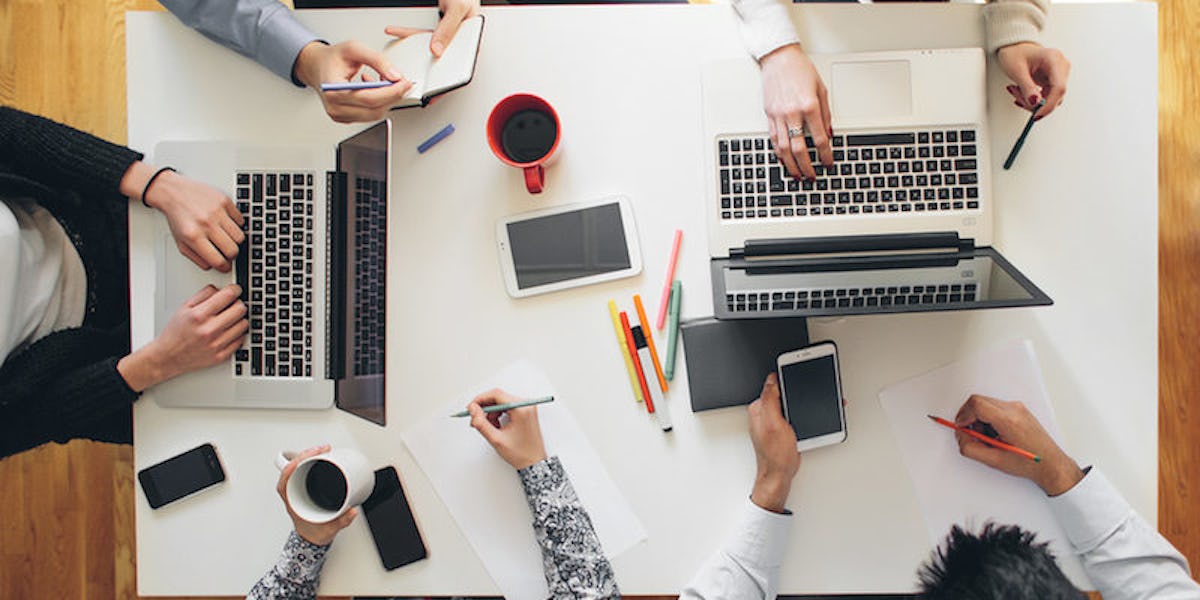 How On-Campus Internships Can Help You Avoid Working For Free Post-Grad
With my graduation from Texas Christian University approaching in just three weeks, I've begun to reflect on my college career and what I've learned during my four years as a horned frog. As a collegiate student-athlete, finding enough hours in the day to eat, sleep, go to class, practice, do homework, study, attend meetings, hang out with friends, etc. was nearly impossible.
Just when you think you don't have enough hours in the day to do those things, professors begin to stress the importance of getting an internship during college. They say you need to gain experience in your chosen field, in order to increase your chances of getting hired upon graduation.
It is more difficult for student-athletes to obtain an internship than it is for the average college student. This is because we devote over two extra hours per week toward practicing our respective sports.
That being said, it is possible to get an internship as a student-athlete. I did it, and so can you.
Here's the secret: on-campus internships.
When college students hear the word "internship," they often automatically think they can only be obtained off campus. This is not the case. During my time at TCU, I had not one, but three on-campus internships. Here, I gained valuable experience to put on my resume.
At TCU, I was fortunate enough to form relationships with the right people in order to get those three internships. One of the best things you can do in life is build relationships and network. You never know who you'll meet, or what opportunities could arise from even a single conversation.
Ironically enough, each of my three internships stemmed from a single conversation with the right person. My first on-campus internship was during the spring semester of my junior year, with the TCU Athletics media relations department. Here, I assisted the media relations staff with their day-to-day tasks, including writing press releases, updating player bios and collecting stats from games.
Two months before I began this internship, I was at a TCU student-athlete career networking night. Here, I ran into the media relations director. Luckily for me, I was friends with his son. Therefore, he knew me as being one of his friends, in addition to also being a TCU student-athlete.
I am a strategic communications major. Therefore, after I told him about my desire to work in digital advertising and marketing, he offered me the opportunity to intern with him and learn about the world of athletic communications.
What's the moral of this story? Always attend networking events when they're offered.
My second internship was with Athlete Network, where I served as the on-campus intern for TCU. This was a digital internship. Digital internships are ideal for student-athletes. I was able to complete my required tasks on my own time, without having to step foot in an office.
Athlete Network also sponsored the TCU Athletics networking night in the fall of my senior year. Here, I was able to meet the intern program coordinator and express my interest in becoming an intern. One of my teammates was an intern for Athlete Network two semesters before I was, so having a recommendation from a former intern gave me an edge when I applied for the internship.
In addition to attending networking events, make sure you ask your teammates, friends, coaches or professors about whom they know and whom they can connect you with because recommendations go a long way. One major takeaway I learned from this experience is to get recommendations from anyone and everyone. You never know what opportunities you'll get as a result.
My third on-campus internship was hands down the greatest on-campus opportunity I could have ever hoped for. Within the department of strategic communication at TCU, an internship opportunity exists that doubles as both class credit and internship experience. During the spring semester of my senior year, I interned at Roxo, TCU's student-run strategic communications agency. Roxo is an advertising and public relations agency run solely by TCU students. We have the opportunity to work with real clients who pay for our services.
I had the privilege of being a social media manager for the Fort Worth Marathon and True Worth Place client accounts, where I was able to manage and execute social media campaigns across multiple platforms.
I know not all universities have on-campus opportunities like these, but I'm fortunate that I was accepted into this internship program. It allowed me to gain real agency experience, while I was balancing the already crazy schedule of being a student-athlete.
However, I didn't even know that Roxo existed until the end of my junior year. I had already been a part of the department of strategic communication for two years. I learned of the opportunity with them when I randomly went to ask the director of the department of strategic communication about elective course recommendations. She's the one who told me about Roxo.
Not only did she suggest that I apply for Roxo, but she also offered to write me a recommendation. She said my passion, competitive spirit and time management skills would make me the perfect candidate for Roxo.
At the end of the day, don't be afraid to ask questions. You never know what the answer is going to be.
During my time at TCU, I have been blessed with multiple opportunities. They've allowed me to gain professional experience during the academic year. Every university has different opportunities, but I guarantee there is an on-campus internship available that's perfect for you.
I am fortunate enough to have gained internship experience in three different fields during my college career. But, all of these opportunities came from attending networking events, connecting with the right people and asking the right questions. The most valuable asset in today's world is the ability to communicate effectively.
If you believe you won't have time for an internship because you're a student-athlete, get that thought out of your head. I swam for TCU for four years, and I found the time to take on three internships without stepping foot off campus.
All of us student-athletes say we don't have enough time. I am guilty of that as well. But trust me, taking on an on-campus internship is worth the time.
Gaining professional experience in college is important because once you start applying for jobs, employers will see you were able to balance academics, athletics and an internship all at once. That is a valuable skill to have.