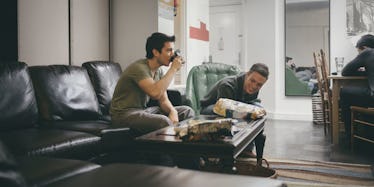 How My Craigslist Roommate Encouraged Me To Finally Live With Passion
I first met Aneesh Chaganty in August 2014 when he responded to my Craigslist posting looking for a roommate.
I was desperately seeking a replacement for my longtime roommate and best friend who was taking the leap to move in with her boyfriend.
I was feeling stressed and uncertain about the future of the apartment.
Aneesh's email was concise and friendly; he told me he worked at Google, along with other general formalities about himself.
Due to his work schedule, he wasn't able to attend the open house on the day I was hosting, but he instead offered to drop by the night before. When Aneesh walked into the apartment, I was immediately blown away by the energy he possessed. It seemed to be emanating from his pores.
I learned that he was fresh from Los Angeles, and he was currently squatting on a bare mattress on the floor of an apartment in Bushwick.
Aneesh told me he was a recent graduate and looking for an apartment to stay for one year.
I remember thinking he was animated, amicable and endearingly clueless about life in New York City.
I wondered how someone who didn't know that Manhattan had a grid system came to be here in the first place. But, after all, he wasn't even supposed to be here.
In May 2014, Aneesh created a film that immediately and irrevocably altered the trajectory of his life.
His film "Seeds" is a scenic and sentimental journey that follows the journey of an adult son traveling across the world on planes, trains, automobiles, boats and grass-roofed bike taxis, all to deliver the news of his wife's pregnancy to his mother.
"Seeds" went live on Mother's Day last year. By the next day, the film had 1.2 million hits on YouTube, and Aneesh had 600 friend requests on Facebook as well as the attention of Google.
Aneesh said he had loose plans at the time to cultivate a life and a career in Los Angeles, but after that dizzying and surreal 24 hours following the launch of "Seeds," he saw that plans — and lives — could change at the speed of a hyperlink click.
Aneesh accepted Google's offer, and he subsequently purchased a one-way flight from LAX to JFK in August 2014.
Aneesh told this to my roommate and me on our apartment rooftop, the Midtown skyline bright and looming in the background. He continued on about fate and film, and he shared highlights from his travels.
He was ambitious and animated, and I quickly gleaned that Aneesh saw the world behind the proverbial rose-colored glasses, or, in his case, a set of black, slightly rounded Warby Parker rims.
"You want him," my roommate whispered in my ear.
I told Aneesh the room was his that night.
With the coming of Aneesh, the rediscovering of my voice began.
Living with Aneesh was like living with a breezy phantom: He was always rushing, writing, talking, typing, watching or listening, never stationary or sedentary.
I rarely saw Aneesh; he regularly clocked in marathon 16-hour days.
He works anywhere and everywhere on his laptop, even in the bathroom. He never slowed or sat down; he was so tremendously excited about life.
It took months to catch him in the same place long enough to hold a conversation.
We both worked in creative fields, and thus, we fostered a bond over shared professional aspirations. We clicked over our appreciation for witty lines of copy, for bad puns and for the perfect musical selection for a commercial.
After spending three years in New York City, I felt revived when I spent time with him.
He made me think of and reconnect with the person I was from two years earlier, teeming with wide-eyed wonderment. It all seemed so magical.
We would confide in each other about creative ideas, proudly show off accomplishments to one another and help each other with copy and visual suggestions.
One night, I settled into my bed for a red wine for a relaxing evening, and was perusing YouTube. I absent-mindedly fiddled about as I waited for the mandatory commercials to run their course.
Suddenly, chords of strangely familiar piano music emanated through my computer speakers.
Before I could fully register what was happening, I realized I was watching one of Aneesh's commercials at Google.
It took me a moment to realize I knew the song because I had heard snippets of it for the past few weeks on loop. (Aneesh likes to edit without his headphones.)
He had shown me his work before, but this was the first time it was served to me as a consumer. It was surreal to think the film he had spent all those hours working on just one wall over was now being watched by millions of users across the world.
I immediately texted him a congratulations.
It continued on just like that for our first six months of living together. We would joke around and share industry news and creative ideas. We knew each other's Seamless orders.
I would tell him which classy bars to take his Hinge dates to and inform him about the nuances of Manhattan living.
I remember one brisk afternoon in December when he threw open the door and announced, "I just spent $500 at REI. I didn't know what to get, so I just got everything."
He said this with a wink and a laugh, chuckling at his own naiveté. New York City was on a blizzard watch, and California-bred Aneesh was about to experience his first bitter taste of winter.
He had never truly experienced seasons before, and he was excited but ridiculously underprepared. But, with his sense of humor and unrelenting optimism, he could weather anything.
At age 24, Aneesh has been to 21 countries, gone viral, been interviewed, tweeted about and covered by everyone from Time Magazine to Bloomberg, been fought over by top-tier film companies, but he had never once walked on snow.
He flitted around the apartment in what had become his uniform of an army green jacket and gray scarf and proudly showcased his REI purchases.
Most New Yorkers have at least some idea of what winter in the Northeast means and how to prepare for it, but this is all new to Aneesh.
A handful of weeks following the blizzard after a particularly grueling work week for me, I came home and saw Aneesh on his usual spot on the couch.
He was, yet again, excitedly typing and chatting away with friends on Skype about his upcoming projects, brainstorming ideas and making plans. I had just returned home from a 14-hour day on an even longer work month.
I remember sullenly thinking I could barely muster up the energy to boil water for my 10 pm dinner, let alone create anything or talk to anyone.
I wondered, "Was there something wrong with me? Why couldn't I do that?" I wanted to know his secret, how to tap into this vat of seemingly limitless energy.
"Have you ever just felt completely, emotionally drained from work?" I asked abruptly. "What keeps you going even when you're beyond exhausted?"
He paused for a moment, lifted up one flap of his omnipresent black Beats headphones and turned to me to answer, "Honestly, no."
"But how?" I asked.
"I know it sounds clichéd, but making films isn't a job; it's my life. It's just not work to me," he declared.
Aneesh said the reason he was put on this planet was to make films, and so he doesn't mind it permeates every aspect of his daily life. In fact, he's thrilled about it.
He said he feels energized because it means he is following his passion. To him, success as a human and success as a storyteller go hand-in-hand.
"I truly believe passion can change the world," he said. "Most of our biggest innovations, breakthroughs, revolutions, from the light bulb to the MacBook came from people who were driven by something."
He said passion is like being handed a hand-wrapped gift from the heavens. Everyone has it, but some people lose sight of it. It's painful to watch it give away.
Aneesh said when people are pursuing their own passions, their entire perspective on life changes. You no longer live for a paycheck.
You become more altruistic, more open-minded and more alive.
"What are you passionate about?" he asked me, the laptop now completely closed. I struggled to find the words to answer.
In college, I was faced with the unique problem of witnessing my dream job of being a long-form print magazine writer succumb to the Information Age.
It still exists, of course, but the industry I idealized and dreamed about as a child morphed into something new, something pervasive and different.
Print gave way to digital, articles became listicles, and visuals trumped words. Online journalism was unfamiliar territory and endlessly unforgiving. I felt words didn't carry the same weight they once did.
Being the first and the loudest suddenly became more important than being right. And, sometimes, being right didn't matter at all.
There is a plethora of websites to choose from where people can pick and choose their own facts and, consequentially, justify their own beliefs.
It wasn't the journalism I grew up worshipping. It wasn't that I couldn't do it or make it, it's that I wouldn't. I didn't try. I stubbornly clung to ideals of journalism days past, refusing to adapt to or accept the future.
"I'm good at writing. I feel passionate about that, about telling people's stories," I managed.
"Then why the f*ck aren't you writing right now?" Aneesh asked me, his unblinking eyes set on me.
"I, I just had a really long day at work and am just getting home now," I stammered, realizing how lame I sounded as the words were leaving my mouth.
"You had a long day? So, what? I had a long day. Millions of people have long days, but they still come home and work on their passions every waking minute they can," Aneesh said. "You say you have this gift, well then go f*cking do it then. You owe us all that."
"Yeah, but, I worked all weekend," I defended.
"Libby, so did I. Everyone works on weekends. You just find the time. Just f*cking do it. Just f*cking do it." He started yelling at me.
Just f*cking do it. It was like a volatile Nike ad. Just f*cking do it.
Any breath of an argument on my end would immediately be shut down. I had no grounds for arguments about my long workweek against the Amazing Working Man.
Deep down, I knew he was right. I wasn't fighting for my passions. I was settling for a life without passion, trying in vain to convince myself that it didn't matter.
Yes, I did work long hours at the office, but that gave me no excuse not to tackle assignments on the weekends, on the subway, waiting for the doctor or whenever humanly possible.
"I could tell from the moment I met you that you weren't following your passion," Aneesh said matter-of-factly.
"How so?" I inquired.
"I can just tell. I can tell by the light in people's eyes if they are following their dreams and passions," he stated.
I left the room dumbfounded, raw and bitter at myself for letting this happen. I told him I needed the night to process, and I'd hit the ground running the next morning.
And I did.
"If it truly matters to you, you'll find the time for it, or you'll find excuses" ran through my mind like an constant-looping Vine.
I not only wanted to prove to Aneesh what I could do, but I wanted to prove it to myself.
I woke up the next morning with a start. I felt propelled and more energized than I had in months. I felt I had purpose. I began interviewing again, writing and jotting ideas whenever thoughts sprung into my mind. I did it in meetings, on the subway and in the middle of the night.
I felt like myself again.
And by watching Aneesh, I followed his suit.
Aneesh doesn't have an off switch; no ailment or physical exhaustion can slow down his progress. For he is fueled by something stronger than the limitations of physical being: passion.
And with this passion and the boundless energy that has become his trademark, Aneesh is seen happily flitting from project to project, as if propelled by motor.
He is seen lugging around his film and digital cameras throughout the city. He is seen wedged in the beehive within the Google headquarters, legs resting above his head in the geometric chair.
He is seen jotting down screenplay ideas in-between sips of cappuccino – never food — in the myriad artisanal coffee shops of the West Village.
Above all else, though, he is heard. He is speaking excitedly or singing Top 40 hits at the top of his voice (current favorite: Hozier's "Take Me To Church"). The way he carries himself is almost theatrical, with animated arm movements and a strong, confident voice.
When you see him, he will be rushing about, writing, talking, editing, creating, or you won't see him at all.
He is in a state of constant performance, as if the world is his stage. And, in a way, it is.
And now, it is mine, too.
You can view Aneesh Chaganty's most recent project here.