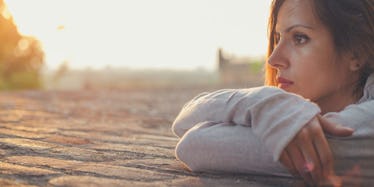 To Live In Fear Is To Not Live At All
Stocksy
Too many people let past failures dictate their future; they believe these obstacles will determine the course of their lives. Smart people on the other hand look to their pitfalls of life to motivate them to succeed. Sometimes bad things happen to good people, but you cannot get bitter, you must get better. The difference between the strong and the weak is that the strong don't use the past to receive pity or to guilt and manipulate; we rise above, silently and diligently.
There are some things that will happen to you over the course of your life that you will never get over; you just have to find ways to get through them. During this period of strife, you will find courage and strength you never knew existed. You must never ever give up or let anybody or anything stop you from doing what you want to do in life.
You must be fearless and powerful and most importantly, you need to remain impervious to the pain. Release all fears and doubts; positive energy will bring positive results.
"Oh, my friend, it's not what they take away from you that counts. It's what you do with what you have left." -Hubert Humphrey
If you want to fly, you must give up the sh*t that weighs you down. The more anger toward the past you carry in your heart, the less capable you are of loving in the present. Heartbreak can be a motivator or your biggest enemy. Let your haters be your biggest motivators. The best revenge is showing them how much better you are doing without them.
When you have haters, it means you are doing something right. Of course people are going to become jealous of your success and as a result may try to deter you. You cannot let these kinds of inconsequential people dictate your life; the sky is the limit, do not let these negative vibes hold you back. People do not define who you are or what you do, YOU DO. When you engage the haters, you are giving them control and that is exactly what they want.
The words we choose reveal our true character.
Life is too short to take everything so seriously, so stop concentrating on the past and focus on your future. You cannot change things that have already happened to you, so there is no reason to dwell in the sorrow. Instead, put all your effort into improving your present.
Everyone in life has gone through hard times, but you are responsible for how you act no matter how you feel. Your hardships do not provide an excuse to be a douchebag. You need to actively get over your past obstacles so that they no longer infuriate you. The most important thing you can do is to forgive someone who has wronged you even if they are not sorry. You need to come to terms that not everyone will bring something positive to your life, but it's through the negative experiences that you learn.
To try is to risk failure, but risk must be taken 'cause the greatest hazard in life is to risk nothing.
The more we concentrate on something, the more significance it takes on. When we relive our defeats, we give them power over our lives. This will inhibit our growth and paralyze us with fear. The quicker we can learn to forgive ourselves and others, the less those things end up mattering and the sooner we can move on to more important things. We need to not brood over things that cannot be changed, we need to put the past behind us and look toward the future.