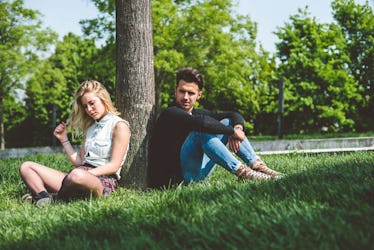 Why It's Up To You To Take Full Control When Opportunity Comes Knocking
''It's not fair. I am so unlucky. Things like that never happen to me.'' We have all heard of them — they usually come covered in a blanket of shame and doubt, followed closely by a shadow of negativity. They are more commonly known as ''excuses.''
I was talking to a friend the other day, discussing life and whatnot. I asked her one simple, yet complex, question: ''what do you want to do with your life?'' She went on to tell me that she would like to start her own beauty company.
After slightly veering off topic and discussing the latest beauty must-haves for a few moments, I then steered the conversation back to her life goals. ''So, why don't you?'' I asked.
What followed was a long list of ''I cant's'' and excuses that she had conjured up and then cemented into her head in order to convince herself that it wasn't possible. This mindset only served to limit her potential; any opportunities she could create for herself were lost in her fear of the unknown.
For every ''I can't'' she gave me, I protested with a way in which she could. We continued to do this back and forth until I silently understood that you can support and believe in someone, but ultimately, no one can create opportunities for you — except for you.
It's not the same for everyone. Life has a funny way of leading us down our own paths to success – it's a journey that you carry through opportunities, hard work and a passion so strong that it won't allow you to quit.
Very few may succeed at the first attempt; for others, it may take years for their success and hard work to finally blossom. No matter how much time it takes, the important thing is that to get there, we must make our own opportunities to reap our own rewards.
It really is a simple and numerical equation: The harder you work, the more you will achieve. The more opportunities you make for yourself, the more choice you will have and the more doors will open for you.
It is not a mythical illusion that only those who have good luck can understand — rather, the more you put in, the more you will get out.
The truth is that there is no timeframe on when these moments will prosper. It is important to remember that opportunities will not always come to you. You must go out and find them and if they are not there, create your own.
Become the master of your passion. Study it, live it and breathe it. Know the subject inside and out because knowledge will become your power.
The more you know about your passion, the more opportunities will open up for you because you will be able to acknowledge a number of avenues that will bring you to where you need to be.
Be confident in your decisions and know your own capabilities – you need to believe in your own abilities before anyone else can.
Each day, we have the chance to create brand new opportunities for ourselves; opportunities for which we need not wait on anyone else, opportunities that we pursue.
It's about making the minutes, days, weeks and months a land – your land – of opportunity.
Photo Courtesy: Tumblr