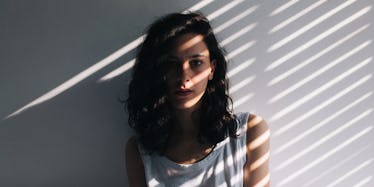 How My Father's Mistakes Taught Me That Time Is Never On Our Side
When girls talk about their dads, they usually lead with the familiar "Daddy's girl" narratives.
Their dads were first in line at their parent-teacher conferences, they sat front row during their dance recitals, and they coached their all-girls softball teams.
Their fathers taught them about success by the "watch and learn" technique: watching their dads kiss their moms before heading off to work every day, then bringing home the bacon at night.
When I talk about my dad, I never found a relatable anecdote to lead with because my relationship with my father was far from the norm.
When you grow up with an ill father, it's difficult to find the right things to say when talking about him with others.
Of course, my dad was an incredible human being. He had passion, a heart of gold and an incredible taste in music and food. He had his flaws, however, just like every other father in the world.
Except, my father's flaws got the best of him.
In any situation like this, most kids would let their pain eat them alive, fill their hearts with disappointment and turn their backs on their dads. But, that's just not the type of person I am.
My father had a lot of failures; he made a lot of mistakes, and he had a lot of things he wished he could have changed.
I know this because the last voicemail I ever received from him described just that.
Before my father died, he told me all the things he wish he would have done and the things he wished he could have changed.
He wished he went to more of my parent-teacher conferences; he wished he sat front row at my dance recitals, and he wished he coached my all-girls softball team.
As life goes, time often runs out before we are able to make the changes we want, to live the lives we dream of and to do the things we feel the most passionate about.
Growing up, I was often forced to witness things that changed who I was.
I sat in the intensive care units at hospitals for months, talked to doctors about life-changing surgeries and helped my dad learn how to walk again.
Yet, I never witnessed my dad make the changes he wanted to, live the life he dreamed of or do the things he felt the most passionate about.
Was I disappointed? When I was young, absolutely. I was too young to understand all of the things I do now.
My father's mistakes and failures taught me the biggest lesson I'd ever need to succeed in my life: the supremacy of time.
Time is never on our sides. Time runs out before we get to say what we want to say and do what we want to do.
Unfortunately, my father's time ran out too soon.
But, I am a product of my father, and I carry his name with me.Knowing this and inhabiting this makes me realize I can change his destiny.
Any parent wishes for nothing but happiness, success and good fortune for his or her children.
Even my father — while he spent several years in hospital beds, hooked up to machines constantly beeping and keeping him up at night — always wanted what's best for me and my sisters.
He just wanted to see us succeed in all the ways he could not.
We all have the opportunity to take control of our lives; we are the captains of our own ships.
Time should not hinder us, but it should push us forward to do all of the things we believe.
Say what's in your heart, do what you feel deep down in your soul and chase after anything that makes you feel alive.
You never know when time will run out.