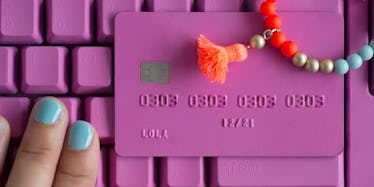 10 Money Lessons You Didn't Learn Growing Up, But Need To Know Now
Alita Ong
I believe everyone can live a fulfilling life and be rich. This includes you. The problem is, not everyone learned how to do this while growing up. I certainly didn't.
I grew up in a family that valued education and learning, but we didn't talk about money. School didn't help much, either. I also never learned anything about personal finance while growing up. In 2011, when I graduated from law school with a whopping $206,000 in student loan debt, I was shocked to learn I would struggle financially because of my debt. I thought I would be well-off as a lawyer. I was so wrong.
Fast-forward to the present: Life is different. I've paid down my $206,000 to $120,000. I've switched careers, I've started a business and I love what I do. I know you can have all of this, too.
Below is a list of 10 invaluable money lessons that will help you make the changes required to get on track financially:
1. Money Mindset
How you think about money matters tremendously to your financial success. T. Harv Eker calls it your "money blueprint" in his book, "Secrets Of The Millionaire Mind." Your money mindset can be positive, or it can be negative.
It may be set up for financial success, or it may be set up for financial failure. If you don't learn how to have a successful money mindset, you are going to struggle to build financial success.
For example, if you feel shameful, you spend money to overcome the pain. You think you're not good enough. By feeling less than, you spend more than.
If you want to overcome your feelings of shame, you need to create a new "life money story" for yourself. Creating a powerful money story will give you the self-esteem you need to overcome your shame and create better spending habits.
2. Financial Goal Setting
In my opinion, setting goals is one of the best life hacks you can learn. Setting financial goals will help you achieve what you want the most in life.
One popular goal-setting strategy is the SMART method. Your goals should be specific, measurable, attainable, realistic and timely. You should also consider short-term and long-term goals.
Always write down your goals. Finally, your financial goals should be in line with the vision you have of your life.
3. Net Worth
As a young professional, my net worth wasn't always on my mind because I was so focused on budgeting my income and expenses. The truth is, tracking your net worth is critical to your financial success because it gives you a snapshot of the big picture (both your assets and your liabilities).
To track your net worth, subtract your liabilities from your assets.
4. Budgeting
While your net worth gives you a picture of total financial health, your budget is what helps you stay on track on a day-to-day basis. If you need to get your finances in better shape, learn how to create a budget.
A monthly budget will show you the money coming in and going out, so you can avoid overspending. This way, you can meet your financial goals.
It's the best way to know what you're spending your money on, and it will help you figure out where you can make these changes. To create a monthly budget, list all your income at the top and subtract your expenses – including your savings – from your income.
5. Emergency Fund Saving
An emergency fund is a stash of cash that's set aside for when you need it. It's for the unexpected times, like a layoff, car repair, house repair, illness, etc. When something goes wrong and you have the money to pay for it, the situation will still stink.
But you won't be afraid or scared. Instead, you'll be able to pay for it. You can start saving for an emergency fund by setting a financial goal and putting a little money aside each month. You could also start a side hustle to make extra money just for your emergency fund.
6. Debt
Part of financial freedom is being debt-free (at least in my opinion). If you have consumer debt or student loan debt, this section is really important for you.
Create a plan to get out of debt. Don't put your head in the sand. This was something new to me a few years ago.
But now, it's the focal point of my finances. No matter where you are financially, getting out of debt should be a high priority for you if you want to have financial success.
7. Insurance
Insurance planning is a component of financial planning that deserves as much attention as anything else. So, consider your insurance (life, health, etc.), and make sure you have the appropriate insurance for your personal situation.
For example, if you have two kids and your spouse dies without life insurance, how will you survive financially? Make sure you're covered from an insurance perspective.
8. Estate Planning
I know many young, married couples with small kids who don't have any estate plans in place. This is terrifying.
Estate documents allow you to control what happens to your assets when you die. These help your loved ones tremendously. Estate planning documents to consider are wills, beneficiary designations and trusts.
9. Retirement
Saving for retirement is one of the first ways I see young professionals invest. What you need to do first is budget. Decide how much you can afford to save for retirement. Then, you'll have to decide which account you want to save in: a 401(k), an IRA or a Roth IRA.
One of the greatest advantages you have as a young person is the time you have left to invest (30 plus years). Additionally, if you get an employer to match any of your retirement investments, you have the opportunity to get free money.
If you start investing for retirement now, you will earn more money on your investment over time because of compound interest. Time is money.
10. Investing
Investing is where you can make the big bucks. But, I believe you should be debt-free and have an emergency fund saved before you start investing. It's tempting to want to invest before you're in a financial position to do so.
I highly encourage you to think about prioritizing paying off your debt first. You must be building some solid savings before you invest.
When you're ready, investing is where you can make a killing, especially if you're in it for the long haul. Asset allocation is the most important part of your investment equation because over time, you can build wealth with this method.
Beyond that, there are countless investment theories that you can get into and learn about. It's also helpful to hire a financial planner if you're at this stage, but don't want to learn how to do it yourself. Investing isn't impossible to do alone, but it does require upkeep once you know what you're doing.
I believe that learning about money – whether you like it or not – is part of being a responsible adult. These 10 money lessons should help get you back on track financially. Not only that, but I hope this article also inspires you to make more money and manage the money you do have more effectively.
For more money tips from Natalie Bacon, visit TheFinanceGirl.com.