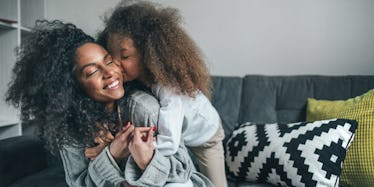 How It Felt To Watch My Mother Find The Strength To Leave My Abusive Father
Studio Firma
The feeling of seeing someone you love being abused is heart-wrenching. The feeling of that loved one experiencing pain at the hands of another loved one is inscrutable. I've articulated my upbringing previously, but find it somewhat difficult to talk about my feelings toward my mother's strength, especially when I've only recently categorized her decision to leave my father as one of "strength."
Up until college, I went back and forth between resentment and gratitude. As a child, I wanted what most children wanted: normalcy. I wanted to live in a home with two parents who passionately loved each other and raised their children in a healthy environment.
The first time my mom left, I was in the fourth grade. We moved to Virginia, halfway across the country, to be closer to her side of the family. The night we left, I felt fear. I was confused and anxious. I didn't want to leave my friends, my school, my neighborhood or my dog, but I was aware of the abuse and knew the move was necessary. So we packed up our things and began the 17-hour road trip, just my mom, my two siblings and me.
We lived in Virginia for the remainder of the school year. My dad began visiting — all the way from Kansas City — somewhat regularly sometime during the spring. Phone calls were much more frequent. Words were exchanged and reconciliation took place. A couple days after I finished fourth grade, our family was headed back to Kansas City where I would awkwardly explain to my friends why I'd suddenly returned back to my old school and old neighborhood after leaving for a year. How does a kid explain abuse to other kids?
Nonetheless, I was glad to be back to my sense of normalcy, glad to be back in a two-parent home, our house in the suburbs and holding up the facade that everything was OK within the Campbell household.
But the reconciliation didn't last long. The end of sixth grade would be the final straw. After a series of events, my mother had decided to finally end the relationship. With that came feelings of discontentment. We moved out of our house, our neighborhood and immediately entered the world of "domestic violence support groups." I felt like a statistic, sitting with other kids in similar situations, meeting with a counselor to talk about my emotions, dealing with the overwhelming sympathy from teachers and classmates as if I were some poor, sick puppy. I didn't want their sympathy. I didn't feel as though I needed it. Again, fear made me overcompensate. I became the best student, the most dependable friend and a talented daughter. I did whatever I could to erase the stamp on my head that said, "Child Witness of Domestic Violence."
As I stated before, college changed that. During my second year of undergrad, a classmate of mine was murdered by her estranged husband, along with her two daughters. While other classmates let out sighs of shock and disbelief that something like domestic abuse could happen to one of our own, the fear I'd kept inside for a long time began to stir. I'd harbored resentment toward my mom for years for ruining what I thought could eventually become a picture-perfect family. After hearing more about my classmate's story, I finally had feelings of thankfulness.
One of the most dangerous times for a victim of domestic violence is when they are trying to leave. The chances of the violence escalating increase greatly.
As a child, my feelings about my mother's experiences were rooted in fear, and my fears were rooted in typical childlike selfishness. Only in retrospect do I value the strength of my mother. She could've been a different statistic. My siblings and I could have easily become orphans the night she decided to leave.
Since college, following the news of my former classmate, I've dedicated my life to working in the field of domestic violence and using the story of my mother's strength to keep conversations about abuse at the forefront of everything I do. I value the strength, boldness and selflessness of survivors, like my mom, especially those with children.
It's because of her and her bravery that I was able to truly experience a normal home. Normal does not always consist of two parents, the dog or three kids. A normal home, or what should be "normal," is one that consists of autonomy, safety and love.