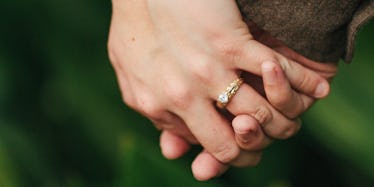 This Is The Number One Mistake All Brides Make During Wedding Planning
B. Harvey
Getting engaged is one the most awe-inducing and tearfully exciting moments of a gal's life. It's a time when you transform from girlfriend to bride-to-be, and can officially be at ease knowing the person you goo-goo eyes over is eager and willing to commit to spending the rest of their lives with you.
So after you've popped a bottle of champagne with each and every member of your friend and family, you'll find yourself ready to buckle down and plan the wedding of your dreams. You'll jot down every single wedding task you need to do on Starbucks napkins, and you'll spend pretty much of every minute of your free time (and your boring work time) researching vendors and pinning pretty things on Pinterest.
But the one mistake you'll most likely make (because pretty much every bride finds herself making this mistake) is saying "I do" to things that are overpriced and not what you truly want.
Wondering what the heck I'm talking about? Well, let me tell you a secret. Weddings are expensive. I'm sure you already knew that, but do you want to know why they are so stinking expensive? Because wedding vendors overcharge you because they think you can afford it. They know you're planning a wedding, something hopefully you'll only have once in your life, so you're willing to spend more, do more and upgrade to packages with features in them you don't really need.
Most of the time you'll be so thrilled you found a decent vendor that's actually available on your wedding date, that you won't even read over the contract you sign with them. You wont ask what's included and what's not, you'll just go with the flow — their flow — because you feel desperate to cross everything off your wedding to-do list in accordance with the month-by-month timeline you printed off the Internet.
But do yourself a favor, and slow down. Set a budget. Low-ball how much you want to pay per vendor, and then find a way to get that vendor to meet your crazy low price. If they aren't willing to, then walk away. There are many vendors out there that do exceptional service without ripping you off, and sometimes those vendors don't advertise themselves as part of the wedding industry.
Go to a local bakery for your cake, instead of a place that specializes in wedding cakes. Find a photographer who is not necessarily a wedding photographer. Hire a jazz band you heard play at the wine bar across the street over a 10-piece band that'll charge you close to 20 grand to play for six hours.
Don't find yourself in a rush to book whomever is available at the price they promise you is "fair." Ask questions. Ask for custom packages. Do what you can to not hand them every single dime in your savings account.
Don't make the mistake of being a bright-eyed bride who rests their laurels on how much things can cost. Remember, you're planning the wedding of a lifetime, but that wedding is only eight hours. It shouldn't cost you more money than you actually have.
Be smart, do your research and put your bargain thinking cap on, and the day you say "I do" will be exactly what you imagined it.