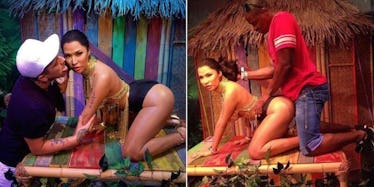 Nicki Minaj Owned Her Sexuality And People Tried To Take It From Her
Last month, Nicki Minaj's wax statue was finally unveiled in the Madame Tussauds of Las Vegas, NV. Using over 300 exact body measurements, 20 artists hand-sculpted the statue of Minaj posing on all fours, as inspired by her iconic music video for "Anaconda."
Minaj was rather excited about it.
I love it and I can't wait to see it https://t.co/zCl1T5gNap — NICKI MINAJ (@NICKIMINAJ) August 4, 2015
they had the dancers ready and everything. so… https://t.co/Vl4gLTFdaC — NICKI MINAJ (@NICKIMINAJ) August 4, 2015
But when Azealia Banks heard of the pose, she tweeted her concerns about it:
Turns out her prediction came true. Yesterday, the museum released a statement on Twitter that referenced an "inappropriate photograph" that was taken with Minaj's wax statue, saying it will take "immediate steps to ensure more staff are present in this area" and plans on redesigning Minaj's wax figure.
Other similarly "inappropriate" photos have been taken with the statue, but the one referenced in the tweet seems to be the worst of them.
Thus far, conversation surrounding the statue has been made to place Minaj as an objectified victim. Banks was specifically quick to blame "white people" for "having to put her on all fours," despite "as much as that woman has accomplished."
Interestingly, however, in a statement to The Fader today, the museum explained that Minaj and her team had actually approved of the pose and were involved in the creation the statue every step of the way:
"Nicki Minaj is an artist our visitors told us time and time again they wanted to see in the attraction, so we were thrilled to be able to add her figure to Madame Tussauds Las Vegas. We made the decision to celebrate Minaj's unforgettable pose inspired by the "Anaconda" video because—thanks to her artistry and charisma—it resulted as one of the most iconic videos ever produced. The pose itself recreates an image Minaj published on her own social media channels as a teaser for the video. As with all people we immortalize in our attractions, her representatives were kept informed every step of the way during the figure-creation process and, once it was unveiled, Minaj herself repeatedly expressed her love of the figure on social media, calling the display "so iconic" and indicating her desire to come see it in person. Since unveiling Minaj's figure and the "Anaconda"-inspired experience earlier this month, our visitors have responded with overwhelming positivity, and it has since become one of the most popular additions in the attraction."
There's an interesting paradox here. Banks' assertion that the pose appears to negate Minaj's accomplishments because it doesn't show her "standing up with a mic in her hand" becomes completely different when you learn that Minaj and her people chose the pose herself.
Those who posed provocatively with Minaj's statue undoubtedly acted inappropriately, and it's right for the museum to increase security to protect something they worked so hard on.
But this is just a terrible paradox for a sex positive woman.
If Minaj hadn't chosen that pose and people were posing like this, she would have had no ownership over her sexuality from the start, and that lack of ownership would have been exacerbated by the amount of people taking control over her body and making disgusting gestures with it.
Banks would have been right: Her impact on the music industry would definitely have been snubbed by an overly sexualized pose.
But Minaj chose to pose like that. She chose to go on all fours, to own her sexuality through that statue -- and that's powerful. And in this context -- in the context of, as we learned from The Fader, the fact that Minaj actually did have control over her sexuality from the start -- it actually makes the poses even worse.
Because no matter how sex positive a woman is, no matter how much she tries to own her sexuality, people will still try take ownership over it.