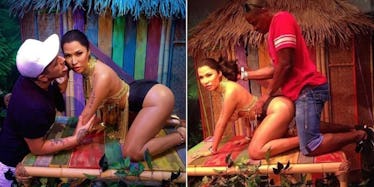 People Are Doing Terrible, Sexual Things To Nicki Minaj's Wax Figure
Please stop acting like middle school children on a trip to the Washington Monument around Nicki Minaj's Madame Tussauds exhibit.
Having your likeness carved out of wax and put on display at Madame Tussauds falls somewhere between winning a Grammy and dating a member of 5 Seconds of Summer when it comes to signs you've made it in the pop culture world.
It should come as no surprise then a Nicki Minaj wax sculpture was recently commissioned by Tussauds and put on display at the Las Vegas location.
Though she wasn't physically in Las Vegas for her figure's big reveal, Nicki did share its unveiling on Instagram.
Making a Minaj wax figure is not an easy task.
How do you capture the energy of such as a powerful female icon who isn't afraid to tell critics exactly how she feels and to be herself in all areas of life?
If anyone on the planet has the ability to harness her essence into a still piece, it's a brilliant artist at this legendary institution.
Ohhhh, Nicki. No. Why, Nicki? Why?
Azealia Banks acted as the voice of reason -- a sentence I'm shocked I'm saying -- over this whole debacle, tweeting out all of our feelings about the sculpture.
Wow, they finally give nicki minaj a wax figure and it's a statue of her bent over on all fours...... White people yo.... — AZEALIA BANKS (@AZEALIABANKS) August 12, 2015
As much as that woman has accomplished, they had to put her on all fours... Why not standing up with a mic in her hand ??? — AZEALIA BANKS (@AZEALIABANKS) August 12, 2015
White people indeed, Azealia Banks.
Because people are horrible, visitors to the exhibit instantly began to perform lewd acts with the sculpture.
Madame Tussaud's didn't expect this though? pic.twitter.com/uCf5OIyB6W — john (@chamonille) August 18, 2015
At first, Minaj was kind of going along with it.
She posted this screenshot to her Instagram account.
She captioned it with this.
Eventually, things did get out of hand.
People were kissin' on it.
Still can't believe I met her wax figure @NICKIMINAJ pic.twitter.com/eix5dQ2dmK — anthony (@paintedken) August 12, 2015
Getting all kinds of handsy.
From Tuesday at the launch of @NICKIMINAJ's wax figure in @TussaudsVegas! It. Was. Beautiful. #MTNickiSelfiepic.twitter.com/XBUlcn7mB7 — Georgina♡ (@pawsup23) August 6, 2015
And, in this guy's case, treating it like it was a briefcase full of money he had to walk through a crowded street with.
Madame Tussauds did notice what visitors were doing and eventually took precautions to make sure people stopped pervin' out on the sculpture.
Statement regarding Nicki Minaj's Madame Tussauds wax figure pic.twitter.com/tnnyZL0BNX — Madame Tussauds LV (@TussaudsVegas) August 18, 2015
The post reads,
We do have staff monitoring guest behavior in the attraction and do our utmost to ensure our wax figures are treated respectfully, but on this occasion clearly one of our hosts was not present. We are taking immediate steps to ensure more staff are present in this area and that the set around this particular figure is redesigned so that a picture like this cannot be taken again.
Leave wax Nicki Minaj alone!
Citations: Photos Of Nicki Minaj's Wax Figure Being Defiled Are Anything But Funny (Refinery29)