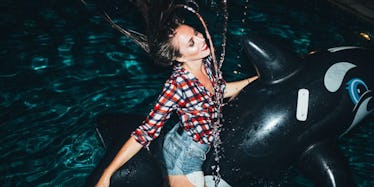 The Ultimate Memorial Day Playlist, No Matter Where The Weekend Takes You
Summer is (finally) almost here.
And with the arrival of summer comes a subtle, but definitely noticeable shift in the world. Your co-workers are happier, strangers actually smile at you when you pass them on the street, and life just kind of seems all-around better, amirite?
For many of us, Memorial Day Weekend marks the first real weekend of summer.
Maybe you're spending the long weekend at a beach house with your booty in the sand. Or perhaps you'll be embarking on a spontaneous road trip with your squad simply because you can.
Regardless of what your plans are, you're definitely going to need some music to keep the summer feels going strong all weekend long.
Here's the ultimate Memorial Day Weekend playlist to guide you through you your three-day weekend, no matter how it may take shape.
1. "Poppin' Champagne" by All Time Low
So, yes, you all know now that I was (and still am) all about those pop punk jams. #SorryNotSorry.
For real, take a cue from ATL, pop some champagne, and welcome the arrival of summer.
2. "The Days" by Avicii
"These are the days we've been waiting for. On days like these, who could ask for more?"
3. "Malibu" by Miley Cyrus
I've always loved Miley through all of her musical phases, but I've been listening to "Malibu" on repeat like it's my damn job.
Needless to say, this song is absolutely perfect for a day by the shore.
4. "No Diggity" by Blackstreet ft. Dr. Dre, Queen Pen
If you don't like this song, you're wrong.
5. "Hymn For The Weekend" by Coldplay
Chris Martin has the voice of a freaking angel. And, as if he doesn't slay enough on his own, Queen Bey blesses us with her own uncredited, yet equally angelic vocals.
6. "That's What I Like" by Bruno Mars
It's legit impossible to resist the urge to dance your ass off when this song comes on.
7. "Cool For The Summer" by Demi Lovato
Grab your bae and dance the night away to this sultry summer jam.
8. "Galway Girl" by Ed Sheeran
I'm still trying to learn all the lyrics to this one, but once I do, there will be no better song to sing along to.
9. "Walking On A Dream" by Empire Of The Sun
A perfect song for the dreamiest of summer vibes.
10. "A Little Less Sixteen Candles, A Little More 'Touch Me'" by Fall Out Boy
I am all about a quality throwback, and pretty much any Fall Out Boy song will do in that department. But, this song is definitely one of their catchiest from back in the day.
11. "We Are Young" by Fun. ft. Janelle Monáe
Summer is all about staying forever young, right?
12. "Issues" by Julia Michaels
A low-key, catchy song for when you and the squad are on your way home after a long, fun night out.
13. "Can't Stop The Feeling" by Justin Timberlake
JT can do no wrong, and it's simply impossible to listen to this song without smiling (or dancing, for that matter).
14. "Rather Be" by Clean Bandit ft. Jess Glynne
Hold your BFF close and sing (probably super off-key) to her, "There's no place I'd rather be."
15. "The Night Is Still Young" by Nicki Minaj
For when you're tired AF while you're getting ready to go out, and you just need a really good pick-me-up song.
16. "Bohemian Rhapsody" by Panic! At The Disco
Yes, it's a cover song, but this is a classic nonetheless, and it's so much fun to sing along to. Plus, Brendon Urie always slays with his vocals, and this song is no exception.
17. "Can't Stop" by Red Hot Chili Peppers
"Can't stop, addicted to the shindig." So. Freaking. Good.
18. "Strangers" by Seven Lions, Myon, & Shane 54 ft. Tove Lo
This is the ultimate feel-good jam, and it's perfect for dancing around your room while you get ready for a night out.
19. "I Know What You Did Last Summer" by Shawn Mendes and Camila Cabello
The harmony of these two killer voices is simply amazing.
20. "Geronimo" by Sheppard
This song will inspire you to be spontaneous AF over the long weekend.
21. "Friday Night" by The Shires
For anyone who's more into those country vibes for the long weekend.
22. "Reaper" by Sia
This song is all about living life to the absolute fullest -- aka, perfect for ushering in the summer season.
23. "All My Friends" by Snakehips ft. Tinashe and Chance The Rapper
Obviously, for when you and your friends are all wasted AF at the end of the night.
24. "What I Got" by Sublime
"Remember that, lovin' is what I got."
25. "Lush Life" by Zara Larsson
This song honestly makes me want to jump into a pool and never come out. I don't care if my hands get all pruney; you can't make me leave.