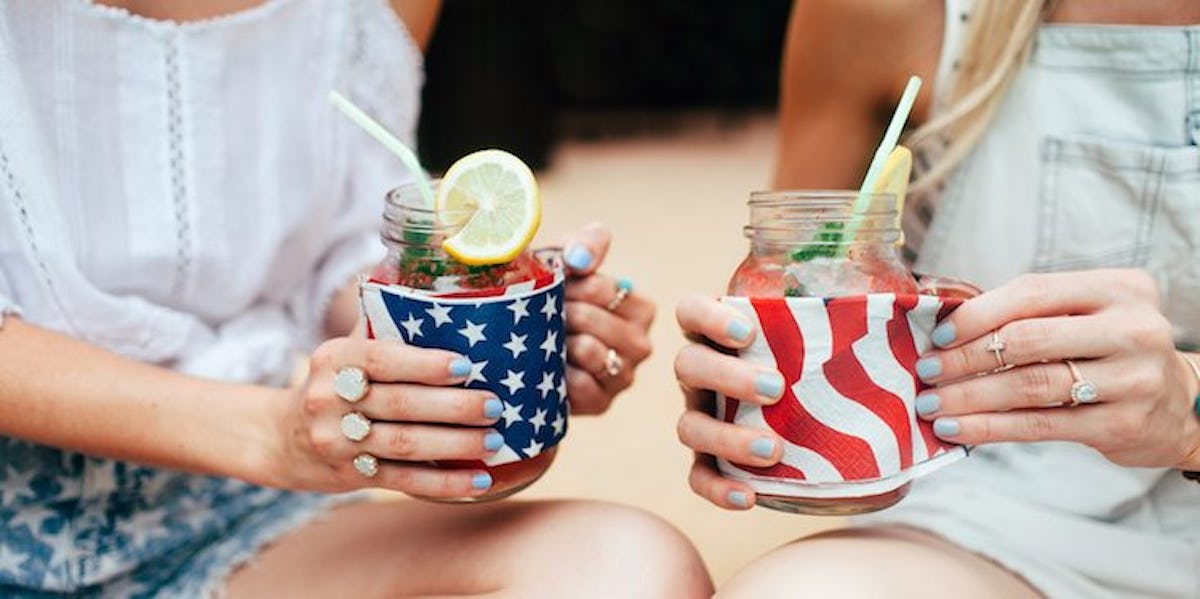 7 Easy And Festive Cocktails That Will Make Your MDW Party So 'Grammable
Let's be real here: We're all about that #DoItForTheGram life, and this upcoming Memorial Day Weekend is certainly no exception.
For those of us who are hosting festive barbecues and beach bashes of our own, we've already started making checklists for our party planning duties.
And if you decided to take a spontaneous trip with your girlfriends this weekend, don't forget to stop at the liquor store so you can whip up festive cocktails in the hotel room.
To make every party across the country 'Grammable AF this weekend, here are seven quick Memorial Day cocktails your guests will fall in love with.
1. Red, White, And Blue Jell-O Shots
Festive shots are necessary at every Memorial Day Weekend rager. These red, white, and blue layered Jell-O shots are super easy to make, and they'll be a seriously hot commodity at any party.
These babies are guaranteed to go fast, so be sure to make enough for all of your guests!
This refreshing cocktail is perfect for your outdoor barbecue or pool party. Complete with IZZE Sparkling Blueberry juice, Smirnoff Sorbet Light Pineapple Coconut, Moscato, and fresh blueberries and strawberries, this sweet treat deserves to be poured into festive mason jars for the ultimate Instagram.
What's better than basking in the sizzling sun with a strawberry daiquiri in hand this MDW? Add Blue Curacao, whipped cream, and a cherry to each glass for the finishing touch.
4. Red, White, And Blue Sangria
The most time-consuming part of prepping this cocktail is slicing any additional fruit you may want to add. Feel free to get as fancy or as basic as you'd like.
For real though, watermelon slices cut into tiny star shapes can add that Insta-worthy finish your guests will absolutely love.
You can also add small strawberry and blueberry skewers to the top of each glass.
5. Red, White, And Blue Vodka Lemonade Slushies
These layered patriotic slushies seriously deserve a place at your MDW bash. They look absolutely delicious, and the look features these adorably small American flags, as well as red and white striped straws to go in each party-goer's glass.
Add some tropical vibes to your MDW party with this blue Curacao cocktail. This drink is simple to whip up, and all of your guests will feel as though they've been transported to a rejuvenating oasis while sipping and savoring.
Don't forget pineapple slices for garnish.
7. Spiked Triple Berry Basil Lemonade
Ringing in the sizzling season simply would not be complete without a cold glass of spiked lemonade. This cocktail highlights the ultimate combination for those out there who love the delectable marriage of sweet and tart. It's truly summer in a glass.
Drink up!