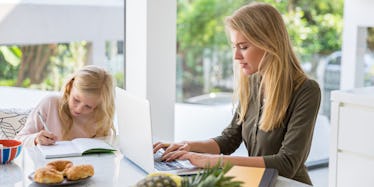 5 Ways To Manage Your Finances When You're A Stay-At-Home Mom
by Laura R. Knolle, MS, CFP®
Jovo Jovanovic
When it comes to stay-at-home moms, their days start early, go non-stop and only end when everyone else is in bed. Even if you aren't the primary breadwinner, you play an important role in so many aspects for your family, including your family's finances.
This article will provide you with some key tips about stretching your dollar without compromising your quality of life:
1. Keep an eye on your spending.
There are two sides to cash flow: income and expenses.  Even though you may not be earning any income while you take care of the kids, there are lots of ways you can save on your expenses.
Most importantly, find a comfortable and easy way to track your spending, such as using an app, website, QuickBsooks, Excel or one bank account for all expenses. Tracking your spending lets you see where your money is going, so that you can make adjustments as needed.
Be a better planner while you're shopping by making a list and sticking to it. Avoid making mini trips here and there in order to cut back on picking up unnecessary items.
Cut coupons, look for online specials and read sales flyers. Don't purchase unneeded items just because they're on sale or because you have a coupon. Many stores offer downloadable coupons and saving programs.
For extra savings, shop at discount stores for food, clothing and other household goods. Some online retailers offer discounts when you sign up for regular deliveries.
Get creative in the kitchen, and eat at home as much as possible. Not only is eating at home less expensive, but it's also healthier. Don't buy too many perishables that you can't eat. Freeze them before they spoil.
Consider buying items in bulk and sharing them (and the cost) with friends and family. Tailor your meals around what's in season and on sale.
Look for local, free activities. There are numerous activities that are fun to engage the kids in, and the best part is, they won't cost you a dime. Make a playdate with some friends, go to the park or attend story time at your local library.
Many museums offer free or discount days. Keep a marker board for your family to list the activities everyone enjoys and the local places you would like to visit. Armed with your list, research online to see if there are any discounts or free dates. Add them to your family calendar so you don't forget.
Check out local mom groups in your area, and get to know the other moms where your child goes to school. Not only will you make friends, but also, many have classifieds where you can buy and sell used kids' clothes and toys. Carpool for kids' activities to save gas and time, and to be green.
2. Stretch your dollar further.
It is hard work for your spouse to earn those dollars. Make it your goal to stretch them as far as you can.
Always keep plenty of cash with you. Some stores offer discounts if you pay in cash, including many gas stations. Don't be shy. Negotiate prices while shopping garage sales, online websites such as Craigslist and secondhand stores.
Sign up for stores' rewards programs – not their credit cards – and download deals. Many stores will mail or email you additional coupons when you spend a certain amount of money. They may also give you free samples of products.
Shop around for the lowest prices for items you frequently purchase. There are free apps that allow you to scan the barcode of an item in order to find out the lowest price, both locally and online. Also, many retailers will match other stores' sale prices.
3. Tackle tasks.
When the kids go down for a nap or to school, use that time to get household tasks done. By doing them yourself, you're saving hundreds to thousands of dollars, as you don't have to hire a nanny, cleaner, cook, gardener, shopper or household planner.
Be your family's travel agent too. If you're planning a family vacation, spend time looking online for the best travel deals. Coordinate your family's schedule, and visit the popular destinations during off-peak times if possible.
4. Become a businesswoman.
Consider taking on a part-time business venture. Many women enjoy working in order to stay challenged and engaged. There are many career opportunities that have flexibility for stay-at-home moms, and they allow you to work from home. Some companies also offer discounts or free products if you meet certain sales levels.
Do you like walking dogs, or are you crafty and creative? Perhaps you have some hobbies and talents you can turn into a business. With websites like Etsy and eBay, it's easy to turn a creative talent into sales.
Working will not only help your family have extra disposable income, but it will also count as income and credits toward social security. You need 40 credits (or 10 years of work) to qualify for social security retirement benefits. Check out www.ssa.gov for more information.
Not ready to take on a job? Volunteering is a great way to stay involved and give back to your community. If you have time when the kids are in school or at activities, find local organizations such as theaters, sports parks, etc, that allow for family discounts if you volunteer.
5. You can still save for retirement.
You may qualify for a Spousal Individual Retirement Account (IRA). The contribution limit for 2016 is less than $5,500 ($6,500 if you're 50 or older), or your taxable compensation for the year. Even if you didn't have taxable compensation, you may be able to make a contribution to a Spousal IRA if your spouse did.
Your IRA contributions may be tax-deductible, and the money within an IRA grows tax-deferred. Check out the IRS website at www.irs.gov, and talk to a Certified Financial Planner™ for more information.
Watching your expenses, stretching your dollar, insourcing tasks instead of hiring someone, working a part-time job from home and saving for retirement by making IRA contributions are just a few of the ways you can make an impactful contribution to your family's financial success.
So, when all is said and done, relax. Save hundreds of dollars by turning your bathroom into a spa-like retreat with candles, bubble bath and relaxing music. Schedule some "me" time while your spouse watches the kids. You deserve it.
Laura Knolle is a Certified Financial Planner™ and vice president of EP Wealth Advisors, a registered investment advisory firm in Lafayette. The information used to write this column is believed to be factual and up-to-date. However, we do not guarantee its accuracy. 
This column does not involve the rendering of personalized investment advice, and is not intended to supplement individualized professional advice. A financial, tax or legal professional should be consulted before implementing any of the strategies either directly or indirectly suggested and discussed.  All investment strategies have the potential for profit or loss.